Prot: 10 g, Carbs: 8 g, Fat: 0 g, Cal: 77
I love the combination of chocolate and cherry. When I noticed recently that all the neighborhood fruit vendors had big bags of cherries, I had to turn them into Chocolate Cherry Protein Brownies!
I made these with Isopure Natural Chocolate whey protein isolate. It has a lighter chocolate flavor than some other powders, but is still totally delicious! The team at Isopure was kind enough to send it over for me to work with.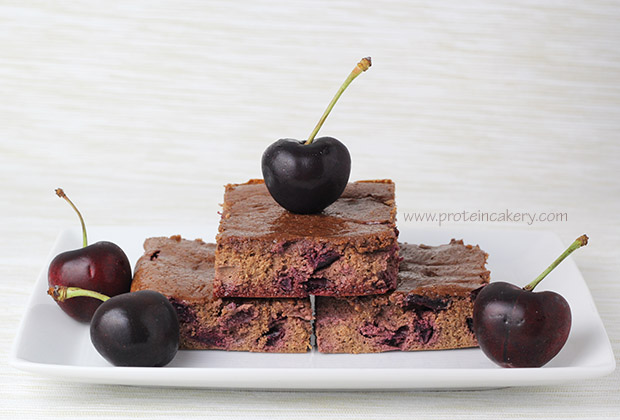 These Chocolate Cherry Protein Brownies happen to be fat-free! That paired with the whey isolate makes them great to include as part of your post-workout fuel. And they turned out to be fat-free by accident, actually! I realized after I put the first batch in the oven that I left out an ingredient. Oops! I thought they would turn out quite dry if I cooked them all the way through, but I made a few batches and they do still turn out well! Without the almond butter (the forgotten ingredient) they aren't as fudgy as brownies usually are. But they are full of flavor, and I love the idea of having them post-workout! If you don't mind including some healthy fat, you could always include the almond butter. I'd try 1/4 – 1/3 cup added in with the applesauce and Greek yogurt. In that case you may need a longer bake time.
However you make them, these Chocolate Cherry Protein Brownies will be absolutely delicious!
This post contains affiliate links to products I recommend. When you make purchases through these links, this blog makes a small commission (at no extra cost to you). Thank you for supporting our work!
Chocolate Cherry Protein Brownies
Nutrition Information
Serving size:

1 brownie

Calories:

77
Fat:

0g

Carbohydrates:

8g

Sugar:

6g

Fiber:

1g

Protein:

10g
Prep time:
Cook time:
Total time:
Makes 9 brownies (one 7" square pan).
Instructions
Preheat oven to 325F (163C).
Line a 7" square (or similarly sized) pan with parchment paper (if not using silicone).
Mix applesauce and Greek yogurt.
Add whey protein, cacao, sea salt, and date sugar. Mix well.
Fold in cherries.
Pour batter into pan, and bake for about 30 minutes. A toothpick inserted won't be completely clean, but the brownies should be cooked well enough. If in doubt, underbake! The brownies will be too dry if you overbake them.
Let cool slightly.
Cut into 9 brownies, and enjoy!
Store in the refrigerator.
Notes
A note about substitutions: because each type of protein powder has a distinct flavor and texture when baked, I would not try substituting different types of protein powders in this recipe. (See my
Recipe Basics video
for examples of what goes wrong when you use the wrong protein powder.)
If you'd like fudgier brownies and don't mind the added fat, include ¼ - ⅓ almond butter (or any other smooth nut butter). Add it with the applesauce and Greek yogurt. Note that you may need a longer bake time.
I tried this with fresh cherries and also with frozen cherries. Frozen (thawed) work fine; just be sure to drain them well (again after you chop them).
I used
black cherry concentrate
for the plate drizzle here.