Prot: 12 g, Carbs: 8 g, Fat: 14 g, Cal: 204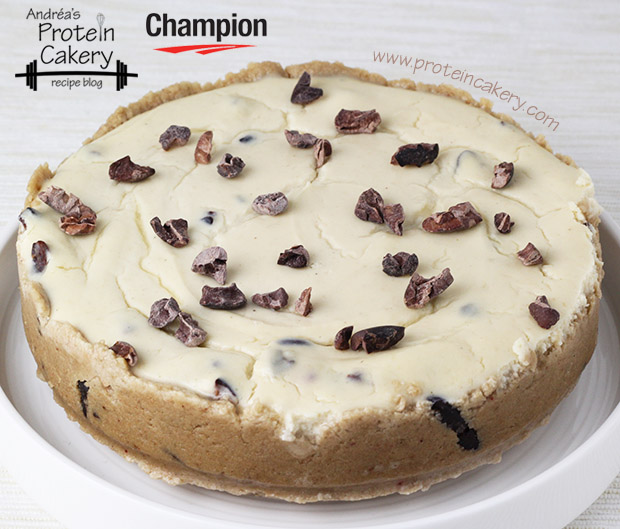 I have been playing around with cheesecake flavors lately, and I made this one when I had Chocolate Chip Protein Cookies on my mind. So here you have a delicious Chocolate Chip Protein Cheesecake!
Smooth and creamy inside, with a melt-in-your-mouth chocolate chip cookie crust. So good!
For the crust I used my Chocolate Chip Protein Cookie recipe, which uses Champion Naturals Endurance protein powder. It is a blend of  rice, pea, and potato proteins that makes for a perfect taste and texture! In the cheesecake filling I used a bit of their Sport protein powder, which is a whey blend.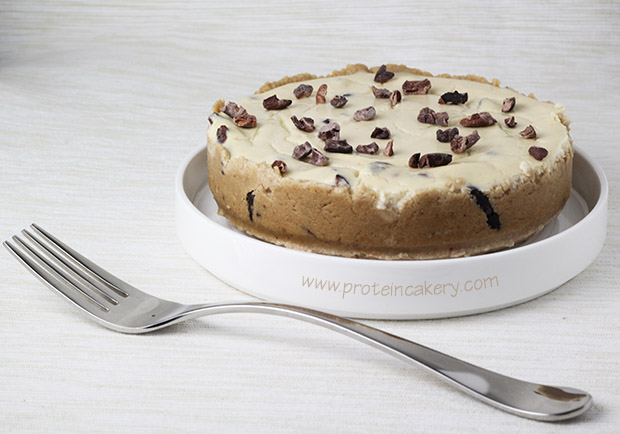 I used some toffee-flavored stevia as a sweetener in both the crust and the cheesecake. The toffee taste works very well in this Chocolate Chip Protein Cheesecake. And you might notice from the photos that I used raw cacao nibs in place of chocolate chips. Cacao nibs have all the chocolate flavor and crunch, without any added sugar or fat!
I hope you'll give this delicious Chocolate Chip Protein Cheesecake a try! Your body and taste buds will thank you! :)
This post contains affiliate links to products I recommend. When you make purchases through these links, this blog makes a small commission (at no extra cost to you). Thank you for supporting our work!
Chocolate Chip Protein Cheesecake
Nutrition Information
Serves:

1 mini cheesecake
Serving size:

¼ recipe

Calories:

204
Fat:

14g

Carbohydrates:

8g

Sugar:

2g

Fiber:

2g

Protein:

12g
Prep time:
Cook time:
Total time: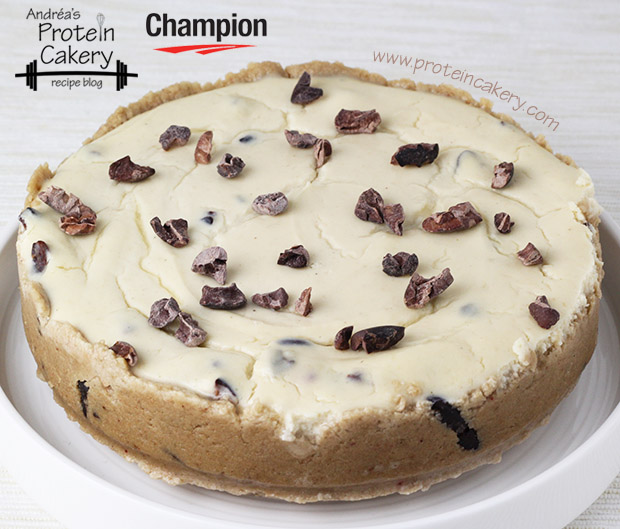 Makes one 4" cheesecake (4 servings).
Ingredients
Best if ingredients are at room temperature.
Crust:
Filling:
Instructions
Preheat oven to 325F (163C).
Line the bottom of a 4" springform with parchment paper, and wrap the bottom in foil.
Begin to make the crust by mixing cashew butter, water, and toffee stevia until well combined.
Add in protein powder, and mix to form the cookie dough crust.
With your hands, fold in the cacao nibs.
Press into parchment-lined pan. Set aside.
Except for cacao nibs, mix all cheesecake ingredients until smooth.
Fold in cacao nibs, and pour into pan.
For best results, set up a water bath by placing the springform in a larger pan in the oven, and adding about an inch of water to the larger pan.
Bake at 325F (163C) for 15 minutes, then reduce the temperature to 200F (93C) and bake for about another 15 minutes. The cake should be removed from the oven while the center is not quite firm.
Let cool at room temperature, then transfer to refrigerator and let cool completely.
Remove from pan, serve, and enjoy!
Store in the refrigerator.
Notes
A note about substitutions: because each type of protein powder has a distinct flavor and texture when baked, I would only recommend the following substitutions. In the crust, using a rice or pea protein would work but rice would be grainy and pea wouldn't taste as great. In the filling, any whey protein would work. (See my
Recipe Basics video
for examples of what goes wrong when you use the wrong protein powder.) Also, you may substitute other natural sweeteners for the stevia, if you like.
Neufchâtel cheese is marketed as "1/3 less fat than cream cheese" here in the states. I stay away from the fat-free cream cheeses because of the additives.
And because this recipe is baked, regular vanilla extract should be fine.