Prot: 7g, Carbs: 4g, Fat: 5g, Cal: 90

Protein bites, or protein truffles, are one of the easiest kinds of protein powder recipes to make. Mix up some ingredients, roll into balls, and enjoy! These Peanut Butter Protein Bites make a great snack, breakfast, or anytime dessert! And there are lots of options in this recipe, as far as protein and sweetener types.

I found the best consistency with the ingredients below, i.e. whey protein and coconut sugar. The whey protein helps to hold the dough together, and the coconut sugar adds a softness to the texture. But you can sub pea protein or casein, if you prefer. In that case, I'd suggest using a sticky sweetener like honey or agave to keep it from becoming too dry and crumbly. With whey protein you could also use dry natural sweeteners, if you prefer, like stevia, erythritol, or monk fruit.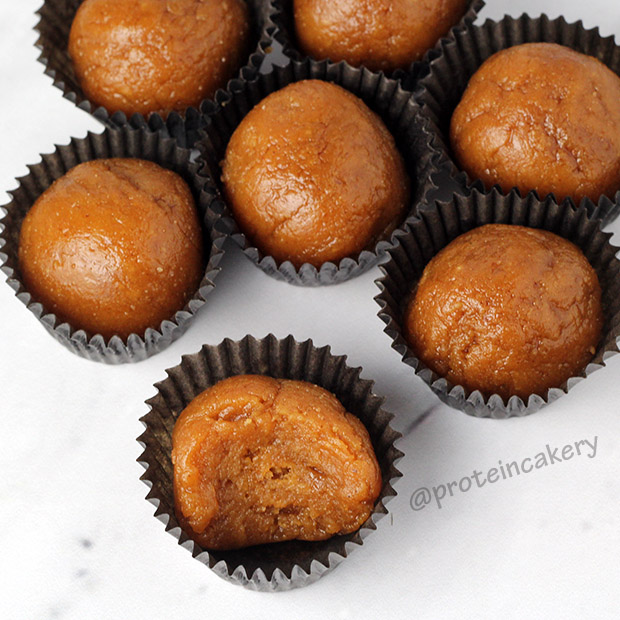 Give these Peanut Butter Protein Bites a try your way, and let us know how it goes! You can even make them as protein bars! :)
**In this recipe I used Jamie Eason's whey protein concentrate, and Crazy Richard's peanut butter products. And you can get a discount on both with the coupon codes on our Discounts page!

This post contains affiliate links to products I recommend. When you make purchases through these links, this blog makes a small commission (at no extra cost to you). Thank you for supporting our work!
Peanut Butter Protein Bites
Nutrition Information
Serving size:

1 piece

Calories:

90
Fat:

5g

Carbohydrates:

4g

Sugar:

1g

Fiber:

1g

Protein:

7g
Makes 7 protein bites.
Instructions
Mix peanut butter with 2 tablespoons of filtered water.
Add dry ingredients, and mix well.
Add remaining water, if necessary, to achieve a cookie dough consistency.
Separate into 7 pieces, and roll each into a ball.
Enjoy! Store any extras in the refrigerator.
Notes
A note about substitutions: other types of protein would work well in this recipe, like pea protein (or a pea blend) and casein protein. In those cases I would suggest using a sticky liquid sweetener like honey or agave.