Prot: 3g, Carbs: 1g, Fat: 15g, Cal: 155

A low-carb peppermint chocolate treat with added protein! These Peppermint White Chocolate Protein Snowflakes have a great smooth texture like regular white chocolate, but with much better macros!
Because of the high fat content, I'm not considering these a protein supplement. But they are an absolutely delicious way to enjoy a peppermint white chocolate treat without the carbs and sugar!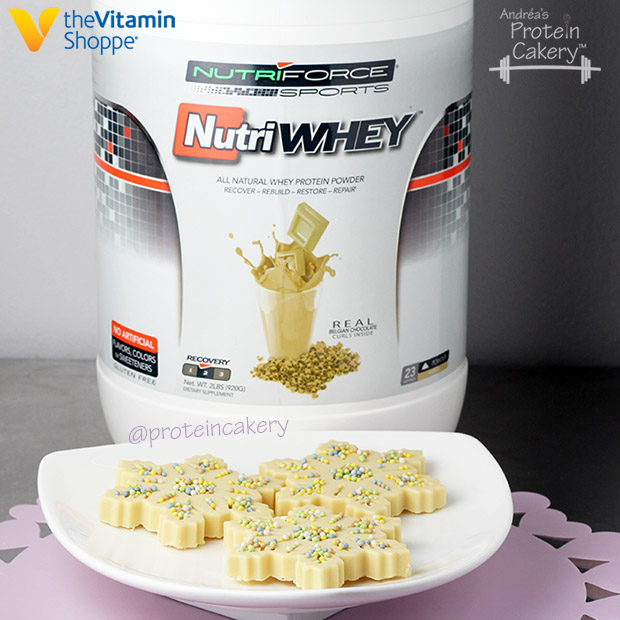 I used Vanilla Nutriwhey protein powder from the Vitamin Shoppe. It has white chocolate curls in it already, so within these snowflakes you get little white chocolate curls, too!
I used this silicone snowflake mold to shape them. Be careful as you take the chocolates out of the mold. My first one broke because I wasn't gentle enough. Oops!
And I've topped them with organic sprinkles. Just because sprinkles make everything better. :)
These Peppermint White Chocolate Protein Snowflakes are very easy to make. Give them a try! And thanks to the Vitamin Shoppe for sending over the protein!
***Our online bakeshop will be opening very soon… at www.proteincakery.com/shop. Exciting times over here!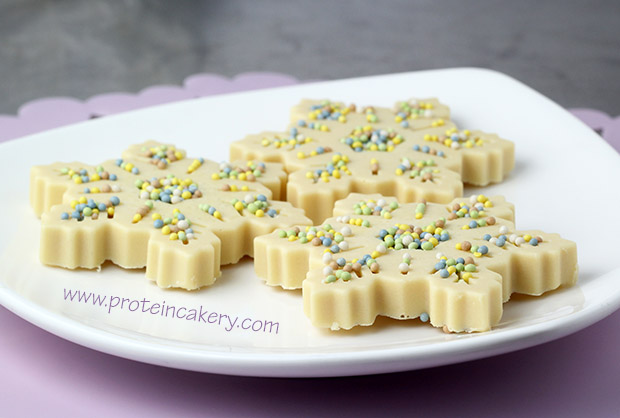 More great holiday recipes in our free recipe ebook: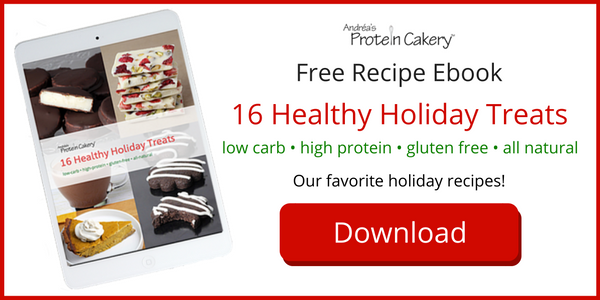 This post contains affiliate links to products I recommend. When you make purchases through these links, this blog makes a small commission (at no extra cost to you). Thank you for supporting our work!
Peppermint White Chocolate Protein Snowflakes
Nutrition Information
Serving size:

⅙ recipe

Calories:

155
Fat:

15g

Carbohydrates:

1g

Sugar:

1g

Fiber:

0g

Protein:

3g
Makes 6 pieces.
Instructions
Mix melted cacao butter and protein powder until smooth.
Spoon into snowflake mold.
Refrigerate several hours or overnight, until chocolate is set.
Carefully release each snowflake from the mold by pulling the mold away from the chocolate.
Top with sprinkles, if desired, and enjoy!
These should stay ok at room temperature, but better to store in the refrigerator.
Notes
Make sure to buy a good brand of cacao butter. I like
Navitas Naturals
. I bought a different brand another time and it was very bitter.
It's very easy to overdo the peppermint flavoring and ruin whatever you are making. If you want a stronger peppermint flavor, try adding one drop at time and testing the mix as you go.