Prot: 8 g, Carbs: 7 g, Fat: 5 g, Cal: 98

Looking for something different to bake for Christmas? How about sweet pistachio cookies with tart fresh cranberries! And they are high-protein, of course! These Pistachio Cranberry Protein Cookies are chewy and delicious!
I've used unflavored whey protein in this recipe, and (like with most whey recipes) the key is not to overbake the cookies. Here, we're just baking them until the outside is dry and set. The inside will be completely chewy!
These can even be made into truffles or bars, and left uncooked. I'd wrap them in parchment and store them in the fridge, that way.
However you make them, give these Pistachio Cranberry Protein Cookies a try!
More great holiday recipes in our free recipe ebook: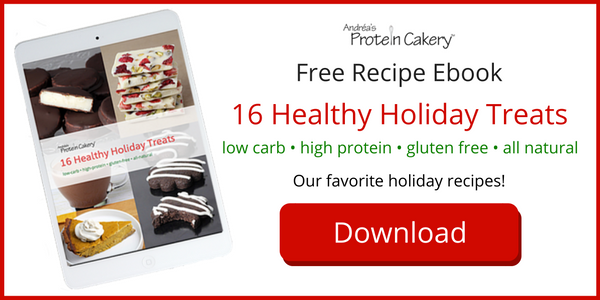 This post contains affiliate links to products I recommend. When you make purchases through these links, this blog makes a small commission (at no extra cost to you). Thank you for supporting our work!
Pistachio Cranberry Protein Cookies
Nutrition Information
Serving size:

1 cookie

Calories:

98
Fat:

5g

Carbohydrates:

7g

Sugar:

4g

Fiber:

1g

Protein:

8g
Prep time:
Cook time:
Total time:
Makes 5 cookies.
Ingredients
⅓ cup unflavored whey protein powder (31g)
2 tablespoons almond meal (14g)
1½ tablespoons coconut sugar (18g)
1½ tablespoons filtered water (22ml)
2 tablespoons pistachio nut butter (31g) (made from ¼ cup pistachios in the food processor)
1 tablespoon cranberries (fresh or thawed frozen), chopped (16g)
½ tablespoon pistachios, chopped (4g)
Instructions
Preheat oven to 325F (163C).
Line a cookie sheet with parchment paper.
Mix whey, almond meal, and coconut sugar until combined.
Add water, and mix well.
Stir in pistachio nut butter. Mix well.
Fold in cranberries and pistachios.
Form into 5 balls, and press into cookies.
Place on parchment-lined cookie sheet, and bake for about 5 minutes, just until set and dry. (The inside will be uncooked.)
Remove from oven, and let the cookies sit to firm up (about 10 minutes).
Enjoy!
Notes
A note about substitutions: because each type of protein powder has a distinct flavor and texture, I would not try substituting different types of protein powders in this recipe. (See my
Recipe Basics video
for examples of what goes wrong when you use the wrong protein powder.) If you use vanilla instead of unflavored whey, it will take away from the pistachio flavor.
Unless you have a mini food processor, you'll probably want to make a larger amount of pistachio nut butter.