Prot: 17g, Carbs: 6g, Fat: 6g, Cal: 149 (per piece, cake only)

This festive Protein Gingerbread Train Cake is gluten-free and high-protein, and is decorated with all-natural candy! Perfect for celebrating this season's holidays!
I picked up this silicone train cake mold last year, but didn't get the chance to try it. This year, it was on my list! (Here is a similar train cake mold available on Amazon.)
I wanted to make this Protein Gingerbread Train Cake like my Very Vanilla Protein Cupcakes, with Vanilla Plnt protein powder from the Vitamin Shoppe. When I tried that recipe (switching the flavor to gingerbread), I found it too thick for the mold. The batter didn't take the shape well enough. That recipe has a nicer cake texture, though, so if you're just looking for a nice gingerbread cake, I'd try that one with 1 teaspoon each ginger and cinnamon, 3/8 teaspoon cloves. Or my Gingerbread Protein Cake with Spiced Maple Glaze. That one is pretty delicious, too!
For this recipe, I left out the baking powder so it wouldn't rise too much out of the mold. And I added some water. The result is a more dense cake, but it still tastes great and fills the mold well!
For decorations, I went to my local health food store and picked up some organic, all-natural candy. I found some hard candy from Yum Earth, ginger gumdrops from Gin Gins, and licorice from Candy Tree. I have to say, they are all incredibly delicious! I already ate all the licorice. :)
I also had on hand some organic sprinkles, cacao nibs, and seaweed snacks. It all made for great decorations for this Protein Gingerbread Train Cake! And I used confectioners erythritol for the snow and to make the icing. Making icing with it is like using confectioners sugar. Not enough water, not enough water, oops! Too much water! More confectioners sugar. And eventually you get the right consistency!
Thanks to the Vitamin Shoppe for sending over the Plnt protein powder, coconut oil, and cacao nibs!
 
More great holiday recipes in our free recipe ebook: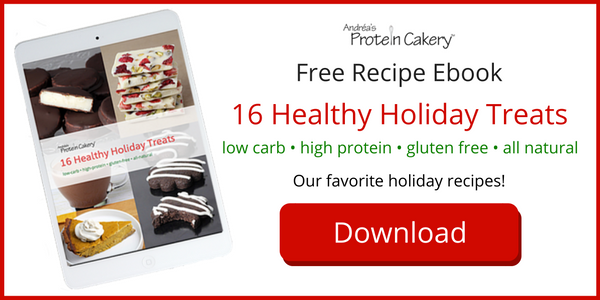 This post contains affiliate links to products I recommend. When you make purchases through these links, this blog makes a small commission (at no extra cost to you). Thank you for supporting our work!
Protein Gingerbread Train Cake
Nutrition Information
Serving size:

1 piece, cake only

Calories:

149
Fat:

6g

Carbohydrates:

6g

Sugar:

1g

Fiber:

1g

Protein:

17g
Prep time:
Cook time:
Total time:
Makes 8 pieces.
Ingredients
10 large egg whites (330g)
2 tablespoons coconut oil (30ml or 28g), melted
⅔ cup non-fat Greek yogurt (151g)
1¼ cup vanilla Plnt protein powder (vegan blend) (140g)
⅓ cup almond meal (37g)
½ teaspoon vanilla crème stevia (2.5ml)
1½ teaspoons ground ginger (3g)
1½ teaspoons ground cinnamon (3g)
½ teaspoon ground cloves (1g)
1 cup filtered water (240ml)
Instructions
Preheat oven to 325F (163C).
Mix egg whites, coconut oil, and Greek yogurt until combined.
Add protein powder, almond meal, stevia, and spices. Mix well to a thick batter.
Add water, and mix well.
Pour into 8 cavities of your train cake mold.
Bake for about 40 minutes, until firm and a toothpick comes out clean.
Let cool completely before decorating.
Make icing from confectioners erythritol and water (just enough water for icing consistency), and pipe on as both decoration and to stick candy pieces to the cake.
Enjoy!
Notes
If you are using regular coconut oil (the kind that solidifies when cold), you'll want to bring your egg whites and yogurt to room temperature before mixing.

A note about substitutions: because each type of protein powder bakes differently, I would only recommend substituting another pea protein blend in this recipe.