Prot: 7 g, Carbs: 2 g, Fat: 7 g, Cal: 102

It is already proving to be a snowy winter here in New York City, and I'm trying to embrace it and enjoy it. So here you have Protein Snowflake Cheesecakes! Each is a small portion of low-carb protein cheesecake, the perfect filling snack for these snowy winter days!
I made these with Jamie Eason's Whey Protein Concentrate. You might have noticed that I've become a big fan of her line of protein powders. They are all-natural and delicious! And they come in eco-friendly bags that are great for traveling!
I found this adorable snowflake baking pan on Amazon, and I love it! So don't be surprised if you see other protein snowflake recipes. The more it snows here, the more I'll be using this pan! :)
These Protein Snowflake Cheesecakes would be great with my Protein Hot Cocoa on a cold winter day. Give them a try!
More great holiday recipes in our free recipe ebook: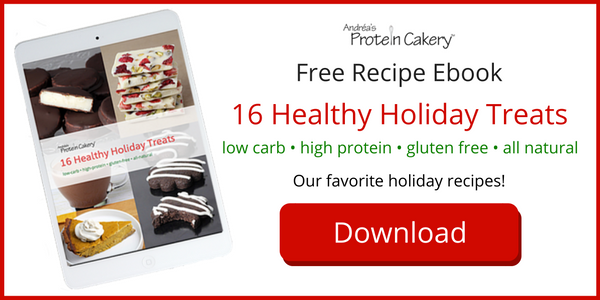 This post contains affiliate links to products I recommend. When you make purchases through these links, this blog makes a small commission (at no extra cost to you). Thank you for supporting our work!
Protein Snowflake Cheesecakes with Jamie Eason Whey Protein
Nutrition Information
Serves:

4 snowflake cheesecakes
Serving size:

1 snowflake cheesecake

Calories:

102
Fat:

7g

Carbohydrates:

2g

Sugar:

1g

Fiber:

0g

Protein:

7g
Prep time:
Cook time:
Total time:
Makes 4 snowflake cheesecakes.
Instructions
Preheat oven to 300F (150C).
Mix the Neufchâtel cheese, egg, and yogurt until smooth.
Add whey powder, stevia, and vanilla. Mix well.
Pour batter into snowflake pan, filling 4 of the snowflakes about half-way.
Bake for about 15 minutes, or until cakes are just about firm.
Let cool at room temperature, then transfer to refrigerator and let cool completely.
Remove from pan, and serve.
Enjoy! Store in the refrigerator or individually wrapped in the freezer.
Notes
A note about substitutions: because each type of protein powder has a distinct flavor and texture when baked, I would not try substituting different types of protein powders in this recipe. You may substitute other natural sweeteners for the stevia, if you like.
Also, Neufchâtel cheese is marketed as "1/3 less fat than cream cheese" here in the states. I stay away from the fat-free cream cheeses because of the additives.
And because this recipe is baked, regular vanilla extract should be fine.