Prot: 16g, Carbs: 15g, Fat: 12g, Cal: 232
We're finally getting springtime weather here in New York City, and I wanted to create a recipe that is light and fresh. Strawberry Shortcake Protein Crepes!
I used Quest Multi-Purpose Mix protein powder in this recipe because of how easy it is to cook with. Because it is a whey/casein blend, it doesn't need the added flour a whey recipe would need. So you get extra protein for the same texture. You can certainly use the vanilla flavor, or any flavor you like! But I prefer the Multi-Purpose (unflavored) because it is all-natural, and doesn't contain sucralose like the other Quest powders. It also has a nice bread/biscuit-like flavor. If you prefer to use a whey protein here, I suggest adding a tablespoon of oat flour, or similar dry ingredient to get the right texture.
Since the crepe is made from just egg whites and unflavored protein powder, it looks pretty white here. If you prefer a crepe that is more tan in color, you can add some vanilla extract to your batter or use a whole egg + 1 egg white instead of 3 egg whites.
For the whipped cream in these Strawberry Shortcake Protein Crepes, I used my Cashew Whipped Cream, but I made it with monk fruit sweetener instead of agave to save on some carbs. I used 1 mini scoop of monk fruit powder per cup of Cashew Whipped Cream.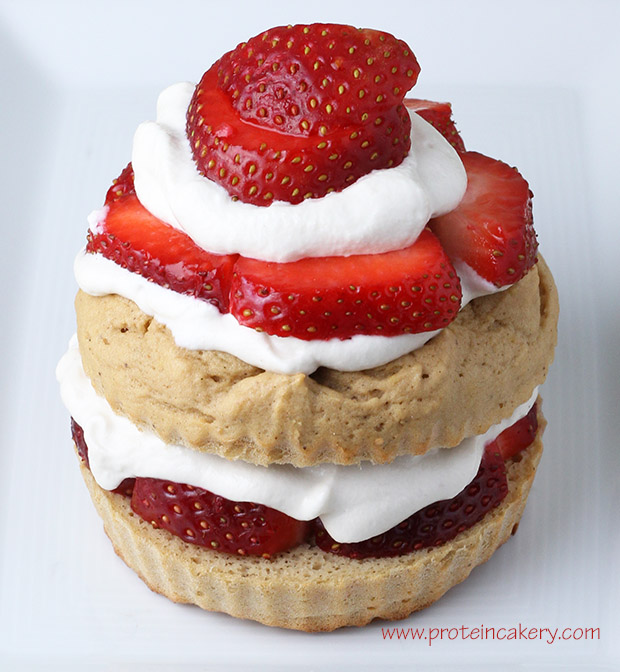 If you prefer a more traditional Strawberry Shortcake, you can find that recipe in my Bake for the Cause ebook. Enjoy!
This post contains affiliate links to products I recommend. When you make purchases through these links, this blog makes a small commission (at no extra cost to you). Thank you for supporting our work!
Strawberry Shortcake Protein Crepes
Nutrition Information
Serving size:

1 crepe

Calories:

232
Fat:

12g

Carbohydrates:

15g

Sugar:

6g

Fiber:

3g

Protein:

16g
Prep time:
Cook time:
Total time:
Makes 2 crepes.
Ingredients
Crepes:
Filling/Topping:
Instructions
Spray your griddle with non-stick cooking spray, or rub some coconut oil on it.
Heat the griddle over low-medium flame.
When the griddle is hot enough (drops of water sizzle up), pour half the crepe batter onto griddle. Spread into a thin circle.
When the edges begin to curl up, flip the crepe. Let cook for another minute or so.
Repeat for the second crepe.
Mix Cashew Whipped Cream with vanilla and protein powder. Mix well.
Spoon or pipe cream mixture on one side of each crepe, and top with strawberries. Fold in half to cover, and then in half again. Top with any remaining cream and strawberries.
Enjoy! Store any leftovers in the refrigerator.
Notes
A note about substitutions: if you'd like to use whey powder instead of the whey/casein blend, you'll need to add some flour to the crepe batter. Try 1-2 teaspoons coconut flour or a tablespoon of oat flour. I wouldn't recommend vegan proteins for this recipe (pea protein would make it fluff up like a pancake, and rice protein would make it wet and dense).