Prot: 5g, Carbs: 5g, Fat: 6g, Cal: 98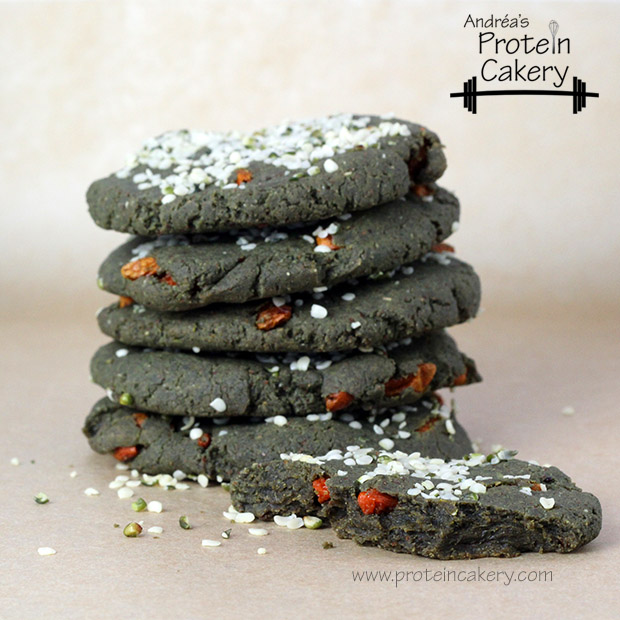 Now you can get your daily does of spirulina and chlorella in a delicious, high-protein cookie! These Superfood Protein Cookies bring you the best of superfood protein in a gluten-free, vegan cookie!
The team at Oriya Organics was kind enough to send over some of their Superfood Protein Medley, a blend of rice, hemp, and chia with added chlorella and spirulina. It is raw, organic, and has only whole-food ingredients. Nothing artificial, and nothing processed. No sweeteners added, either! It does taste a bit green, but it's not a bitter green taste at all. And with the added agave and goji berries in this recipe, these Superfood Protein Cookies are quite delicious! Way more tasty than any green juice!
I made a second batch of these cookies in my dehydrator for a raw vegan version. (The preparation of raw foods limits the heat to about 115F to avoid damaging natural enzymes in the foods.) As with my Peanut Butter Protein Cookies and Gingerbread Protein Warrior Cookies, I find that the flavor is intensified with the raw version.
Either way, give these cookies a try! I'm excited to try this protein powder in cakes, too. And maybe some superfood protein pancakes? Yum!
I've been curious as to what you all would think of green cookies, but I think these Superfood Protein Cookies are quite pretty. Feel free to leave a a comment below!
This post contains affiliate links to products I recommend. When you make purchases through these links, this blog makes a small commission (at no extra cost to you). Thank you for supporting our work!
Superfood Protein Cookies
Nutrition Information
Serving size:

1 cookie

Calories:

98
Fat:

6g

Carbohydrates:

5g

Sugar:

3g

Fiber:

2g

Protein:

5g
Prep time:
Cook time:
Total time: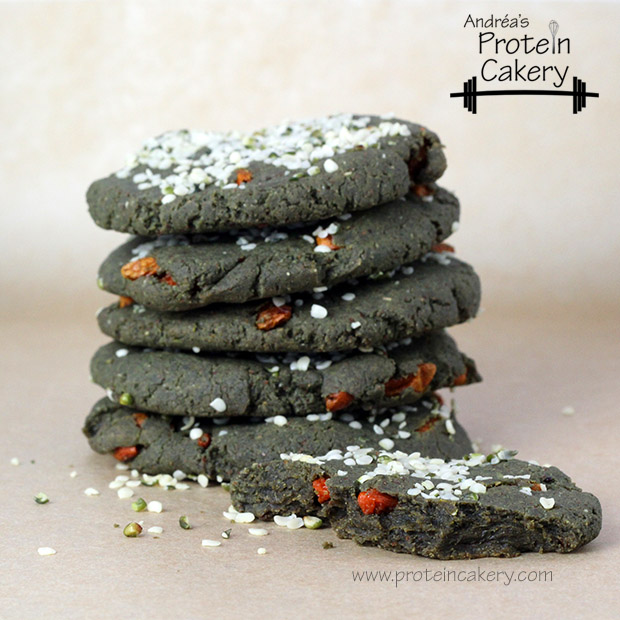 Makes 6 cookies.
Instructions
Preheat oven to 325F (163C).
Line a cookie sheet with parchment paper.
Mix almond butter, water, and agave.
Add protein powder. Mix well, and use your hands to fully combine the dough.
Fold in goji berries, and break dough into 6 pieces.
Roll each piece into a ball, and place on cookie sheet. Flatten each with the back of a spoon or the heel of your hand. (Or place flattened cookies on mesh dehydrator sheet.)
Sprinkle with hemp hearts.
Bake for 12-14 minutes, or until firm. (Or dehydrate for about 12 hours, shifting the cookies halfway through.)
Enjoy!
Notes
A note about substitutions: These wouldn't be superfood cookies without the Superfood Protein Medley, but the recipe would work with rice or pea protein powders. I would not recommend other types of protein powders for this recipe. (See my
Recipe Basics video
for examples of what goes wrong when you use the wrong protein powder.)