In the quest for weight loss and achieving our fitness goals, many of us turn to meal replacement options to help manage our calorie intake and provide essential nutrients. Two popular choices in the market are Slim Fast shakes and protein shakes. Both claim to support weight loss and offer a convenient way to replace meals, but which one is more effective? In this blog post, we will compare Slim Fast vs protein shake, considering factors like protein content, nutritional value, taste, and long-term sustainability, to help you make an informed decision. (TLDR: Protein shakes like this protein meal replacement shake powder or this pre-made protein shake are much better choices than SlimFast.)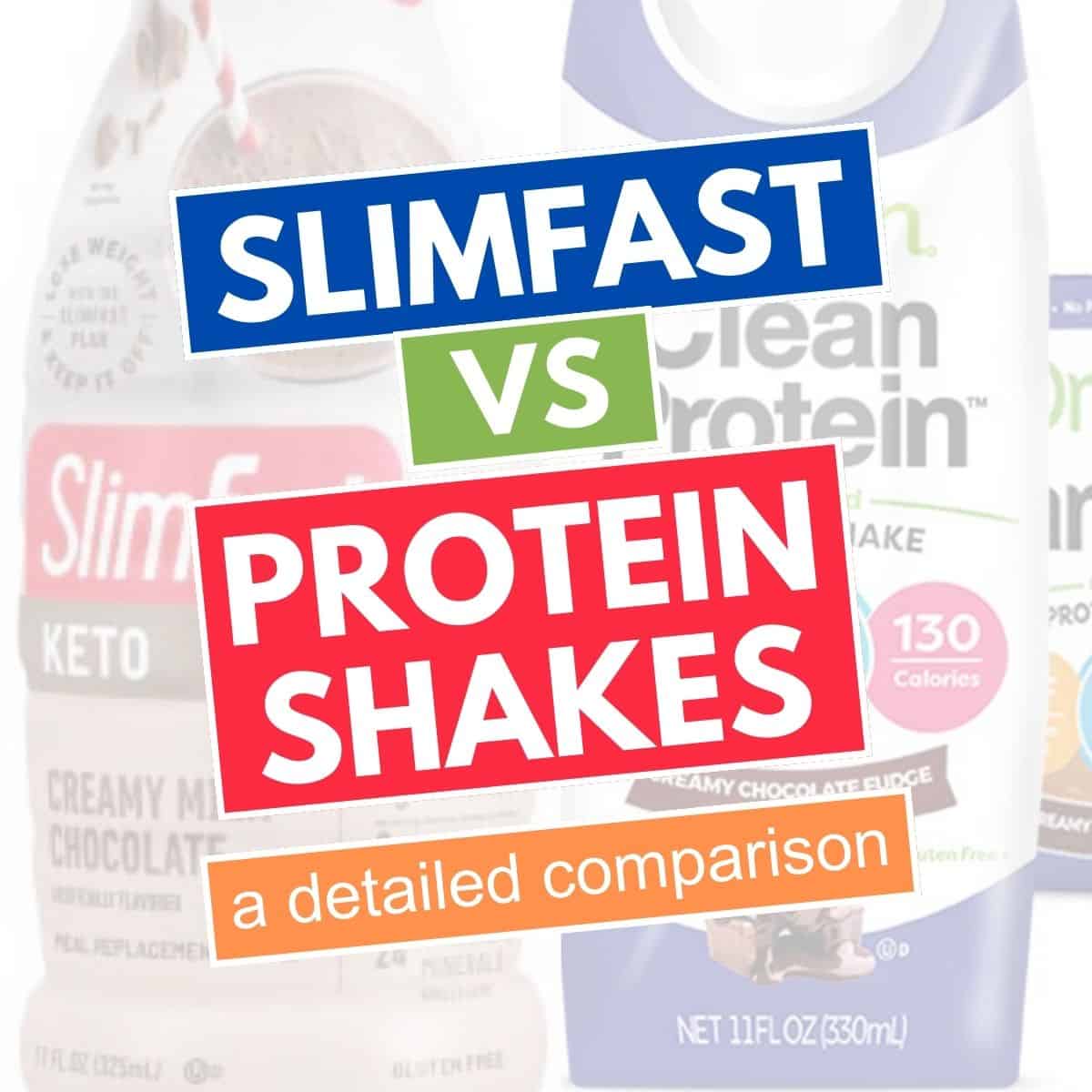 Jump to:
What is SlimFast?
SlimFast is a well-known brand that offers a range of products designed to support weight loss and provide convenient meal replacements. It is a popular weight management program that includes meal replacement shakes, snack bars, and other food products.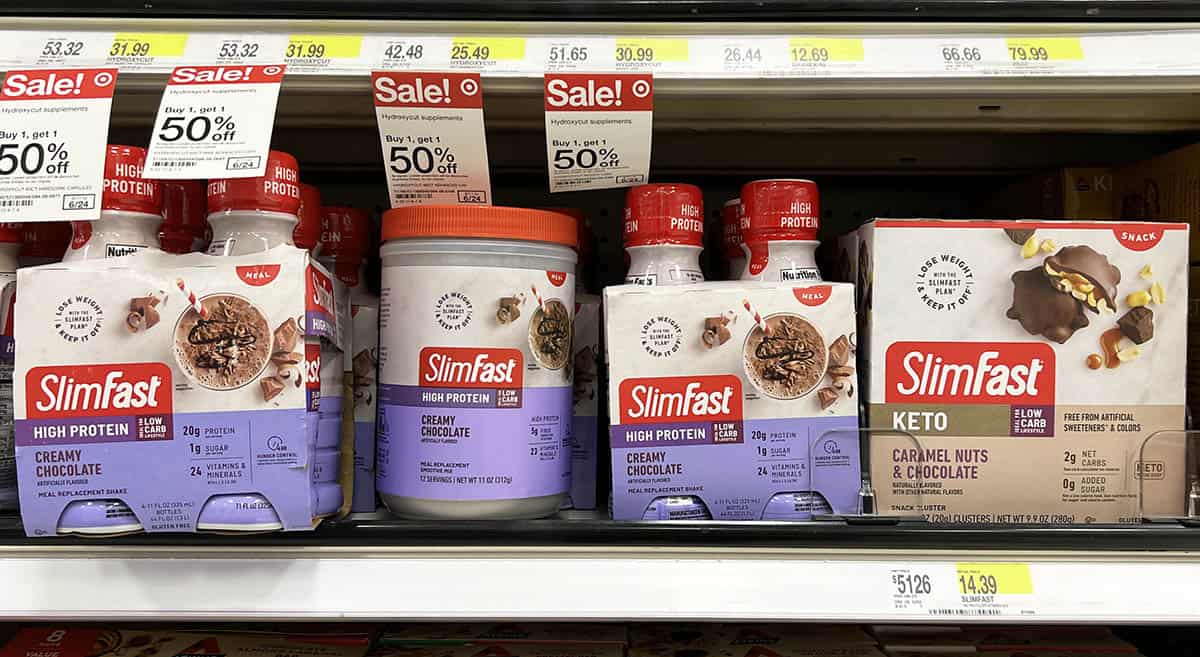 At its core, SlimFast is a structured diet plan that focuses on calorie restriction and portion control. The SlimFast plan typically involves replacing two meals a day with SlimFast shakes, having one sensible meal, and incorporating three 100-calorie snacks throughout the day. The meal replacement shakes are the main component of the plan and are intended to provide balanced nutrition while keeping calorie intake in check.
SlimFast shakes are available in powdered form and pre-made shakes. They are fortified with essential vitamins and minerals to help meet daily nutrient requirements, and are marketed as meal replacement drinks. The shake powders can be mixed with water, milk, or other liquids to create a satisfying and low-calorie meal replacement shake. But the original shake formula is high in sugar and low in protein.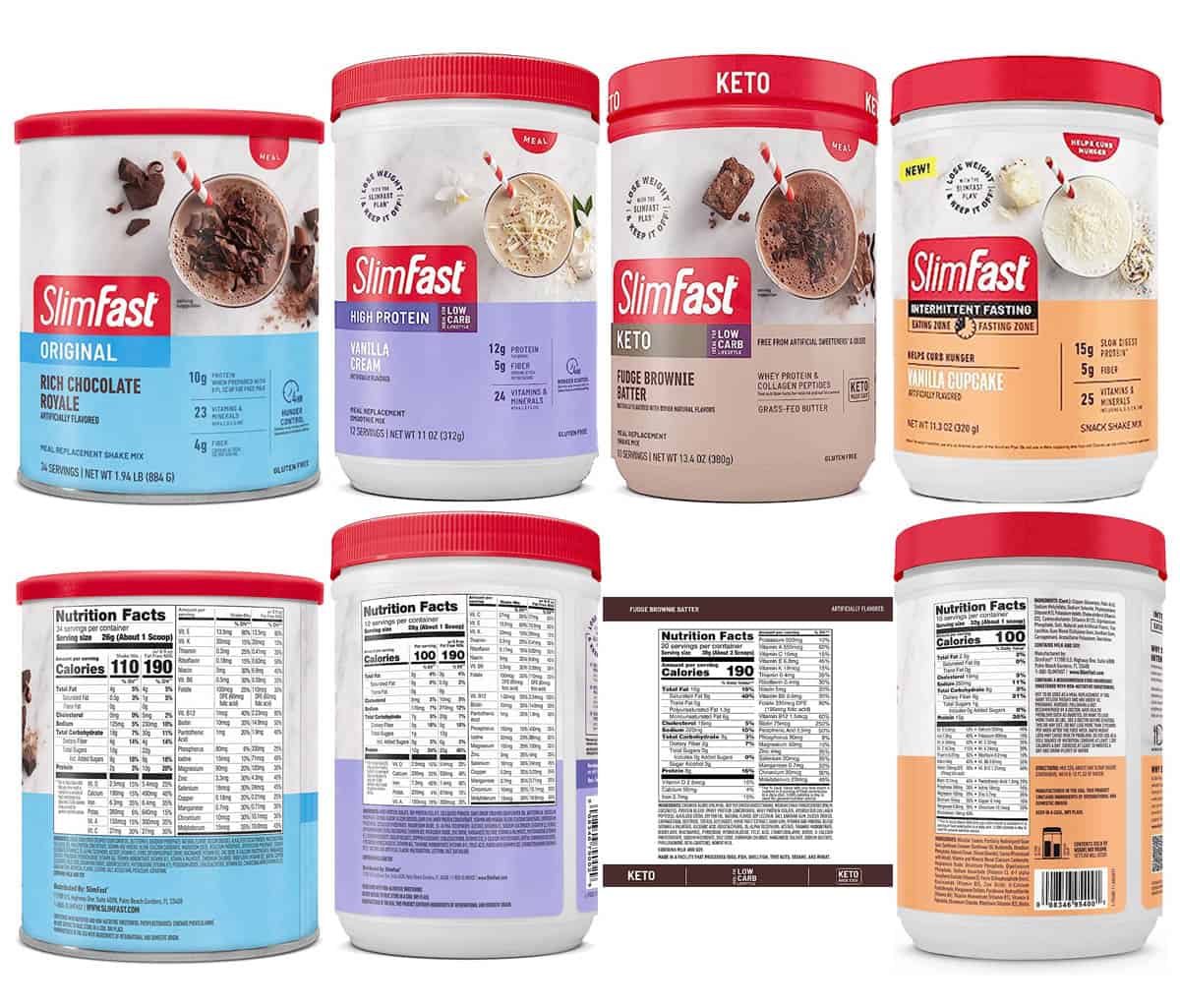 As the popularity of protein powder grew in the marketplace, SlimFast expanded their product line to include high protein and keto versions of their shake powder. By looking at the nutrition facts and amount of protein, it is safe to say that the Original SlimFast shake is NOT the best choice for weight loss (it also contains Ace-k and aspartame, controversial artificial sweeteners ). So below we'll compare the SlimFast High Protein and Keto shakes with other protein shakes in the market.
SlimFast also has a snack shake that is casein-based and lower in calories, but they do not consider that to be a meal replacement shake. (And this shake also has Ace-K as a sweetener.)
What are Protein Shakes?
Protein shakes are beverages that are specifically formulated to provide a concentrated dose of protein, which is a macronutrient essential for various bodily functions. Protein shakes are popular among individuals who aim to increase their protein intake, support muscle growth and recovery, or supplement their diet with a convenient and quick source of protein.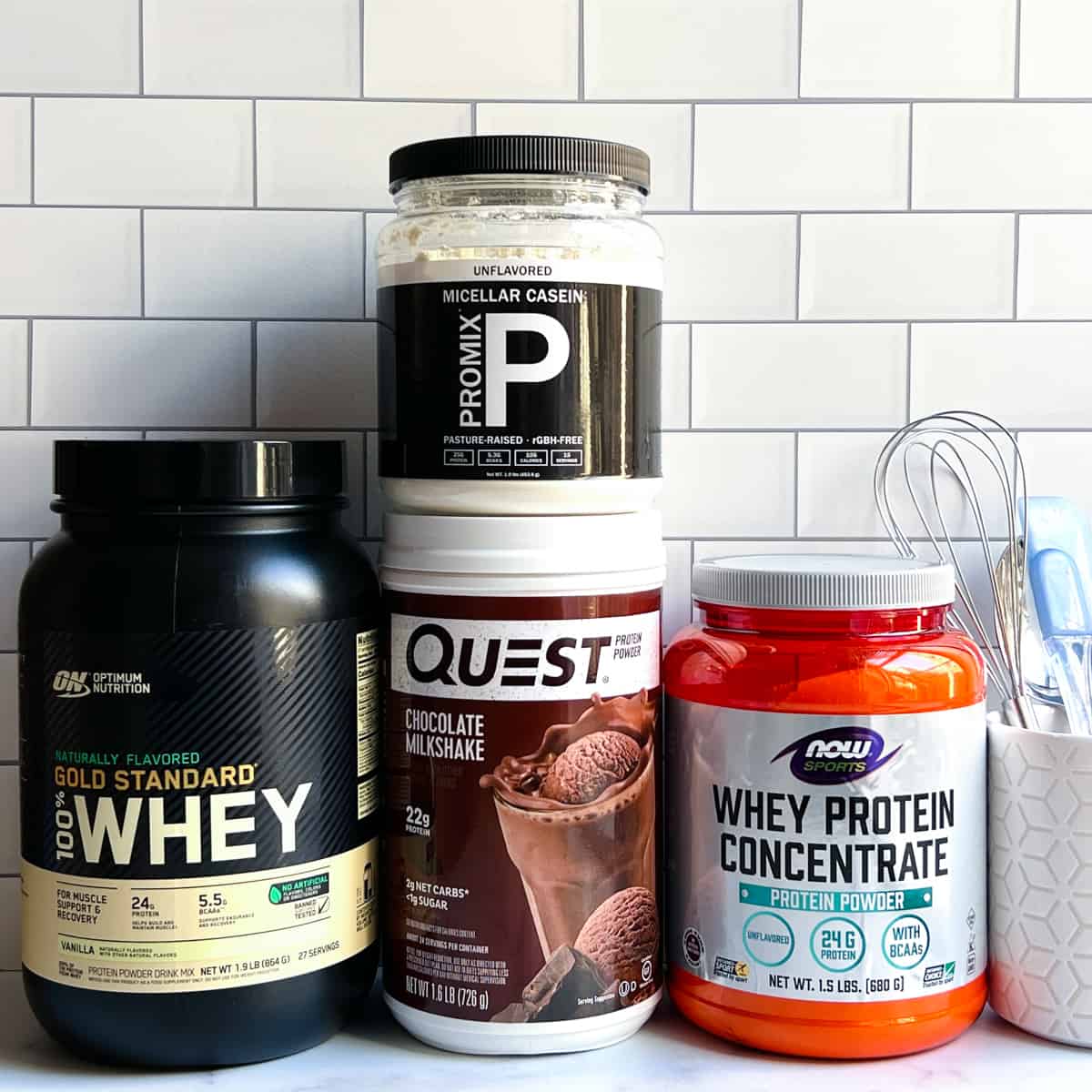 Protein shakes typically come in powdered form and can be mixed with liquids like water, milk, or other preferred beverages to create a protein-rich drink. The protein powder is derived from various sources, including whey (a byproduct of cheese production), casein (found in milk), and plant-based proteins like soy, pea, rice, or hemp, among others. Each protein source offers a different amino acid profile and absorption rate, catering to different dietary preferences and requirements.
Protein shakes also come pre-made and ready-to-drink. This pre-made protein shake is a great choice based on its ingredient list, nutritional profile, and taste. One thing to look out for: many pre-made protein drinks have milk protein as a main ingredient (like Premier protein shake), and this can cause digestive problems for some. Not only for those who are lactose intolerant, but the casein in milk protein can have constipating effects (which is the opposite of what we want when we are trying to lose weight!).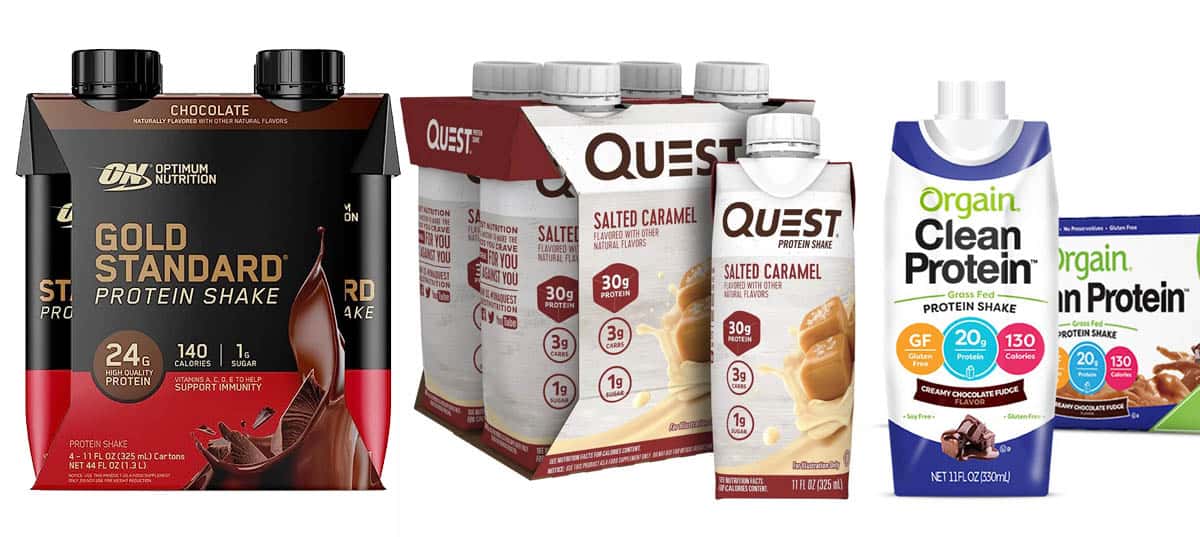 Protein shakes are commonly used by athletes, fitness enthusiasts, and individuals engaged in strength training or other intense physical activities. Protein plays a crucial role in muscle repair, recovery, and growth. By consuming protein shakes after a workout, the body receives a readily available source of amino acids, the building blocks of protein, which helps support muscle protein synthesis and promote muscle recovery.
Comparing SlimFast and Protein Shakes
Protein
Protein plays a crucial role in weight management and muscle building. It provides satiety, supports lean muscle growth, and aids in muscle recovery after workouts. Protein shakes are known for their high protein content, typically ranging from 15-30 grams of protein per serving (not including any protein found in whatever liquid you add). The protein content in SlimFast shake powder is considerably lower, with the High Protein version having 12g and the Keto powder having just 8g protein (the Original has 2g protein).
Also worth noting, the first 3 ingredients in SlimFast High Protein are whey protein isolate, soy protein isolate, and cellulose powder. Soy protein is a bit controversial, and cellulose powder is refined wood pulp (generally recognized as safe, GRAS, by the FDA). It's my guess that cellulose is used here to make the shake more thick and filling by adding fiber, but I'd prefer not to have cellulose in my shakes.
Vitamins and Minerals
In addition to protein, essential vitamins and minerals are vital for overall health and well-being. Both protein shakes and Slim Fast shakes are fortified with essential vitamins and minerals to help meet your daily nutrient requirements. However, it's important to note that Slim Fast shakes are specifically designed as meal replacements and are more likely to provide a wider array of nutrients compared to protein shakes, which are primarily focused on delivering protein. If you plan to use the SlimFast idea of two shakes, one meal, 3 snacks per day, I'd recommend protein shakes with added vitamins and minerals (like this protein meal replacement shake powder or this pre-made protein shake), or make sure your meal and snacks are healthy and balanced.
Natural and Artificial Sweeteners
One important consideration when choosing a meal replacement shake is the presence of artificial sweeteners. Some artificial sweeteners are known for their harmful effects, and even some natural sweeteners can affect individuals negatively. Personally, I would stay away from anything with Ace-K or aspartame (both in the Original SlimFast), simply because there are better options.
Common natural sweeteners are stevia and erythritol, although erythritol can aggravate stomach issues in some people. If you're not a fan of either of those, I'd go with a shake sweetened with coconut sugar (since it is natural and low glycemic), or sucralose (a better choice of artificial sweetener).
This whey isolate has a light vanilla flavor and contains no sweeteners at all, so you can add whatever sweetener you like. (I use this when I make protein ice cream.) It's a great choice if sweeteners present a problem for you when choosing a protein powder.
Weight Loss
When it comes to weight loss, calorie deficit is the key. There's nothing magic in SlimFast that will make you lose weight. However, their plan of having two shakes, one meal, and three low calorie snacks per day can be a great structured meal plan for weight loss. (My only suggestion is to use this protein meal replacement shake powder or this pre-made protein shake instead of SlimFast because of the better ingredient list and nutritional profile.)
If you prefer more than one meal per day, protein shakes can be used as snacks instead of as meal replacements. There is a bit more flexibility in using protein shakes, if that's what you prefer.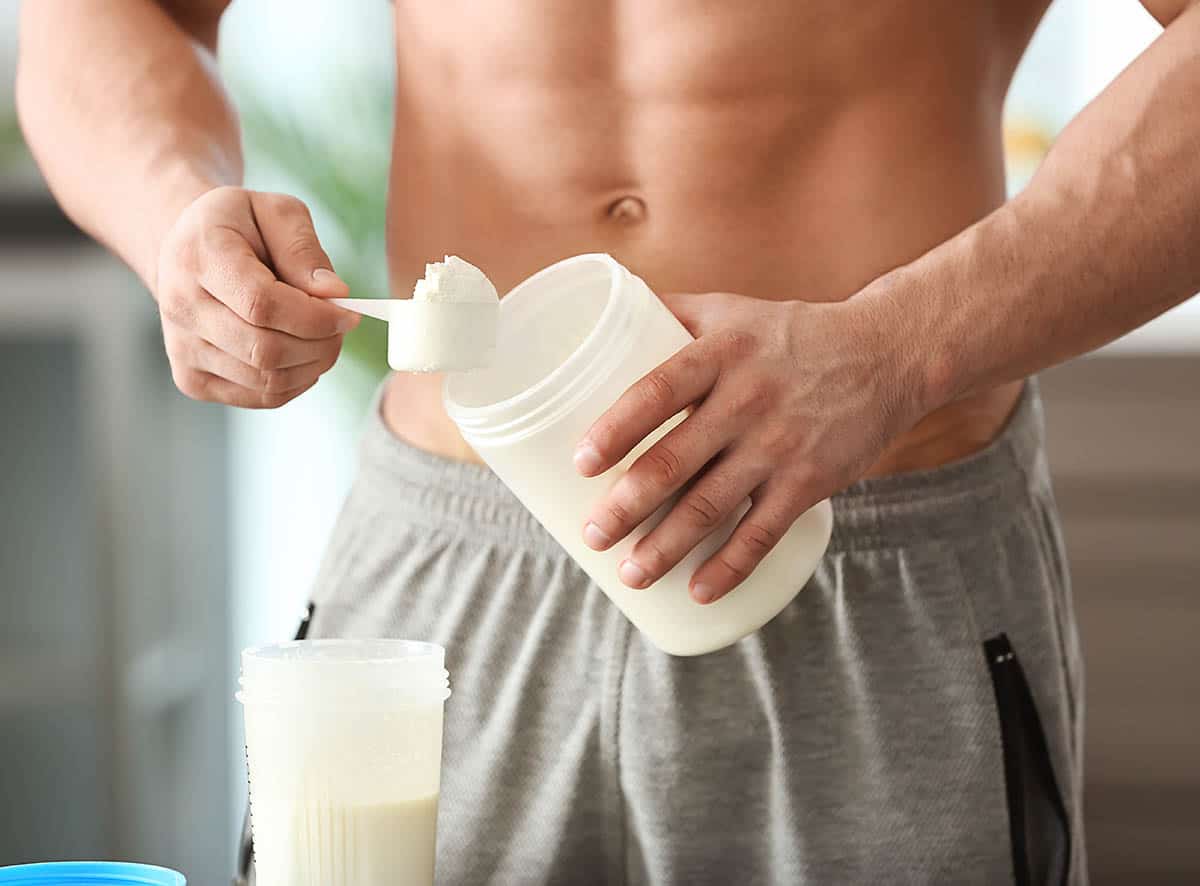 Specialty Diets
For those who follow a plant-based vegan diet, Slim Fast is not a viable choice, as Slim Fast products contain dairy-based ingredients. However, the protein shake market is full of plant-based protein shake options, and they have gotten much better over the years. (If you tried your first plant protein shake years ago, I promise they have gotten better!) These are my go to plant-based vanilla and chocolate protein shake powders.
Fiber
Fiber is another important factor to consider for weight loss and overall health. SlimFast High Protein shake powder has 5 grams of fiber (from cellulose?) per serving, while their Keto shake has 0g fiber. Most dairy-based protein shakes have a lower fiber content, but plant-based shakes may have a bit more (like this Orgain with 6g fiber and this Purely Inspired with 5g fiber).
Dietary fiber promotes satiety, aids in digestion, and helps regulate blood sugar levels. If consuming enough fiber is a priority for you, consider incorporating additional sources of fiber, such as fruits, vegetables, or whole grains, into your daily meals when using low fiber protein shakes.
Taste
Taste is a personal preference and can play a significant role in adherence to a meal replacement plan. Both Slim Fast and protein shakes come in a variety of flavors, allowing you to choose the ones you enjoy the most. Given the many brands of protein shakes on the market today, you'll have a much wider variety of delicious flavors to choose from with protein shake powders, and many brands focus on delivering a great taste.
Sustainability as a Lifestyle Choice
When it comes to the sustainability of a meal replacement plan, considering the long-term aspect is crucial. While the SlimFast plan of one meal, 2 shakes, 3 snacks per day can be effective for short-term weight loss goals, it's important to incorporate solid food and maintain a balanced diet in the long run. Relying solely on meal replacement shakes for an extended period may lead to nutrient deficiencies and hinder your ability to enjoy a wide variety of whole foods. Therefore, it's recommended to view meal replacement shakes as a tool to assist you in achieving your weight loss goals, and as an option during weight maintenance, rather than a long-term daily plan.
Protein shakes can fit whatever plan you are following for weight loss or maintenance, since they aren't specifically used for replacing real food meals. Protein shakes are great as snacks and for post-workout nutrition.
Macronutrients
In terms of macronutrients, protein shakes offer a higher protein content compared to Slim Fast shakes. Protein helps us to feel full and can be beneficial for those looking to increase muscle mass or support their fitness goals. Protein shakes often contain complete proteins, which provide all the essential amino acids necessary for various bodily functions. Additionally, protein shakes can be customized by using different types of protein powder, such as whey protein or plant-based options, to cater to individual dietary preferences or restrictions.
While SlimFast markets their shakes as meal replacement shakes, the nutritional profiles are different across their shake line, and none of them seem particularly balanced (in protein, carb, and fats) in any general healthy diet "balanced meal" kind of way.
The flexibility of protein shakes makes them a great choice no matter the macronutrient profile you are looking for. It is easy to add carbohydrates (fruit, coconut sugar, oats) and healthy fats (MCT oil, nut butters) to protein shakes to achieve your desired macros.
Convenience
One of the advantages of using protein and meal replacement shakes is the convenience they offer. They are quick and easy to prepare, making them a great option for individuals with busy lifestyles or those who struggle with meal planning. Slim Fast and protein shakes can both be prepared by simply mixing the shake powder with water, milk, or other preferred liquids. This simplicity can save time and effort in the kitchen, especially when compared to preparing a regular meal.
Pre-made shakes are even more convenient, as they are often shelf stable and require no preparation. Keeping one in your bag, a few at the office, and a few in your home fridge is an easy way to help prevent poor choices and extra calories when unexpected situations arise.
Which is right for you?
Well, I think we've shown that the SlimFast shake products aren't the best choice based on their ingredients and nutritional profiles. If you like the structured weight loss plan of two shakes, one meal, 3 snacks per day, that's great! But the shakes listed below would be much better choices nutrition-wise.
And remember that meal replacement shakes should be seen as a tool to support your weight loss journey, rather than a complete solution. Incorporating whole foods, maintaining a calorie deficit, and engaging in regular physical activity are crucial for long-term weight management and overall well-being.
Consult with a healthcare professional or registered dietitian to determine the best approach for your specific needs and goals, especially if you have any specific health concerns or dietary restrictions. They can provide personalized guidance and ensure that you're making choices that are suitable for your individual needs.
Best meal replacement shakes
These are the shakes I've linked to throughout this post. The meal replacement shakes I recommend instead of SlimFast are:
And the protein shakes I recommend (without added vitamins and minerals) are:
For the shake powders, I recommend using the following liquids (with ice, in a nutribullet blender):
And if you're looking for snack ideas using protein powder, take a look at all the recipes I have posted on this site! Protein Powder Recipes
FAQ
Is SlimFast like a protein shake?
The SlimFast High Protein shake is most comparable to regular protein shakes (as opposed to the SlimFast Original or Keto shakes), but the ingredient list is not as high quality as other protein shakes. This protein meal replacement shake powder or this pre-made protein shake would be better choices than any of the SlimFast shakes.
Is SlimFast the same as whey protein?
No, SlimFast is not the same as whey protein. The SlimFast High Protein shake has whey protein as an ingredient and is most comparable to whey protein shakes (as opposed to the SlimFast Original or Keto shakes), but it contains soy protein and cellulose powder which are not normally found in whey protein shakes.
What is the difference between weight loss shake and protein shake?
Weight loss shakes are designed to replace meals and have more vitamins and minerals than most protein shakes. There are, however, protein shakes that are suitable as weight loss meal replacements, like this natural protein meal replacement shake. The ingredients on this shake are much better than SlimFast or other shakes marketed as weight loss shakes.
Are protein shakes suitable for weight loss?
Protein shakes can be beneficial for weight loss as they can help increase satiety, preserve lean muscle mass, and support a calorie deficit. However, it's important to incorporate them as part of a well-rounded diet and exercise plan.
Can I use SlimFast shakes as a complete meal replacement?
While SlimFast shakes are designed to be a complete meal replacement, there are better shake options. This protein meal replacement shake powder or this pre-made protein shake provide a balanced mix of nutrients, including protein, carbohydrates, and fats, making them a convenient substitute for a regular meal.
Can I replace all my meals with SlimFast shakes?
While the SlimFast plan involves replacing two meals with shakes, it is not recommended to replace all meals in the long term. It's important to have a variety of whole foods to ensure a balanced nutrient intake.
Are SlimFast shakes suitable for people with dietary restrictions?
No, but these meal replacement shakes are great choices for gluten free, vegan, and dairy free diets.
Are protein shakes only for athletes or fitness enthusiasts?
Protein shakes can benefit anyone looking to increase protein intake, support muscle recovery, or supplement their diet. They are not exclusively for athletes and can be incorporated into a healthy lifestyle for various purposes.
Can protein shakes replace a balanced diet?
While protein shakes can be a convenient source of protein, they should not replace a well-rounded and balanced diet. Whole foods provide a wider range of nutrients, including vitamins, minerals, and dietary fiber, that are essential for overall health.
If you enjoyed this post, you may also enjoy my comparison of protein bars and protein shakes and my post on the benefits of protein coffee.