Prot: 9 g, Carbs: 3 g, Fat: 7 g, Cal: 113 (2 cookies)
Great lemon flavor with the perfect cookie texture, these Protein Lemon Sugar Cookies are made with erythritol instead of sugar!
Erythritol is a natural sweetener with zero calories and low glycemic impact. Like sugar, it is white and comes in crystalized or powdered form. I used some in the cookie dough to sweeten the cookie, and then pressed the cookie into some erythritol for the sugar-like crystal topping.
I often ask the people around me about their favorite recipes for inspiration. When Jaime Carson of Carson Skin Rejuvenation mentioned lemon sugar cookies, I knew I'd have to give it a go. These Protein Lemon Sugar Cookies did not disappoint! And check out her Facebook page for an adorable pic of her Chihuahua Yoda trying to grab one from her!
This is my first time baking with a whey/casein blend, and I have to say I am a fan! (Watch my Recipe Basics video to see how different types of protein bake up very differently.) Too much casein doesn't sit well with my body, as it is very slow digesting. But I like how this Quest powder bakes up (the texture), and I'm excited to bake more with it. I guess I'll just have to share, and not eat the whole batch in one sitting! :)
Give these cookies a try! And if you're in Manhattan, let Jaime work her magic on you! I have problem skin, and her work has done wonders for me!
This recipe is also in our free holiday recipe ebook: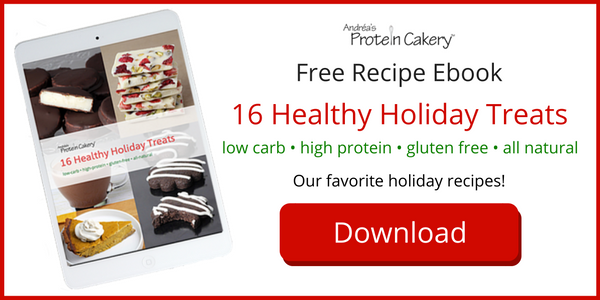 This post contains affiliate links to products I recommend. When you make purchases through these links, this blog makes a small commission (at no extra cost to you). Thank you for supporting our work!
Protein Lemon Sugar Cookies
Nutrition Information
Serving size:

2 cookies

Calories:

113
Fat:

7g

Carbohydrates:

3g

Sugar:

0g

Fiber:

2g

Protein:

9g
Prep time:
Cook time:
Total time:
Makes 8 cookies (4 servings).
Instructions
Preheat oven to 325F (163C).
Mix protein powder, coconut flour, baking powder, salt, and 1 tablespoon of erythritol.
Add lemon zest, lemon juice, vanilla, and coconut oil. Mix well. Use your hands to press the dough together.
Separate into 8 pieces, and roll each into a ball. Set on a piece of parchment paper.
Pour 1 tablespoon of erythritol on the parchment (not on the cookies).
Press each cookie into the erythritol, flattening it out. Then place the cookie (erythritol side up) onto a parchment-lined cookie sheet.
Bake for about 13 minutes, or until firm.
Enjoy!
Notes
A note about substitutions: because each type of protein powder has a distinct flavor and texture when baked, I would not try substituting different types of protein powders in this recipe. (See my
Recipe Basics video
for examples of what goes wrong when you use the wrong protein powder.) If you want to make your own whey/casein blend, use 60% whey and 40% casein, as the Quest powder does.