With 10 grams of protein each, these vegan protein cookies make a great high protein breakfast or anytime treat. The combination of vegan protein powder and cashew butter makes a beautifully soft texture, and these healthy cookies just melt in your mouth! Perfect with a glass of plant-based milk as a filling way to get extra protein.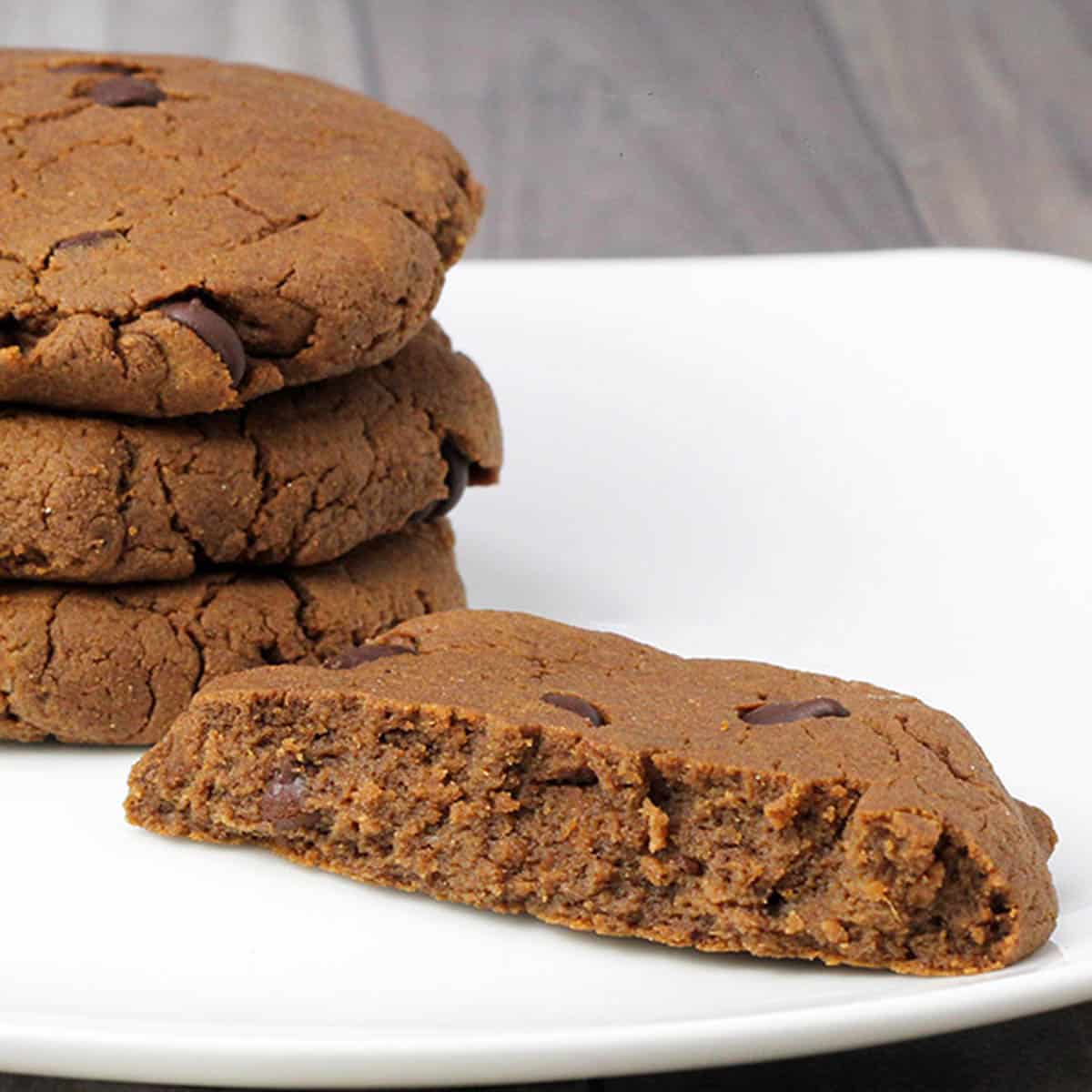 This recipe calls for a pea protein powder blend, which seems to be the most common type of plant based protein powder and should be available in your local health food store. And while I used cashew butter in these vegan cookies, any nut or seed butter would work. There are lots of ways to vary the flavors here, and this is sure to become one of your favorite cookie recipes!
As compared to cookies made with whey protein powder, these are much less cake-like and are more dense, soft, and crumbly. And as compared to store-bought protein cookies that often have lots of added sugar, these are a much better option to satisfy your sweet tooth.
Homemade protein cookies are a great way to up your protein intake on a vegan diet, and they are so much more enjoyable than a store bought protein bar. Let's get baking!
Jump to:
Ingredients
These simple ingredients make this a double chocolate chip cookie recipe, but be sure to see the substitutions and variations below for many more options!
Pumpkin puree (can be subbed with mashed banana or sweet potato)
Water
Pumpkin spice (optional)
Equipment
For best results, I always suggest using a kitchen scale and an oven thermometer! Properly measured ingredients (by weight, using a scale) will always result in better baked goods. And you'd be surprised at the actual temperature of your oven, even if it is a new oven.
You'll also need a mixing bowl, fork, parchment paper, and a baking sheet.
Instructions
This is a simple recipe with no fancy baking skills required! We'll mix up the wet ingredients, add the dry ingredients, and fold in the chocolate chips. Form into balls, flatten, and bake. Here are the details:
Preheat oven to 325F and line a baking sheet with parchment paper.
Mix the cashew butter, pumpkin puree, and water until well combined.
Add the chocolate protein powder, cocoa powder, baking powder, and pumpkin spice (if using). Mix well until the ingredients are combined.
Add the chocolate chips, and try to get them evenly distributed within the cookie dough.
Separate the dough into 6 pieces, and roll them into balls.
Place the cookie dough balls on the parchment-lined cookie sheet, and press them down to flatten them.
Bake for 8-10 minutes, just until firm.
Let cool, and enjoy!
Substitutions
Go nuts! Substitute any nut or seed butter for the cashew butter in this recipe. 
In place of the pumpkin puree, any mashed fruit or veggie would work. Just be sure it is of the same thickness, or you may need to adjust your water amount. Mashed banana or sweet potato would work well!
Instead of regular dark chocolate chips, go with sugar free white chocolate chips or chocolate chunks.
The only other type of protein powder I'd suggest for this recipe is a nut protein like almond protein or powdered peanut butter.  
If you used unflavored protein powder here, I suggest adding vanilla extract and some sweetener.
Variations
There are truly so many tasty variations to this healthy protein cookie recipe!
Chocolate chip protein cookies - use banana in place of the pumpkin and vegan vanilla protein powder. Leave out the cocoa powder (or don't!) and adjust your water amount to compensate. Maybe add a pinch of salt, too.
Peanut butter protein cookies - use peanut butter instead of cashew butter and mashed banana instead of pumpkin. (Or check out my other vegan recipe for peanut butter cookies.)
Almond protein cookies - use almond butter in place of the cashew, and mashed banana in place of the pumpkin. Add a teaspoon of vanilla extract and almond milk in place of the water.
Chocolate protein cookies - almond butter would be a great choice here, as it pairs well with chocolate. And I'd go with mashed banana in place of pumpkin for a touch of extra sweetness.
Want a sweeter cookie? Add some coconut sugar! You may not need as much water, in this case.
Storage
Keep these in an airtight container. These high protein cookies can stay at room temperature for the day, but for longer storage I suggest refrigerating them.
Top Tip
The best protein powders for this recipe are pea protein blends. PlantFusion was used here, but there are may different brands making pea protein blends. I also like this one by Plnt and this one by Orgain. It can be difficult to find good tasting protein powder on a plant-based diet, but these are pretty good!
FAQ
What's the best vegan protein powder?
For shakes, Orgain Chocolate has the best taste and texture. It is less chalky than other plant based protein powders and has a smooth mouth feel. For baking, most pea protein blends bake well. Orgain, PlantFusion, Plnt, and Warrior Blend are great (when used with good recipes that call for plant protein).
Can I bake with unflavored pea protein powder?
Yes, but you may taste the earthy pea flavor more than with flavored pea protein powders.
More delicious recipes for protein powder cookies
If you like this recipe, you may enjoy these other vegan protein cookie recipes:
🥣 Recipe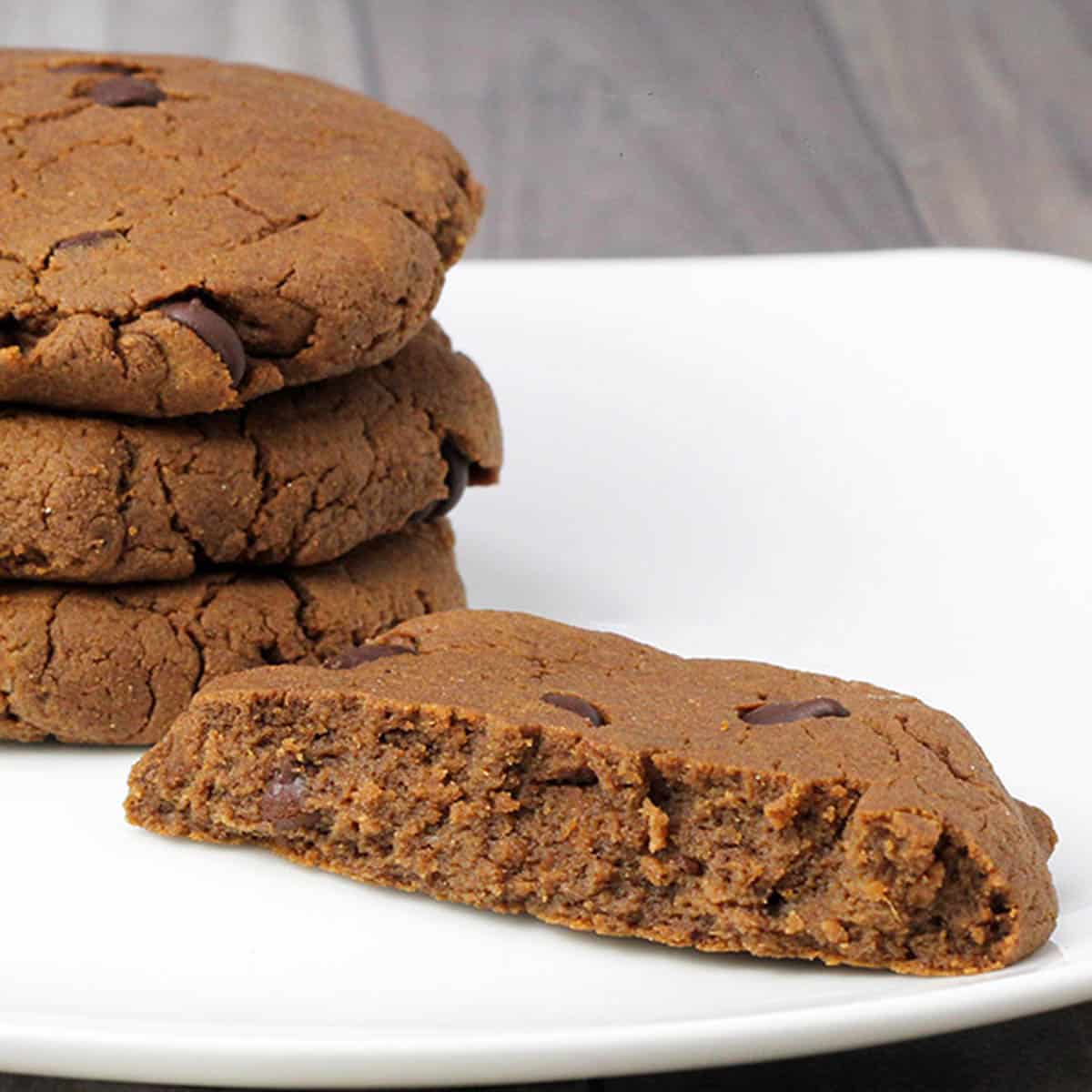 Instructions
Preheat oven to 325F (163C).

Mix cashew butter, pumpkin, and water until combined.

Add protein powder, cocoa, baking powder, and pumpkin spice. Mix well.

Add chocolate chips. Mix until evenly distributed.

Separate into 6 pieces. Form each into a ball, place them on a parchment-lined baking sheet and press them to flatten the cookies.

Bake for 8-10 minutes, or until firm.

Let cool, and enjoy! Store extras in the refrigerator.
Notes
This recipe works best with pea protein blends.
See the recipe post for lots of substitutions and variations on this protein cookie recipe!
Nutrition
Serving:
1
cookie
|
Calories:
149
kcal
|
Carbohydrates:
9
g
|
Protein:
10
g
|
Fat:
8
g
|
Fiber:
2
g
|
Sugar:
3
g