Prot: 32 g, Carbs: 9 g, Fat: 11 g, Cal: 263
In New York City, there's a whole lot of people who love brunch. I am not one of them. But in an effort to be social, sometimes I go anyway. These Lemon Ricotta Protein Pancakes are a remake of what I ordered for brunch at a cute little downtown café. As is often the case with me at brunch, there wasn't much on the menu I'd actually eat, let alone enjoy. But the lemon ricotta pancakes did not disappoint. And since my "Waffles and Pancakes" category hasn't yet seen any pancakes, I figured I'd try making some Lemon Ricotta Protein Pancakes. They did not disappoint, either. :)
It's a simple recipe, and it has no grains or added carb source!
The ricotta and whey make these Lemon Ricotta Protein Pancakes quite filling, as well.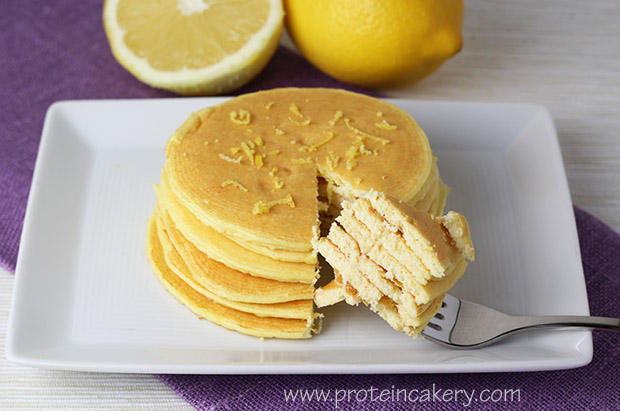 The next time you wake up hungry, give these pancakes a try!

Lemon Ricotta Protein Pancakes
Nutrition Information
Fat:

11g

Carbohydrates:

9g

Sugar:

5g

Fiber:

1g

Protein:

32g
Prep time:
Cook time:
Total time:
Makes one serving. (Photos show two servings.)
Instructions
Preheat your griddle over a low flame.
Beat the egg, then add the rest of the ingredients and mix well.
Wait until the griddle is hot enough (when drops of water sizzle up).
Pour some batter on on the griddle (smaller pancakes flip more easily), and flip when you see lots of bubbles rising to the top of the pancake.
Cook for about one more minute on the other side.
Repeat steps 4 and 5 until you've finished your batter.
Stack, and enjoy!
Notes
A note about substitutions: because each type of protein powder has a distinct flavor and texture when baked, I would not try substituting different types of protein powders in this recipe. If you're feeling lazy and don't want to zest a lemon, you can use another tablespoon of lemon juice, instead. Then also add another teaspoon of coconut flour to thicken the batter.