These Chocolate Dipped Peanut Butter Protein Cookies are easy to make, and so delicious! Melt-in-your-mouth kind of delicious. Seriously. Try them.
I recently made a triple batch of my Peanut Butter Protein Cookies and had just finished making another recipe with a chocolate coating. I looked at the counter and saw peanut butter cookies and melted chocolate, and thought, "Yes. This must happen."
The Vitamin Shoppe had recently sent over their new Plnt protein powder, a raw pea protein blend. It worked perfectly in this recipe! The cookie part of this recipe is similar to my original Peanut Butter Protein Cookies, but I lessened the fat in these cookies since the chocolate coating has some coconut oil.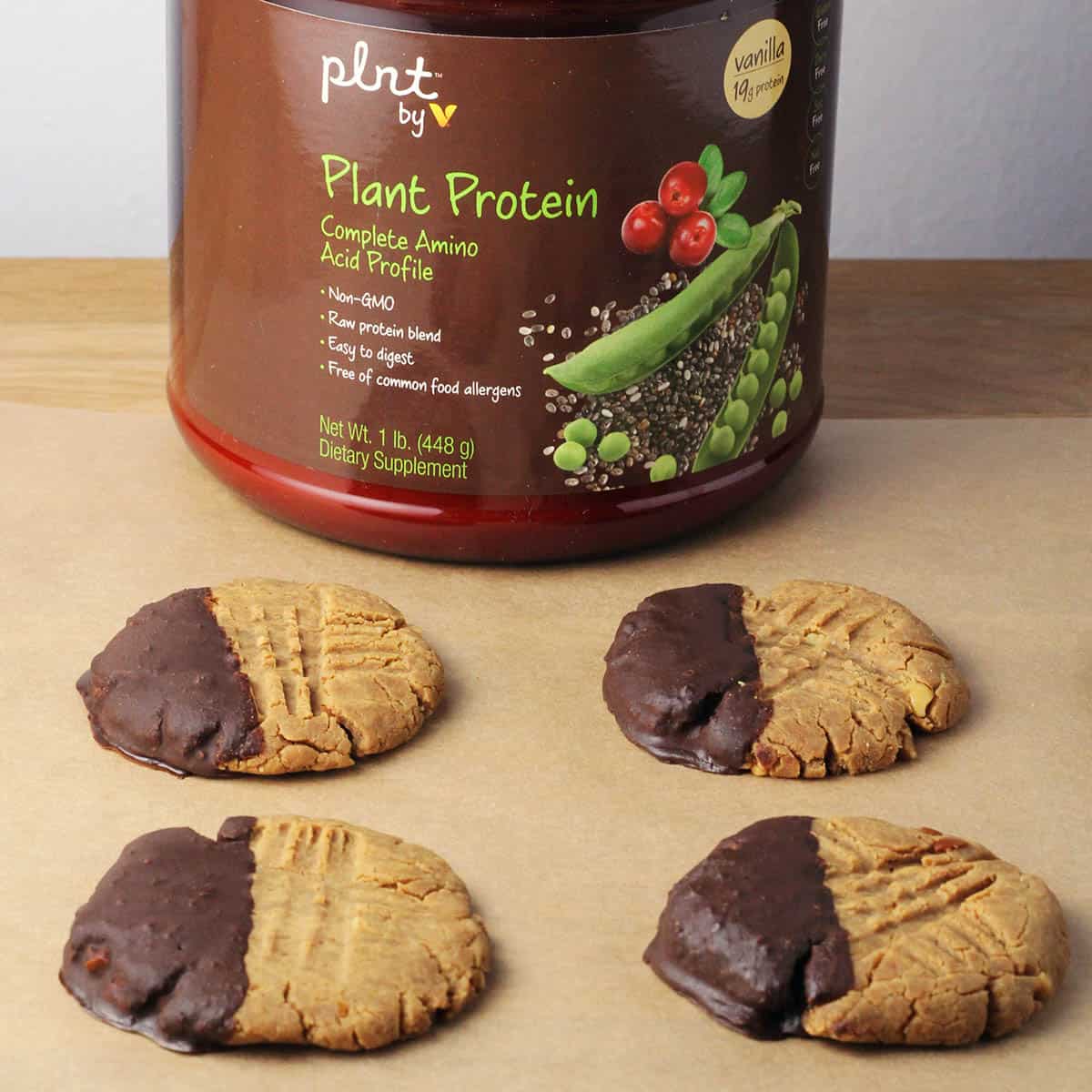 Vegan cookies of this kind (with a nut butter base) can be a bit more delicate than a traditional cookie because they are missing egg to hold everything together. As you form these cookies, the dough may begin to break its shape a little. But the effort to reshape them is worth leaving out the egg, in my opinion, since that is what gives the melt-in-your-mouth feel to these cookies.
Since the Plnt protein is a raw protein blend, these Chocolate Dipped Peanut Butter Protein Cookies can even be made raw vegan by (choosing raw versions of the remaining ingredients and) dehydrating them. I have this Excalibur dehydrator, and love it! My body feels great on raw vegan food, and I have had the dehydrator for years!
Give these cookies a try! And check out my other chocolate peanut butter recipes!
🥣 Recipe
Ingredients
Peanut butter cookie:
¼

cup

natural peanut butter

64g

¼

cup

unsweetened almond milk

60ml

a pinch of sea salt

¼

cup

Plnt vanilla protein powder (pea blend)

28g
Instructions
Preheat oven to 325F (163C).

Combine peanut butter and almond milk. Mix well.

Add salt and protein powder. Combine into a cookie dough. (You may need to use your hands.)

Break the dough into 6 parts, and roll each into a ball. Place on a

parchment

-lined cookie sheet (or directly on a mesh dehydrator sheet).

Press each with a fork to flatten, and again in the other direction for the design.

Bake for 16-18 minutes (or dehydrate for about 16 hours at 105-115F). Let cool.

Mix together ingredients for chocolate coating.

Dip cooled cookies into the chocolate, and place back on the parchment-lined tray.

Place the tray in the freezer for a few minutes to set the chocolate.

If you have extra chocolate coating, dip them again and freeze again.

Enjoy! Store in the refrigerator.
Notes
A note about substitutions: because each type of protein powder has a distinct flavor and texture when baked, the only substitution I would recommend is another pea protein blend, or rice protein powder. (See my Recipe Basics video for examples of what goes wrong when you use the wrong protein powder.)
Nutrition
Serving:
1
g
|
Calories:
112
kcal
|
Carbohydrates:
4
g
|
Protein:
6
g
|
Fat:
8
g
|
Fiber:
1
g