Prot: 13 g, Carbs: 9 g, Fat: 4 g, Cal: 128
We're kicking off Reader Request Week with these Coconut Dusted Chocolate Protein Balls!
I've been receiving some great recipe requests from readers, and I figured I'd get a bunch made and have a Reader Request Week! The Protein Whoopie Pie request that sparked Protein Marshmallow Fluff Week was a great success, so let's keep it going!
This request came from a reader who wanted a home recipe for the chocolate protein balls she was buying regularly. I took a look at the ingredient list, and tried recreating the taste and texture with the clean foods and protein powders I use often. I also tried to keep the ingredient list to a minimum, but you can always add in the extras I left out, like sesame seeds and sunflower kernels.
Since the dough for this recipe shapes well as bars, too, feel free to shape them inot bars, if you like. Either way, they're delicious!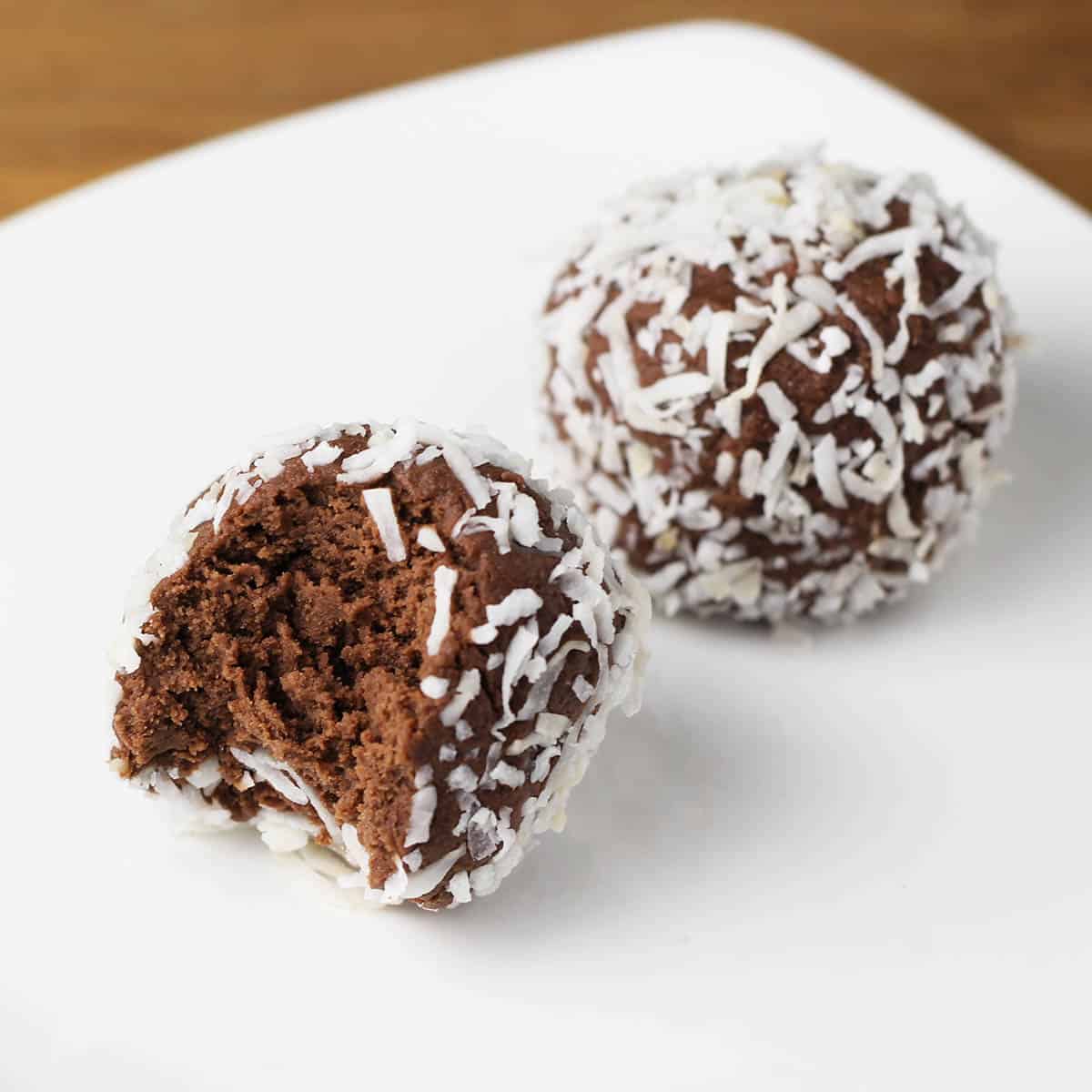 Instructions
Mix the protein powders in a bowl, and set aside.

Mix the coconut butter, butterscotch flavor, water, and honey in a separate bowl.

Pour the wet mix into the protein powders, and mix until combined.

Form mix into balls or bars. Coat in shredded coconut.

Freeze for 15 minutes to firm up (or refrigerate for a few hours, or just eat them soft!).

Enjoy! Store in the refrigerator.
Notes
A note about substitutions: because each type of protein powder has a distinct flavor and texture, I would not try substituting different types of protein powders in this recipe. If you don't like coconut, replace the coconut butter with any kind of nut butter, and omit the shredded coconut coating.
Nutrition
Serving:
1
g
|
Calories:
128
kcal
|
Carbohydrates:
9
g
|
Protein:
13
g
|
Fat:
4
g
|
Fiber:
2
g
|
Sugar:
6
g