Prot: 17g, Carbs: 9g, Fat: 19g, Cal: 272 (can be made lower fat with fat-free cream cheese)
This Meyer Lemon Protein Cheesecake with Honey Hemp Crust has a delicious mix of flavors and textures to make your tastebuds dance! It is a sweet citrus cheesecake made with Meyer lemons over a base made from honey and hemp seeds. A high-protein, low-carb indulgent treat!
Like I do with all my protein cheesecake recipes, I used Neufchâtel cheese, which is marketed as low-fat cream cheese. I like the flavor, and it lacks the fillers you tend to find in fat-free cream cheese. But to make this a lower fat indulgence, you can certainly try it with fat-free cream cheese, if you like.
I originally made this with a different protein, but I'm updating this post to suggest ON's natural vanilla whey. It's a great multi-use vanilla whey, and is great in cheesecake recipes!
For the base, I combined honey with Hemp Hearts (shelled hemp seeds) for added flavor and texture. I like buckwheat honey, but I'm sure others would also be great! The crust didn't really stay firm like a crust (which makes sense, since honey thins when it warms), but it was easy enough to fix that while plating the cheesecake. To avoid that issue, though, you can make 8 individual mini-cheesecakes in ramekins.
**If Meyer lemons are out of season, I'd split the Meyer lemon juice and zest into 1/2 lemon, 1/2 orange. That should give about the same level of sweet and tart, and still a great burst of citrus flavor.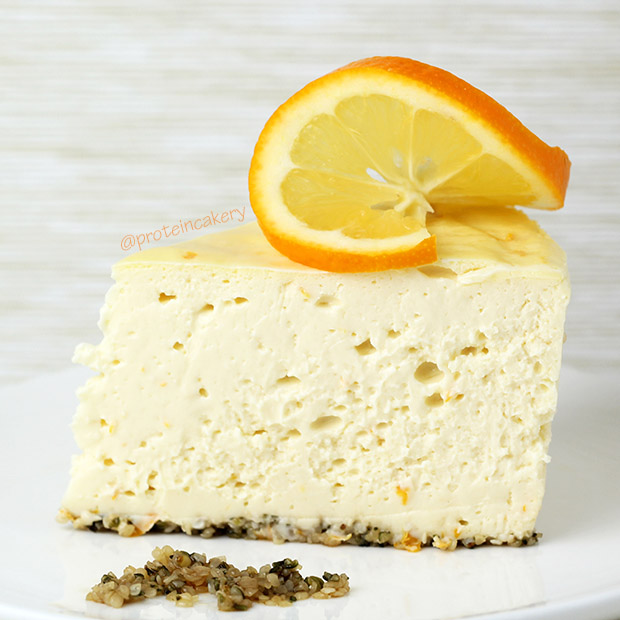 Give this Meyer Lemon Protein Cheesecake with Honey Hemp Crust a try! Your taste buds will thank you!
This post contains affiliate links to products I recommend. When you make purchases through these links, this blog makes a small commission (at no extra cost to you). Thank you for supporting our work!
Meyer Lemon Protein Cheesecake with Honey Hemp Crust
Nutrition Information
Serving size:

⅛ cake

Calories:

272
Fat:

19g

Carbohydrates:

8g

Sugar:

7g

Fiber:

1g

Protein:

17g
Prep time:
Cook time:
Total time:
Makes one 6" cheesecake (8 servings).
Ingredients
Crust:
Cheesecake:
2 packages Neufchâtel cheese (16oz, 448g)
⅛ teaspoon stevia powder
4 large eggs, whole (200g)
8oz fat-free Greek yogurt (227g)
½ cup natural vanilla whey protein (40g)
1 tablespoon Meyer lemon juice (15ml) (or ½ tablespoon lemon juice and ½ tablespoon orange juice
1 tablespoon Meyer lemon zest (or ½ tablespoon lemon zest and ½ tablespoon orange zest)
Instructions
Preheat oven to 325F (163C).
Prepare your 6" springform pan by lining the bottom with parchment paper, and brushing the sides with coconut oil (or non-stick cooking spray). Wrap the bottom of the pan with aluminum foil. (More details here.)
Make the crust by first mixing the Hemp Hearts and honey.
Press into the bottom of the springform. Set aside.
Using an electric mixer on medium speed (for a Kitchen-Aid type mixer) or low speed (for a hand-held mixer), cream the Neufchâtel cheese.
Add stevia, and continue with mixer until well combined.
Add eggs, one at a time. Continue with mixer until well combined.
Add Greek yogurt. Mix well.
Add whey powder. Continue with mixer until well combined.
Add Meyer lemon juice and zest. Mix well.
Pour into pan.
Place pan in water bath in oven. (Place springform in a larger pan that has about an inch of water.)
Bake for 30 minutes at 325F (163C). Then reduce the temperature to 200F (93C) for about 35-40 minutes. The cake should be firm around the edges, but the very center should be jiggly. The cake should not be browning on top.
Remove from oven, and let cool at room temperature.
Refrigerate for several hours (cake will continue to set) before serving.
Slice, and enjoy!
Notes
A note about substitutions: because each type of protein powder has a distinct flavor and texture when baked, I would not try substituting different types of protein powders in this recipe. (See my
Recipe Basics video
for examples of what goes wrong when you use the wrong protein powder.)
If you'd like to use individual
4oz ramekins
, I would try 15 min at 325F, then 10-15 min at 200F.
Neufchâtel cheese is marketed as "1/3 less fat than cream cheese" and can be found in most supermarkets (in the US, at least). You can save 12g fat per serving by using fat-free cream cheese, if you prefer.