Prot: 19 g, Carbs: 18 g, Fat: 19 g, Cal: 321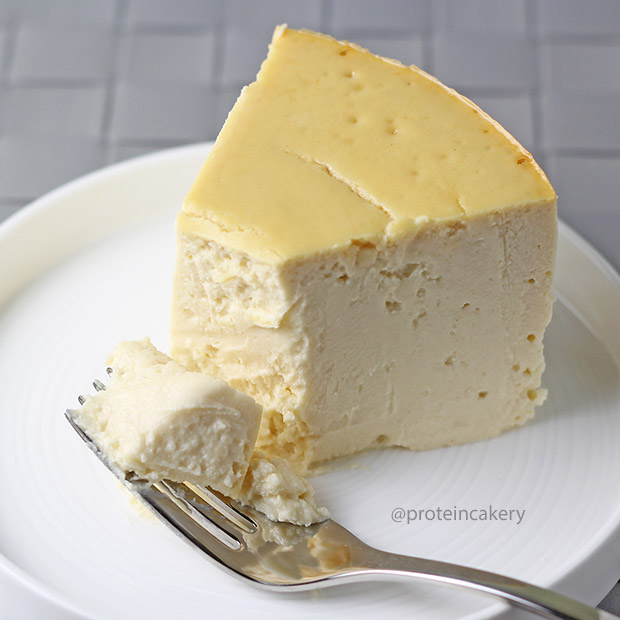 I know what you're thinking. Aunt Chubby's Protein Cheesecake? Yes, Aunt Chubby. My mom had an aunt whose name was Mary. But when she was little, there were too many Marys in the family. So she was called Chubby Mary. And then eventually, just Chubby. I think she had some friends who called her Mary (I hope), but she remained Chubby to us for her entire adult life. (That's what is great about family stories – you just can't make this stuff up!)
Anyway, every holiday Aunt Chubby would make an amazing cheesecake. So creamy and so delicious. When she passed away, I asked for her recipes so I could carry on the tradition.

When I started protein baking and came across some cheesecake recipes, I knew I would want a protein cheesecake that tasted as close as possible to Aunt Chubby's recipe. So I used her recipe as a guide. I made a few substitutions, added some protein powder, and it worked!
I used nonfat Greek yogurt instead of the sour cream, Neufchâtel cheese instead of cream cheese, and agave instead of sugar. I'm also making a smaller cheesecake here, so I halved the recipe.
If you're new to baking, you might want to try an easier recipe first. There are a couple of important factors in cheesecake baking that can make it intimidating: the water bath and the bake time.
I come from a family of bakers, and they'll all say the same thing when it comes to baking a cheesecake at home: you need a water bath to get the heat distributed evenly. Aunt Chubby's Protein Cheesecake is no different. This just means that instead of placing the springform pan directly on the oven rack, you'll place it in a pan of water on the oven rack. About an inch of water should be enough.
You'll notice I have some foil around the pan, as well. This is just to prevent water from leaking into the cheesecake. Since we are lining the bottom of the pan with parchment, the seal on the springform might not be watertight.
It's also important to get the timing right, and this may take a few tries for your particular oven. (No worries, though. All of your trial cheesecakes will be delicious! The texture just might be off a little.) Cheesecake shouldn't look well-done on the outside. That would mean it is overcooked, and you'll get more of a spongy cake texture than the creamy cheesecake texture we're going for. So when you turn the oven off, the middle of your cheesecake should still feel a little jiggly. The cake will continue to set as it cools, so be sure to let it cool completely (overnight, ideally) before serving.

Aunt Chubby took her cheesecake baking very seriously. She was always upset if her cheesecake cracked, even though the crack would have no effect on its taste or texture. So her recipe had strict instructions about keeping the heat in the oven. If you look closely at the recipe, you'll see a triple underline on the Do not open door!  :)
The bake times in the recipe below follow a different scheme, one that works well for this modified recipe.
Although Aunt Chubby had no interest in bodybuilding, I think she'd be very impressed with this high-protein version of her cheesecake. Well, as long as it didn't crack. I'm still working on that.
Notes:
Neufchâtel cheese is marketed as "1/3 less fat than cream cheese" and can be found in most supermarkets (in the US, at least). I don't use fat-free cream cheese because of all the additional ingredients they throw in there. I would rather make room in my macros for some fat.
Even though her recipe called for crushed pineapples in the cheesecake, she almost always made it without. I left out the crust on this version as well because really, it's the creamy cheesecake we're after, isn't it?
**I've updated this recipe to use our Whey Protein for Baking. It's the best protein I've found for baking, and it works great here!

This post contains affiliate links to products I recommend. When you make purchases through these links, this blog makes a small commission (at no extra cost to you). Thank you for supporting our work!
Aunt Chubby's Protein Cheesecake
Nutrition Information
Fat:

19g

Carbohydrates:

18g

Sugar:

17g

Protein:

19g
Prep time:
Cook time:
Total time: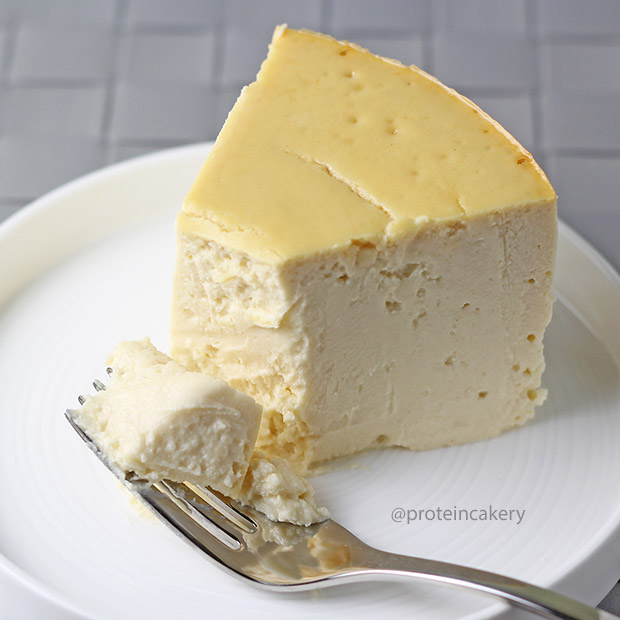 Makes one 6-inch cheesecake.
Instructions
Preheat oven to 325F (163C).
Prepare your 6" springform pan by lining the bottom with parchment paper, and brushing the sides with coconut oil (or non-stick cooking spray). Wrap the bottom of the pan with aluminum foil.
Using an electric mixer on medium speed (for a Kitchen-Aid type mixer) or low speed (for a hand-held mixer), cream the Neufchâtel cheese.
Add agave, continue with mixer until well combined.
Add eggs, one at a time. Continue with mixer until well combined.
Add greek yogurt and vanilla. Continue with mixer until well combined.
Add whey powder. Continue with mixer until well combined.
Pour into prepared springform pan.
Place pan in water bath in oven.
Bake for 30 minutes at 325F (163C). Then reduce the temperature to 200F (93C) for about 50 minutes. The cake should be firm around the edges, but the very center should be jiggly. The cake should not be browning on top.
Remove from oven, and let cool at room temperature.
Refrigerate for several hours (cake will continue to set) before serving.
Enjoy!
Notes
A note about substitutions: because each type of protein powder has a distinct flavor and texture when baked, I would not try substituting different types of protein powders in this recipe. You may substitute other natural sweeteners for the agave nectar, if you like. If you use a granulated (dry) sweetener, you may need to lessen the bake time (check after 40 minutes at 200F). And because this recipe is baked, regular vanilla extract should be fine.