Prot: 7 g, Carbs: 7 g, Fat: 2 g, Cal: 75
If you are looking for a sweet protein treat that is easy to make, this Vanilla Chip Protein Snack Cake is for you! It's a simple cake made from whey protein, sweetened with applesauce, and with some cacao nibs thrown in for some extra texture and taste. Delicious!

The Vitamin Shoppe team was kind enough to send over some of their Nutriforce Sports vanilla whey protein powder, and it is perfect for this cake! Even though it is called vanilla, it is anything but basic! There are white chocolate curls in the protein powder. Yes! So this 5-ingredient Vanilla Chip Protein Snack Cake has cacao nibs and white chocolate curls!
If you've never used cacao nibs, they are a great alternative to chocolate chips! Cacao nibs are just broken up cacao beans. And when used in a sweet recipe, you get the feel of chocolate chips without overdoing the sweetness, and without the extra carbs or calories!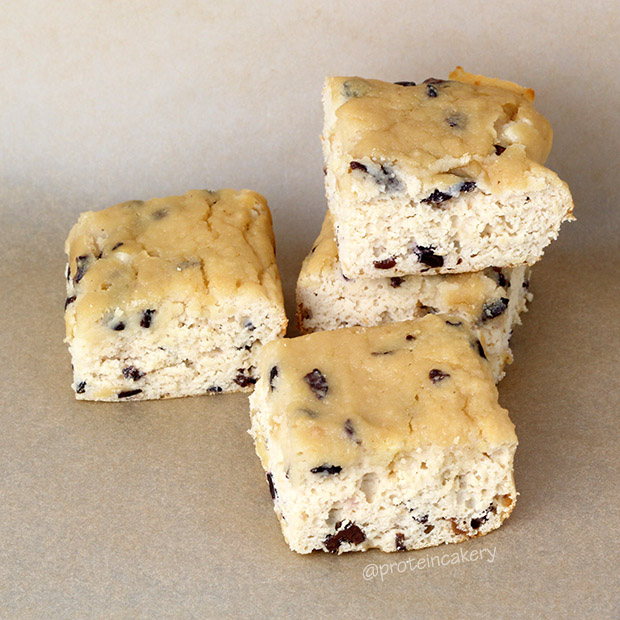 This is a simple mix-and-bake cake. Although I usually mix dry ingredients, then add wet ingredients, then add extras (like the cacao nibs), I'm sure you can just mix this all up at once and get the same great result. Easy!
Get yourself some Nutriforce Sports vanilla whey (with white chocolate curls!) and give this Vanilla Chip Protein Snack Cake a try!

This post contains affiliate links to products I recommend. When you make purchases through these links, this blog makes a small commission (at no extra cost to you). Thank you for supporting our work!
Vanilla Chip Protein Snack Cake
Nutrition Information
Serving size:

⅛ recipe

Calories:

75
Fat:

2g

Carbohydrates:

7g

Sugar:

5g

Fiber:

2g

Protein:

7g
Prep time:
Cook time:
Total time:
Made in a loaf pan (8 servings).
Instructions
Preheat oven to 325F (163C) and line a loaf pan with parchment paper (if not using silicone).
Mix whey powder, coconut flour, and baking powder.
Add applesauce. Mix well.
Fold in cacao nibs.
Bake for about 25 minutes, and check to see if the cake is firm. If not, check every 1-2 minutes until firm and a toothpick comes out clean. Be careful not to overbake!
Remove cake from oven, and let cool.
Cut into pieces, and enjoy! Store extras in an airtight container in the refrigerator.
Notes
A note about substitutions: because each type of protein powder has a distinct flavor and texture when baked, I would not try substituting different types of protein powders in this recipe. (See my
Recipe Basics video
for examples of what goes wrong when you use the wrong protein powder.)