If you're a regular here, you already know that I'm a NYC girl. I'm Italian-American, and I grew up in Brooklyn. Needless to say, pizza was a regular part of life. I've always thought that finding a good slice of white pizza was like finding a treasure at the local pizzeria. And after the success of my Protein Pizza Wraps here, I had to make these White Protein Pizza Wraps happen! If you're a fan of white pizza, you'll love them. They really hit the spot. All the deliciousness of the garlicky ricotta and mozzarella topping on a low carb crust, and you can wrap it up to take it with you!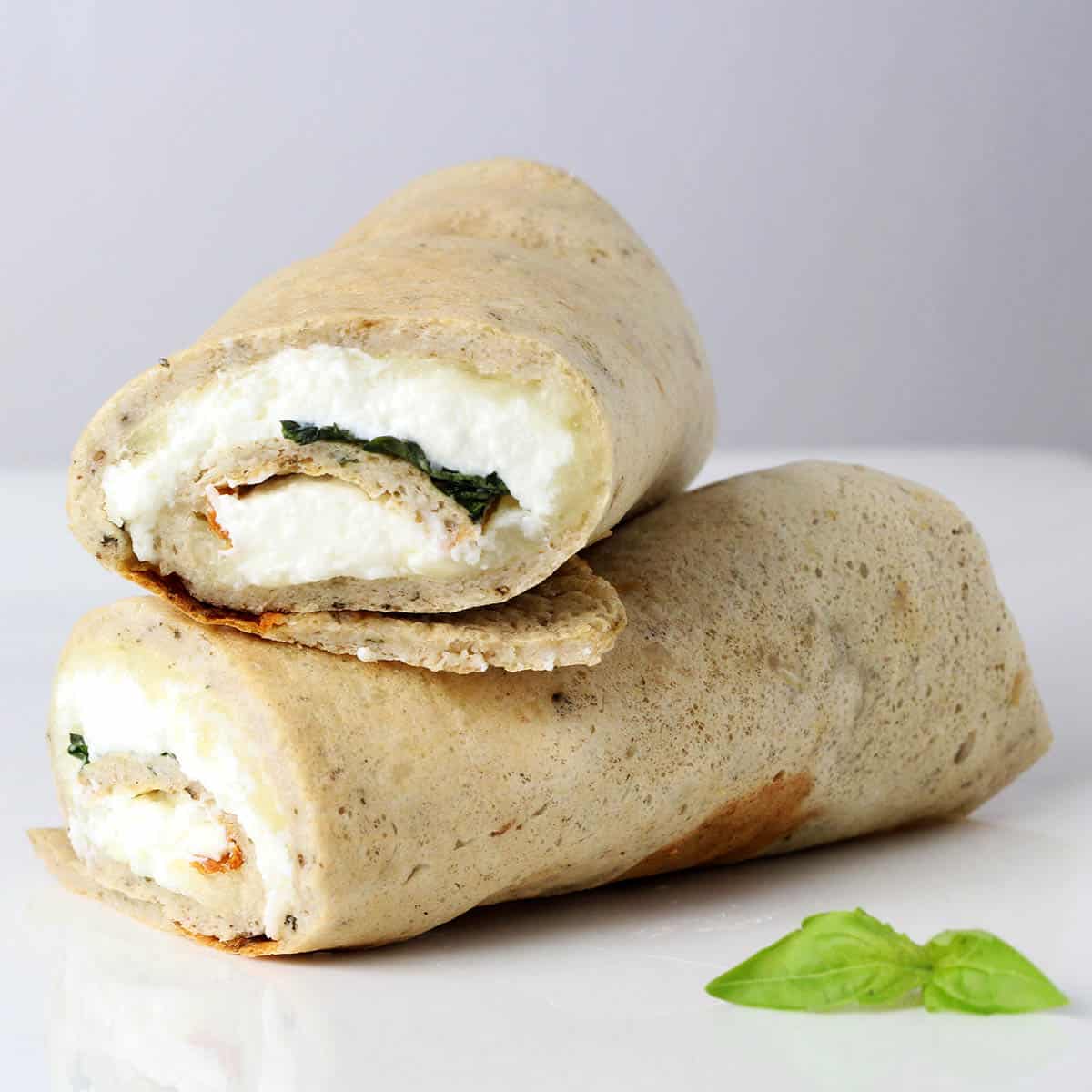 The wrap/crust here is the same as with my Protein Pizza Wraps. It's low carb, and it doesn't taste like a doughy pizza crust. I'm not a magician. But once you put your pizza toppings on it, you'll hardly notice. You'll get all the pizza flavor, and you won't miss the carbs at all!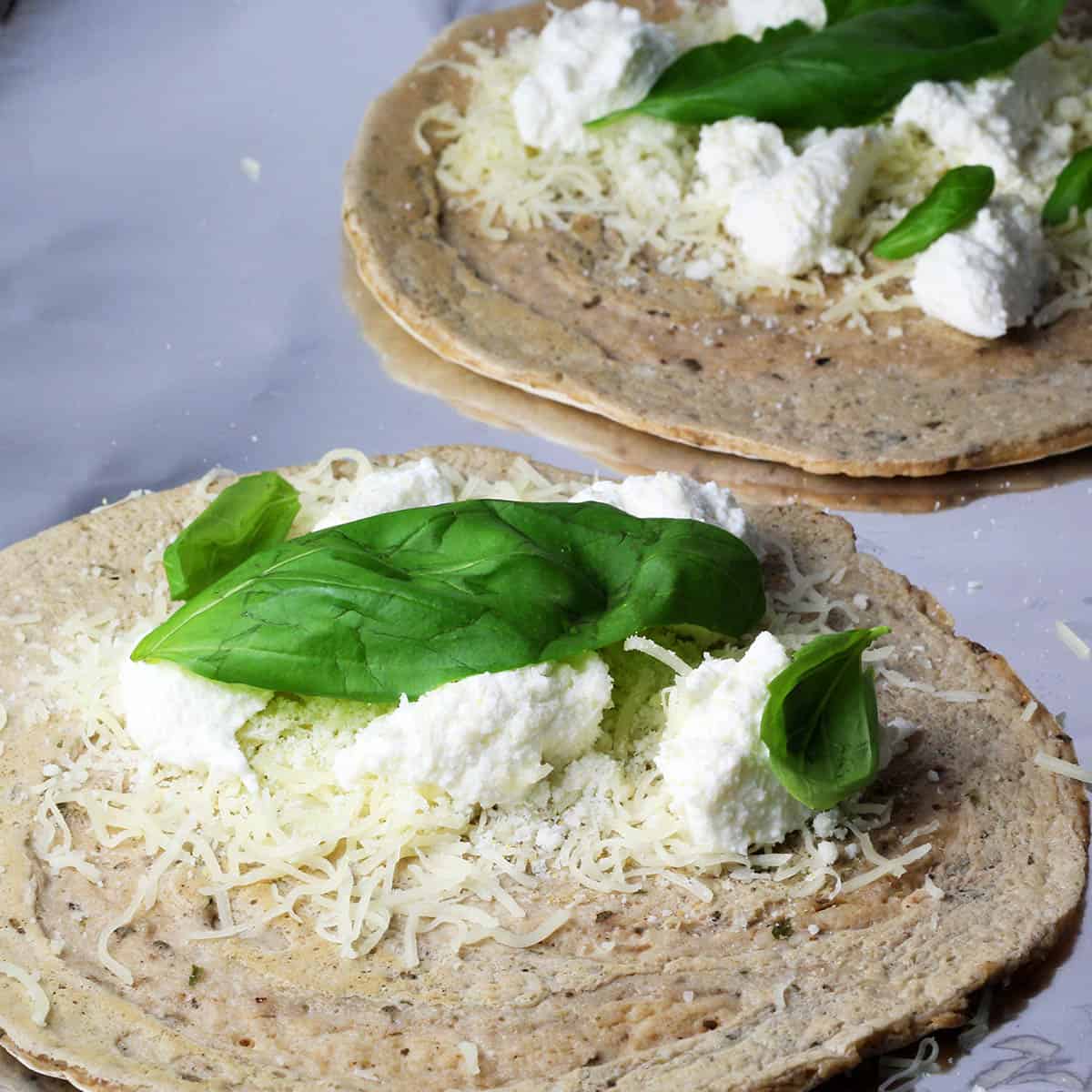 The topping (or filling) for these White Protein Pizza Wraps is a simple three-cheese combination. Part-skim ricotta and mozzarella, and grated Locatelli Romano cheese. If you haven't seen my post for Quest Pasta Alla Vodka, please give it a quick read. And then please ditch your Parmesan cheese. Pick up some Locatelli Pecorino Romano. This is not negotiable. You'll thank me. ;)
No white pizza would be complete without extra garlic, so I sprinkled on some garlic powder before putting them in the broiler. If you want to do fresh sautéed garlic, knock yourself out. I like the powder not only because of the convenience, but I think it is easier on the stomach.
And basil. Fresh or dried basil for a finishing touch.
So incredibly delicious! And great for meal prep. Make a bunch of wraps first, then do all your topping and broiling. And enjoy eating pizza that fits your macros!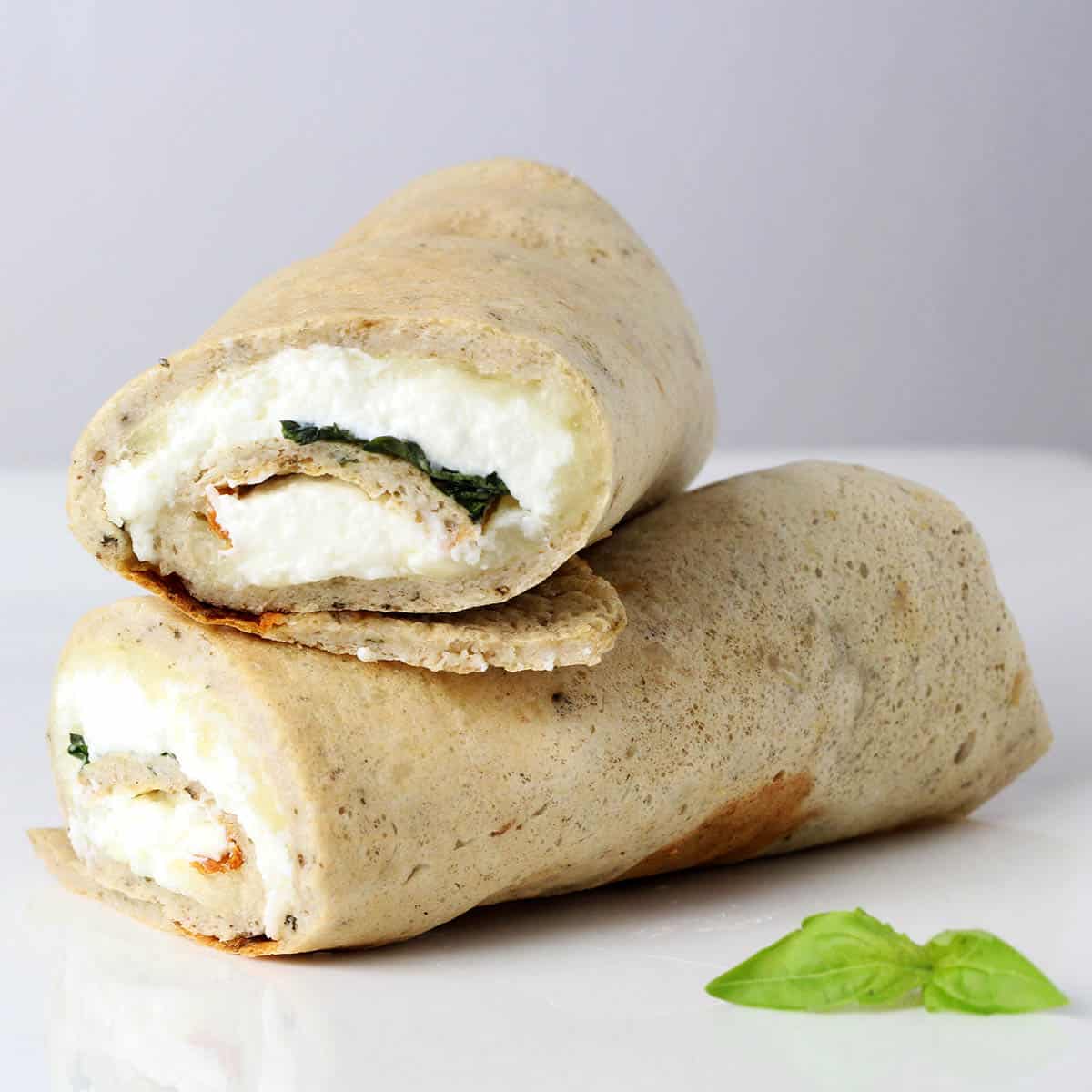 Ingredients
Filling:
½

cup

low-moisture part-skim mozzarella cheese

56g

1

tablespoon

Locatelli Romano cheese

5g

½

cup

part-skim ricotta cheese

126g

additional garlic powder and basil
Instructions
Preheat your griddle over a medium flame. (If necessary, first spray with non-stick cooking spray or rub with a few drops of olive oil.)

Beat the crust ingredients until smooth.

Wait until the griddle is hot enough (when drops of water sizzle up).

Spread half your batter into a thin circle (mine were approximately 8.5 inches (21.5cm)).

After a couple of minutes, flip the wrap over.

Remove from heat and repeat the steps for the second wrap.

Line your broiler tray with foil, and place wraps on top.

Top with mozzarella, grated cheese, and ricotta. Leave a little extra crust room on one side so the filling doesn't spill out when you fold it up. (Typical white pizza has mounds of ricotta, but you can instead spread the ricotta on the wrap before adding the other cheeses.)

Broil for a few minutes, until cheese is melted to your liking.

Remove from broiler, and wrap like a burrito.

Enjoy!
Notes
A note about substitutions: because each type of protein powder has a distinct flavor and texture when baked, the only substitution I would recommend is pea protein or another pea blend. (See my Recipe Basics video for examples of what goes wrong when you use the wrong protein powder.) Also, don't leave out or substitute the psyllium husk. It gives the wrap the bread-like texture we need. Without it, your wrap will likely be thinner and not fold as well.
Nutrition
Serving:
1
g
|
Calories:
268
kcal
|
Carbohydrates:
7
g
|
Protein:
30
g
|
Fat:
13
g
|
Fiber:
3
g
|
Sugar:
2
g