When I think about birthday cake, I automatically think of the confetti kind, like Funfetti cake mix. So for my recent birthday, I knew I'd have to create a Confetti Protein Birthday Cake.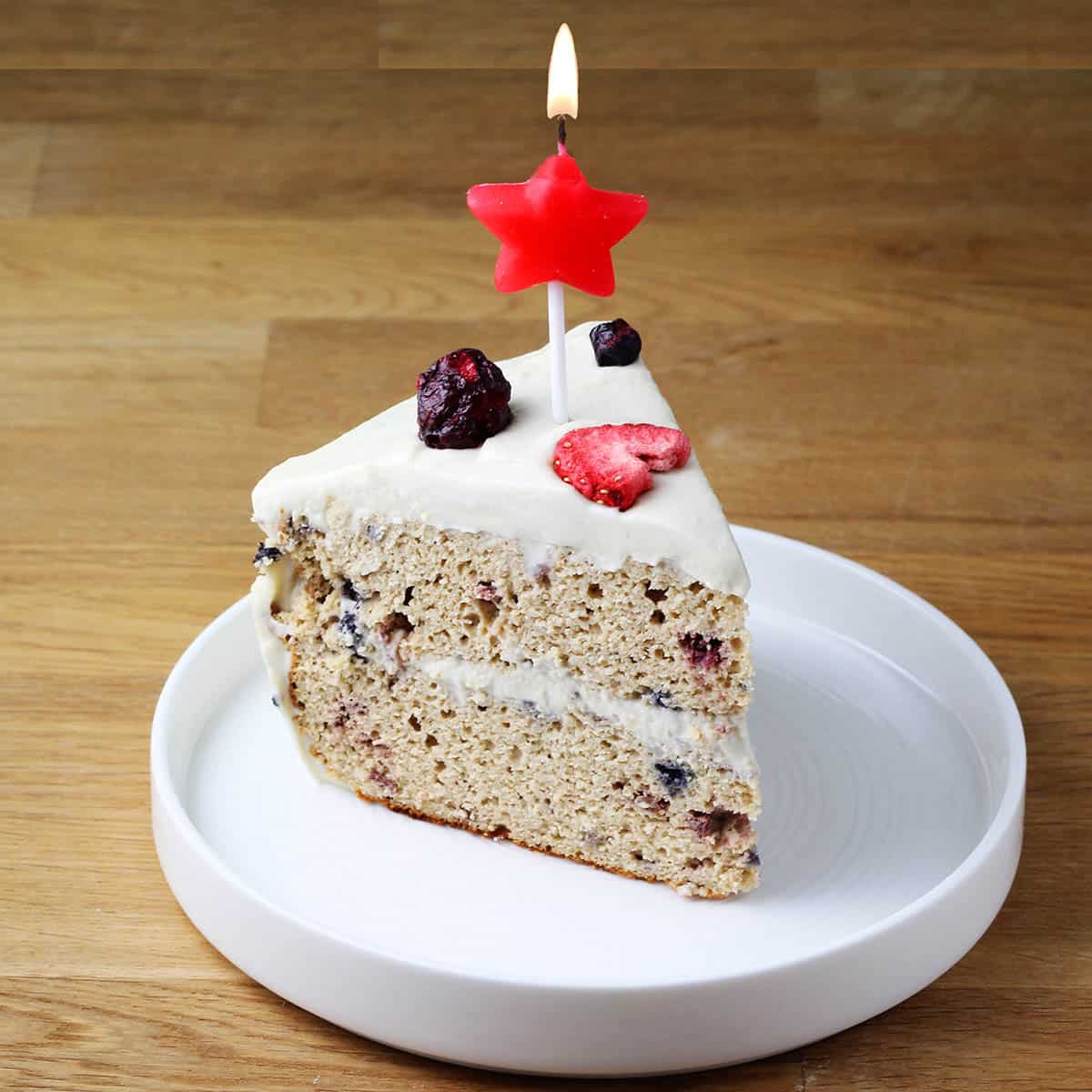 I always loved baking as a kid, and I remember my thoughts when I first saw the Funfetti cake. "Whose brilliant mind came up with this idea?! Genius!" Now I realize it was probably someone who was just messy in the kitchen, or whose child thought everything would be better with sprinkles. (Wouldn't it?)
My recipes on this blog are all-natural, and without refined sugars or flours. So I knew I wouldn't use traditional sprinkles in my protein birthday cake. And when I searched for all-natural sprinkles, what I found were still made of sugar and wax, so I wasn't impressed. Instead, I used freeze-dried fruit!
My experience with freeze-dried strawberries has been that they melt in your hands, so I thought the consistency would be perfect for this confetti protein birthday cake! To get a variety of colors, I also used blueberries, cherries, and persimmons.
The protein cake isn't a bright white, so you don't get the same effect as with the boxed cake mix. But you could still see the confetti, and it tasted delicious!
The frosting was made of raw cashews, apples, and vanilla whey protein powder. It was just the right amount of sweet, and totally creamy!
Oh, and how did I celebrate my birthday, you ask? Well I made it leg day, of course. And I ended my workout with 39 burpees, and one for good luck. ;)
🥣 Recipe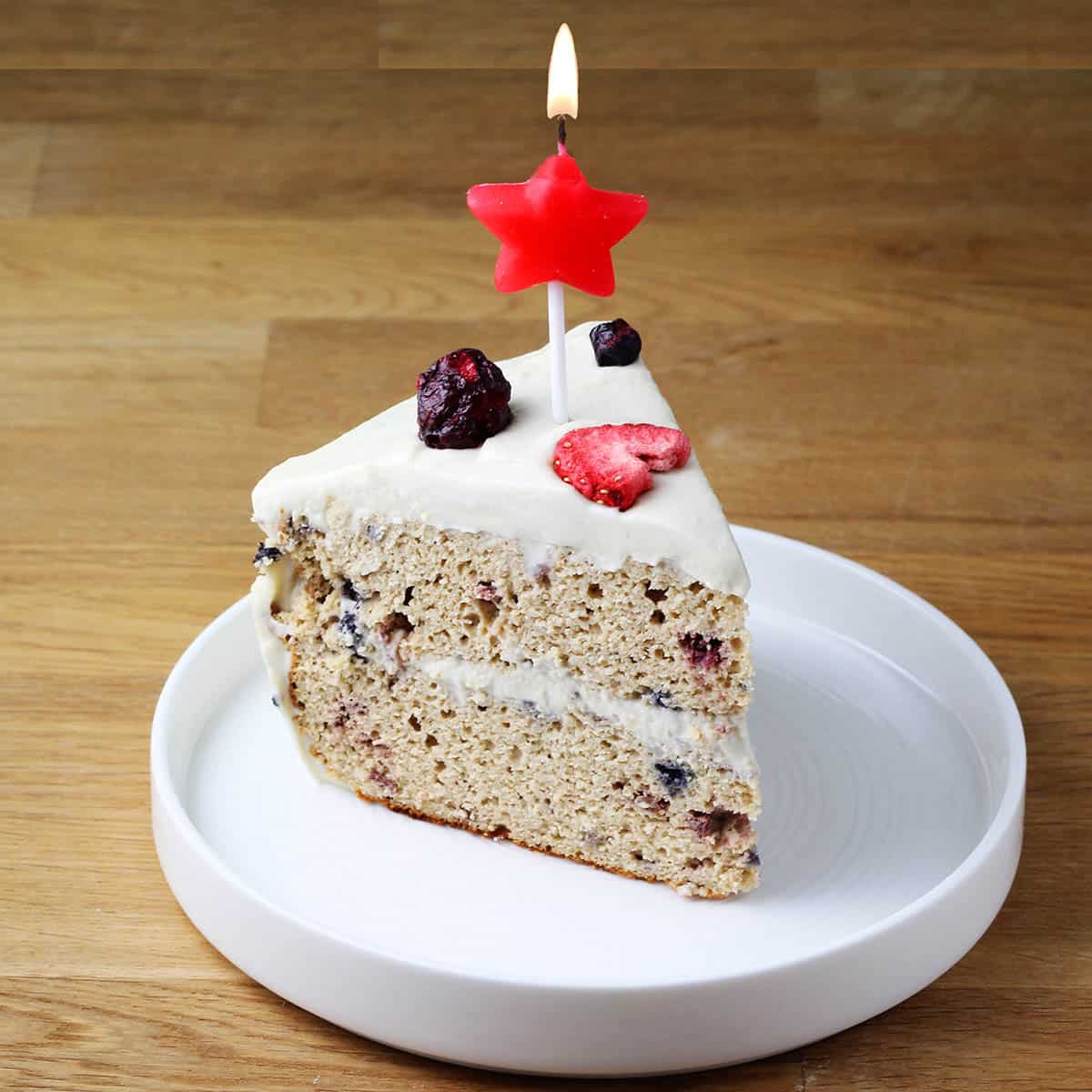 Instructions
Start by making the frosting, so it has time to cool and firm up. Drain and rinse cashews, then blend with apples until smooth.

Add whey protein powder, and blend until smooth.

Pour into a bowl, and let it cool in the fridge or freezer while you bake the cake.

Preheat the oven to 325F (163C).

If not using a silicone pan, line your 7" round (or similarly sized) baking pan with

parchment paper

.

Blend egg whites with apples for about 30 seconds (until the apples are pureed and the mixture is fluffy).

Combine with dry ingredients (coconut flour, almond meal, rice and whey protein powders, and baking powder). Mix well.

Cut (with a kitchen scissor) or chop the freeze-dried fruit to be the size of large sprinkles.

Gently fold the freeze-dried fruit into the cake batter.

Pour batter into pan. (We'll bake it as one cake, then slice the cake into layers.)

Bake for 45-55 minutes, or until the cake is firm to the touch and a toothpick comes out clean.

Let the cake cool, then slice in two lengthwise. (If the cake grew to become too rounded on top, you might also want to cut off the top of the cake.)

Frost the bottom layer, then set the top layer in place and continue to frost.

Slice, and enjoy!
Notes
A note about substitutions: because each type of protein powder has a distinct flavor and texture when baked, I would not try substituting different types of protein powders in the cake recipe. Casein may be substituted for the whey protein in the frosting, however.
Almond meal can be made by pulsing almonds in a food processor. Sift out the large pieces and pulse again. Be careful not to overprocess, as this will give you almond butter.
Also note, because apples oxidize, the frosting will slightly discolor if left for more than a few hours. If you need to prepare your cake several hours in advance, I would suggest using agave (1 ½ tablespoons) or another natural sweetener instead of the apples in the frosting. (The apples in the cake will be fine.)
Nutrition
Calories:
318
kcal
|
Carbohydrates:
22
g
|
Protein:
29
g
|
Fat:
13
g
|
Fiber:
5
g
|
Sugar:
10
g