Prot: 7 g, Carbs: 7 g, Fat: 7 g, Cal: 122
Having just launched this blog, one of my goals is to cover the classic recipes. And since it's the holiday season, I've had these Gingerbread Protein Warrior Cookies on my mind! I'm calling them 'warriors' because they're made with Sun Warrior Classic Protein. And because the name makes them sound tough. :)
When I first thought about making this recipe, I wasn't looking forward to rolling out cookie dough and using cutters. As much as I've baked over the years, I have never mastered the transfer from counter to cookie tray, and my cookies usually get out of shape. So I bought this silicone mold for mini gingerbread men. Just push the dough into the mold, and bake!
I did also want to make sure the dough was cookie cutter friendly for my readers, so I also ordered these ABC gingerbread cookie cutters (if I had to use cookie cutters, at least I'd have some fun with it!). I have to say, I was pleasantly surprised at how well the dough transferred to the cookie sheet!
The cookie dough has a base of raw cashew butter and vanilla rice protein powder. I chose the raw cashew butter because of the mild taste. Other nut butters would yield cookies with a similar texture, but their flavor might compete with the spices. Raw cashews have a subtle flavor, and so raw cashew butter is a great choice for more traditional tasting gingerbread cookies. The spices really take over the flavor, and the cookies are delicious!
To get the crispy texture we're looking for, be sure to use a plant-based protein powder like rice or pea. Whey powder would give more of a cake-like texture, so I wouldn't recommend it for these cookies.
Oh, and did I mention these are gluten-free and vegan? Yep. Like my peanut butter protein cookies, there's even a raw vegan option of dehydrating them instead of baking.
If you're going to use the mold, an easy way to divide your batter evenly into 24 pieces is to first divide it in half, then divide each piece in half (that divides the dough into 4 parts), then each of those into 2 then 3 pieces. Yes, we're using fractions. I have a bunch of math degrees, so you'll have to get used to it.
And now that I have the gingerbread boy mold, I think I'll have to make some Gingerbread Protein Fudge. ;)
This recipe is also in our free holiday recipe ebook: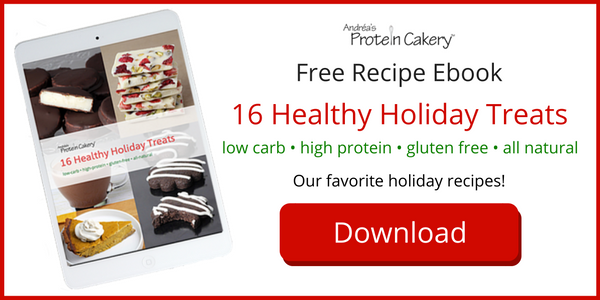 This post contains affiliate links to products I recommend. When you make purchases through these links, this blog makes a small commission (at no extra cost to you). Thank you for supporting our work!
Gingerbread Protein Warrior Cookies
Nutrition Information
Serving size:

4 small or 2 large cookies

Calories:

122
Fat:

7g

Carbohydrates:

7g

Sugar:

4g

Fiber:

1g

Protein:

7g
Prep time:
Cook time:
Total time:
Makes 24 small or 12 large cookies.
Ingredients
Cookie dough:
⅓ cup raw cashew butter
2-3 tablespoons filtered water
1 tablespoon molasses or raw agave
1 teaspoon ground cinnamon
1 teaspoon ground ginger
¾ teaspoon ground allspice
½ teaspoon ground cloves
⅛ teaspoon salt
Icing (optional, not included in macros):
Instructions
Preheat oven to 325F (163C).
Mix cashew butter, 2 tablespoons of water, and molasses (or agave) until well combined.
Add remaining ingredients, and mix well. If the dough is too sticky (sticks to your fingers), add 1 or 2 tablespoons more of protein powder. If the dough is too dry (and crumbles), add another tablespoon of filtered water.
If using the silicone mold, divide batter into 24 pieces, and push each into the mold. Start by pushing the feet in, then arms, then head.
If using cookie cutters, chill the dough in the freezer for 10-15 minutes before rolling it out on a piece of parchment to about ¼ inch thick. (If you don't have a rolling pin, press it out using the palm of your hand.) Cut into shapes using cookie cutters, and transfer cookies to a parchment lined cookie sheet or (unlined) dehydrator tray.
Bake for 12-15 minutes, or dehydrate at 105F for about 18 hours.
If icing the cookies, be sure to let them cool completely before icing.
To ice, measure the 2 tablespoons of coconut butter, and be sure it is warm so that it is as liquidy as possible. If the consistency is still too thick to pipe as icing, add up to 2 teaspoons of warmed coconut oil, ½ teaspoon at a time.
Use a piping bag (or a ziplock with the corner cut out), decorate your warriors!
Place iced cookies in the freezer for a few minutes to set the icing.
Enjoy!
Notes
A note about substitutions: In this recipe, you might try substituting vanilla pea protein powder for the vanilla rice protein powder. Using whey would give it a very different (probably undesirable) texture.
Raw cashew butter can be made by processing raw cashews in a food processor.