I guess I'm not quite done with the flavors of the season, as I am loving this new Gingerbread Protein Fudge recipe!
Inspired by this adorable silicone mold that I used with my Gingerbread Protein Warrior Cookies, I couldn't resist making little gingerbread protein fudge boys!
When you first spoon it into the mold, the fudge will likely be too sticky to press all the way into the mold. In that case, let it freeze for a couple of hours and then press the fudge into place. To make the shape without the mold, you could make a tray of fudge and use a mini gingerbread man cookie cutter once the fudge is firm!
To complete the gingerbread look, I've iced the fudge boys with raw coconut butter (not included in the macros). But I assure you, the fudge will be just as delicious if cut into squares, like my Double Chocolate Protein Fudge. Delicious, I tell you!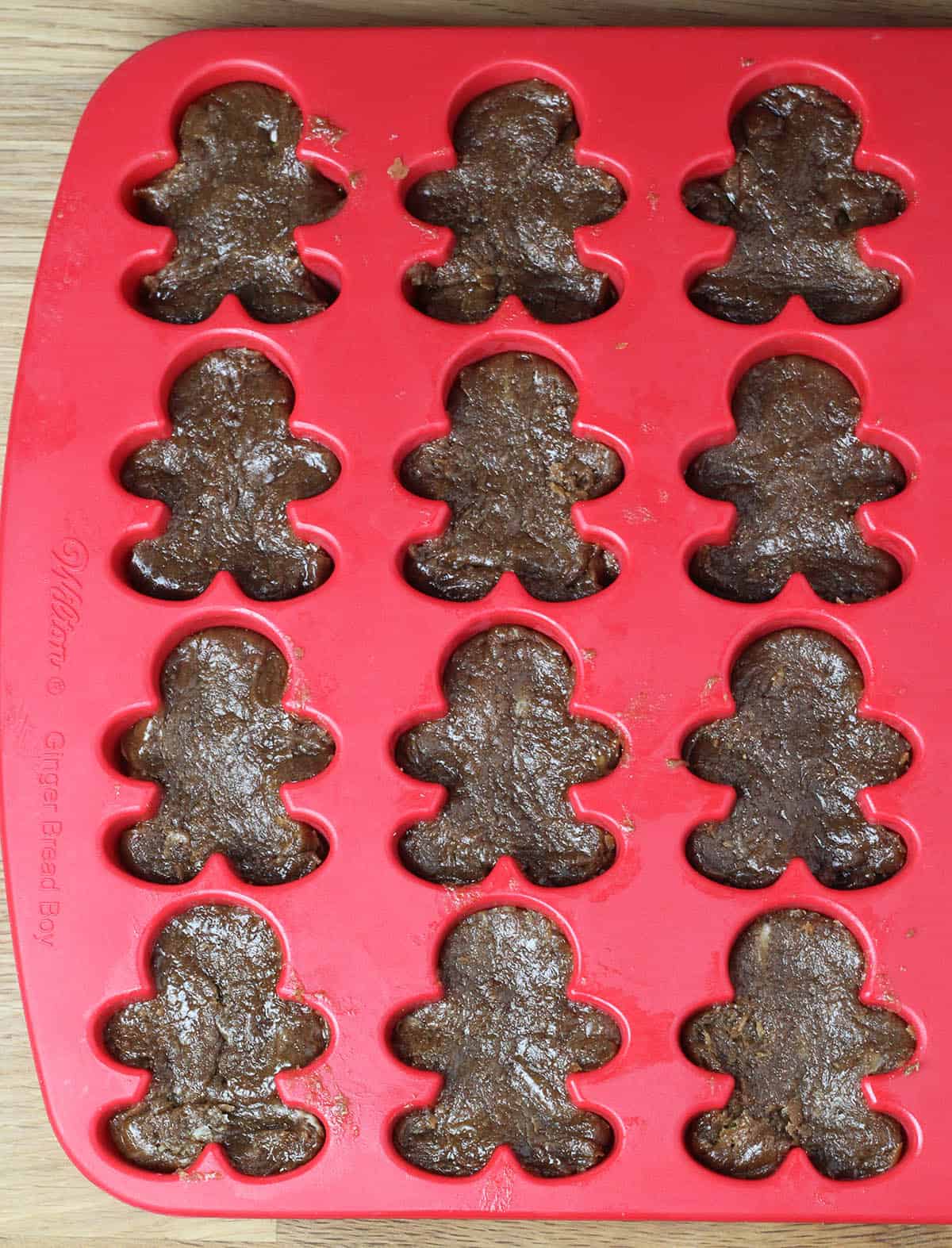 This recipe is similar to my Double Chocolate Protein Fudge in that it has a base of whey protein and nut butter. Instead of cocoa I added a tablespoon of vanilla rice protein; this is to dry out some of the stickiness from the whey powder. Coconut flour would likely have the same effect, but I never seem to like the taste or texture of coconut flour in unbaked recipes.
As I did with my Gingerbread Protein Warrior Cookies, I'm using raw cashew butter here for its mild taste. The spices really overpower the taste of the cashew butter and whey protein, and the result is a deliciously gooey spiced fudge!
If you like gingerbread, you must give this Gingerbread Protein Fudge a try!
🥣 Recipe
Instructions
Mix protein powders with spices and salt.

Add 2 tablespoons of water. Mix well.

Add cashew butter and molasses. Mix well.

If the batter seems too thick to spoon into the mold, add another tablespoon of water and mix well.

Spoon batter into mold (or into a parchment-lined pan).

Freeze for 2 hours, then press fudge into place in the mold.

Freeze several more hours, or overnight. The fudge is ready when it comes cleanly out of the silicone pan. (Fudge sets much quicker in a parchment-lined metal pan than in silicone.)

Enjoy! And store leftovers in the freezer.
Notes
A note about substitutions: You could substitute casein powder for the whey powder. I haven't found a vegan vanilla protein that would work well here. You could also substitute almond butter (or any nut butter) for the cashew butter, but the taste would likely be more pronounced.
Raw cashew butter can be made by processing raw cashews in a food processor.
Nutrition
Serving:
1
g
|
Calories:
54
kcal
|
Carbohydrates:
3
g
|
Protein:
4
g
|
Fat:
3
g
|
Sugar:
2
g