Prot: 9 g, Carbs: 9 g, Fat: 5 g, Cal: 119 (in 3 mini donuts)
A super-easy recipe for so much deliciousness! These Maple Glazed Vanilla Protein Donuts are packed with protein and flavor!
These donuts are similar to my Iced Chocolate Protein Donuts, also made with True Athlete natural whey protein from the Vitamin Shoppe. For these Maple Glazed Vanilla Protein Donuts, I switched the flavor in the donut batter and added a glaze made of maple syrup and coconut oil. So good!
The recipe is easy! No eggs to crack or difficult steps. Just mix all the dry ingredients, add the applesauce, get it into the donut pan, and bake for about 8 minutes. Once the donuts cool, you'll dip them in the glaze.
The easiest way to get the batter neatly into the mini donut pan is to pipe it using a ziplock bag. I've made a quick video to show you how:
Depending on how hard you squeeze the batter, you may end up with less than 12 mini donuts. My first batch made 12, but when I made the video I only had 10 1/2. So keep that in mind as you go. You can always use a spoon to redistribute the batter before you bake.
Here is a link to the silicone mini donut pan I have. I have been very happy with it! I even bought a couple more so I can make LOTS of donuts at once! :) I suggest a silicone pan for this batter, as it would likely stick to a metal pan (even if you spray it). And here is a link to a dough scraper like mine.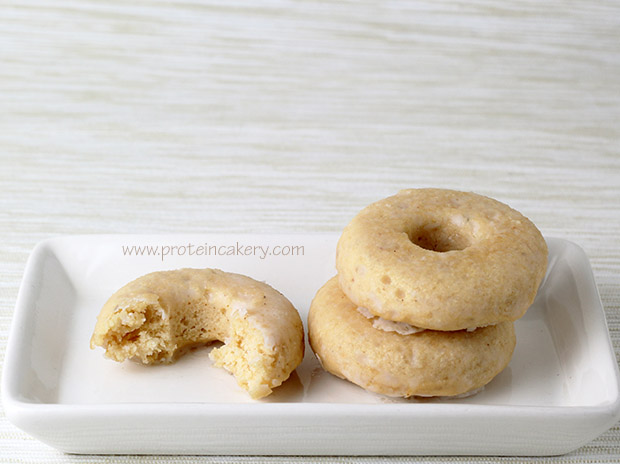 Give these Maple Glazed Vanilla Protein Donuts a try! Your taste buds will thank you!
This post contains affiliate links to products I recommend. When you make purchases through these links, this blog makes a small commission (at no extra cost to you). Thank you for supporting our work!
Maple Glazed Vanilla Protein Donuts
Nutrition Information
Serving size:

3 mini donuts (1/4 recipe)

Calories:

119
Fat:

5g

Carbohydrates:

9g

Sugar:

7g

Fiber:

1g

Protein:

9g
Prep time:
Cook time:
Total time:
Makes 12 mini donuts (4 servings).
Ingredients
Donut batter
Glaze
4 teaspoons maple syrup (20ml)
4 teaspoons coconut oil, melted (20ml)
Instructions
Preheat oven to 325F (163C).
Mix dry ingredients to combine.
Add applesauce and mix well.
Spoon or pipe into a silicone mini donut pan.
Bake for about 8 minutes, and check to see if the donuts are firm. If not, check every minute and remove from oven as soon as the donuts are firm.
Let the donuts cool to room temperature, then remove from pan and place on a parchment-lined dish or tray.
Place in freezer for a few minutes as you mix the glaze ingredients.
Remove donuts from freezer. Using a fork, dip each in the glaze and place back on the parchment-lined tray.
Set in freezer for a few more minutes to let the glaze set.
Enjoy! Store in the refrigerator.
Notes
A note about substitutions: because each type of protein powder has a distinct flavor and texture when baked, I would not try substituting different types of protein powders (other than whey protein) in this recipe. See my
Recipe Basics video
for examples of what goes wrong when you use the wrong protein powder.