It's National Donut Day, friends! And while I'm still not sold on all these national days, I can't turn down a reason to celebrate delicious protein donuts. So I offer you 25 Protein Donut Recipe Ideas!
Here you'll find 25 great protein donut recipes (**updated with new recipes, since we are no longer making our mixes, and since one of our favorite protein powders has been discontinued).
This post contains affiliate links to products I recommend. When you make purchases through these links, this blog makes a small commission (at no extra cost to you). Thank you for supporting our work!
Need a donut pan? I love this silicone mini donut pan. The silicone is nice and shiny, which makes it easy to clean. This one for bigger donuts looks great, too.


1. Fruity Hoops Protein Donuts

This deliciousness is by Kyla at @kylas.macrofood.life. Look at that fluffy texture! She made them with Angel Food Cake flavored protein powder and stevia-sweetened flavor powder. Topped with Froot Loops, too, for a little crunch!
2. Chocolate Glazed Pumpkin Protein Donuts

Pumpkin and chocolate are great together! Spencer at MacroChef made these yummy donuts with I_PLX protein, and we'd try them with PES vanilla whey. The recipe also calls for Truvia baking blend, a mix of sugar and stevia.
These decadent treats aren't made with any protein powder, but still have 6.5 g protein each! They are sweetened with Lakanto Golden Monkfruit, which is a blend of erythritol and monkfruit natural calorie-free sweeteners. Paige of Food Fitness by Paige whipped these delicious donuts up!

4. Blueberry Banana Bread Protein Donuts

Another delicious treat from Macro Chef Spencer! Made with BSN Syntha-6 Vanilla Ice Cream protein and Truvia baking blend. Look at that juicy blueberry in the photo. Yum!
5. Apple Cider Vegan Protein Donuts

Sarah at No Excuses Nutrition is a whiz in the kitchen! These vegan protein donuts are made with soy isolate protein powder and a monkfruit-erythritol sweetener blend. Instead of egg, these donuts use soaked flax seeds (a "flax egg" mixture). And they look delicious!
Another delicious creation by Kyla! This recipe uses Kodiak Buttermilk Mix and vanilla protein powder, and that texture looks perfect!
7.  Pumpkin Zucchini Keto Donuts

These low-carb keto donuts get a protein boost with collagen protein! And they're sweetened with a monkfruit-erythritol sweetener blend. Another great recipe by Paige!
Another protein powder-free recipe, but still with 5 g protein each piece! Created by Paige, sweetened with Lakanto Golden Monkfruit.
9. Dark Chocolate Coconut Protein Donuts

Another delicious creation by Spencer at MacroChef! These are made with chocolate milk flavored protein powder, and the glaze uses coconut butter. Delicious flavor combo!
10. Double Chocolate Protein Donuts

There's something about a sprinkled donut that gets me every time! These from Spencer look delicious! Made with chocolate lava cake flavored protein and a stevia-sugar blend. And I would opt for natural sprinkles, why not?!

11. Chocolate Chip Pumpkin Donuts

The texture on these looks super soft! Another great recipe by Paige. These are made with Quest vanilla protein and have a Double Chocolate Chunk Quest Bar baked inside!
12. Gingerbread Protein Donuts

Spencer whipped these up with snickerdoodle flavored protein powder,  Truvia baking blend, and pumpkin puree. They look so soft and delicious!
13. Maple Pumpkin Glazed Protein Donuts

Another delicious donut made with pumpkin puree by Spencer. Here he used a cinnamon flavored protein that I think is discontinued, but you can use the vanilla protein and add some cinnamon!
14. Cookies and Cream Yeast Donuts

More yummy donuts from Paige! Made with cookies and cream protein powder and the monkfruit-erythritol sweetener blend. And the topping is made from yogurt and salted caramel protein. Delicious!
And another delicious creation from Paige using chocolate milkshake flavored protein powder and erythritol to sweeten.
Kyla made these low carb donuts without protein powder, but they still pack 6 g protein per piece! Made with almond flour and Swerve erythritols, they sound delicious!
17. Pumpkin Protein Donuts With Cinnamon Cream Cheese Frosting

Another delicious creation by Kyla, these are made with Kodiak Buttermilk Mix and vanilla protein powder. I'd go with these natural halloween sprinkles over ones with artificial dyes.
 18. German Chocolate Vegan Protein Donuts

Oh how heavenly! Sarah is killing it with this vegan protein donut recipe! She used Livwell protein, but I think this from Orgain would work just as well. These are sweetened with a stevia-erythritol blend and use a touch of Vitafiber syrup, as well. These make you want to bite the screen, don't they?!
19. Cookies and Cream Protein Donuts

This deliciousness from Sarah over at No Excuses Nutrition uses Jamie Eason's chocolate whey, but states that any chocolate whey will do. Looks like a great cake texture, and yum, those chocolate sandwich cookies!

20. Peanut Butter and Jelly Protein Donuts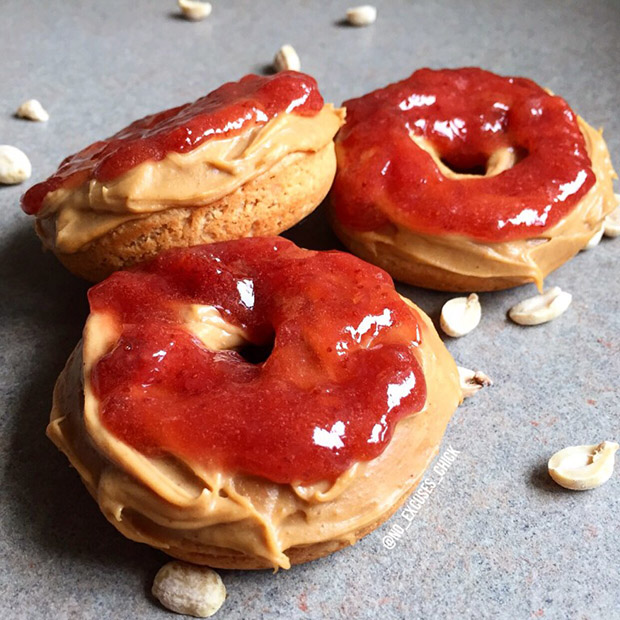 Another recipe by Sarah- Holy PB&J! This recipe uses Jamie Eason's vanilla whey and a peanut protein that is now discontinued. But that's ok! It was essentially powdered peanut butter with sweetener, anyway, so easy to sub. I can't get over how scrumptious these look!
Butternut squash in a donut?! Yes, Food Fitness by Paige has some magical creations! This protein donut recipe uses Quest Protein Powder, a whey/casein blend. It's important to remember that different protein powders bake differently, so don't try subbing just a whey protein here. As I mentioned above, PEScience Select is also a whey/casein blend, and it should work well here.
22. The Nancy Donut

Oh my – take a look at that icing! This protein donut looks like it came right out of a gourmet donut shop. I don't know who Nancy is, but she must be special to have a donut like this named after her! Another recipe using Quest Protein Powder, and keep in mind that these donut base recipes are interchangeable. You can use this base recipe and top it with any of the flavor options in this list!
This yummy creation by Food Fitness by Paige is made with real maple syrup in the donut batter and in the topping. It also calls for yeast, which helps the fluffy texture. And there's no actual brown sugar in the recipe, just the flavor!
24. Yeast Donuts with Pink Sprinkles

Another yeasted protein donut recipe, this one without any syrup or liquid sweeteners. I'm sure you can use any flavor Quest Protein Powder, even the unflavored, unsweetened version. And in that case I'd just add a touch more sweetener and some vanilla extract.
This is a recipe I created with Quest Protein Powder, and my favorite part is the caramel layer made from mashed dates. It's a longer ingredient list than most of my recipes, but there are lots of layers to this deliciousness!
I hope this post has been helpful, and that you're encouraged to make your own protein donuts in lots of flavors. Happy National Donut Day!