It's National Donut Day, friends! And while I'm still not sold on all these national days, I can't turn down a reason to celebrate delicious protein donuts. So I offer you 25 Protein Donut Recipe Ideas!
Click on the photo or the recipe title to find the full recipe. Happy baking!
🍩 Need a donut pan? I love this silicone mini donut pan and this one for bigger donuts.
🍩 And if you're looking to buy pre-made protein donuts, check out these chocolate protein donuts, these glazed vanilla protein donuts, and cinnamon sugar protein donuts. Yum!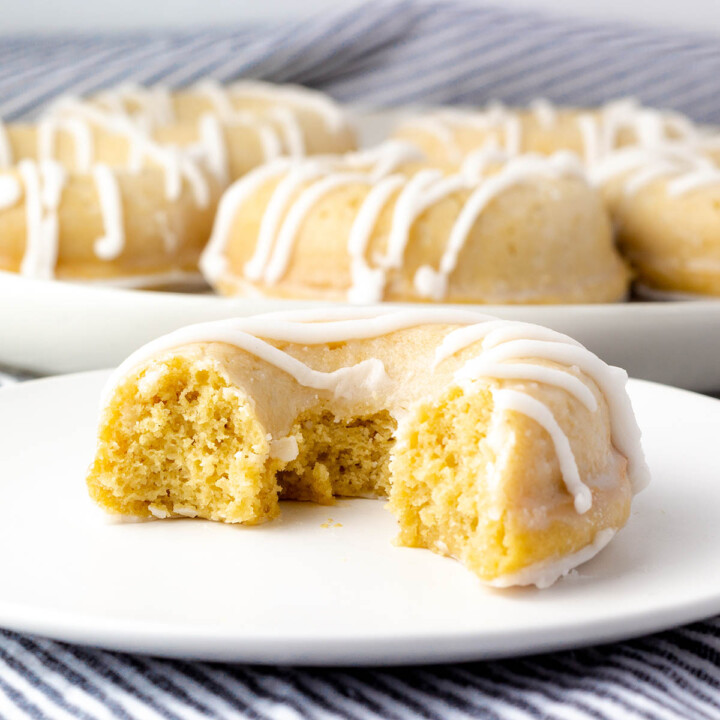 The taste and texture of these donuts are spot on! If you're going to try one donut recipe, this is it! Glazed Protein Donuts Recipe
2. Fruity Hoops Protein Donuts
This deliciousness is by Kyla at @kylas.macrofood.life. Look at that fluffy texture! She made them with Angel Food Cake flavored protein powder and stevia-sweetened flavor powder. Topped with Froot Loops cereal, too, for a little crunch!
These decadent treats aren't made with any protein powder, but still have 6.5 g protein each! They are sweetened with a monkfruit erythritol blend, both natural calorie-free sweeteners. Paige of Food Fitness by Paige whipped these delicious donuts up!
4. Blueberry Banana Bread Protein Donuts
This deliciousness is from Macro Chef Spencer! Made with BSN Syntha-6 Vanilla Ice Cream protein and stevia baking blend. Look at that juicy blueberry in the photo. Yum!
5. Apple Cider Vegan Protein Donuts
Sarah at Nutritionist Mom is a whiz in the kitchen! These vegan protein donuts are made with soy isolate protein powder and a monkfruit erythritol sweetener blend. Instead of egg, these donuts use soaked flax seeds (a "flax egg" mixture). And they look delicious!
You'll never miss the high-sugar version once you taste these! Made with Proteinfull Baking's keto-friendly cake mix and topped with confectioners erythritol.
These heavenly donuts are made with Quest protein powder, which is great for baking!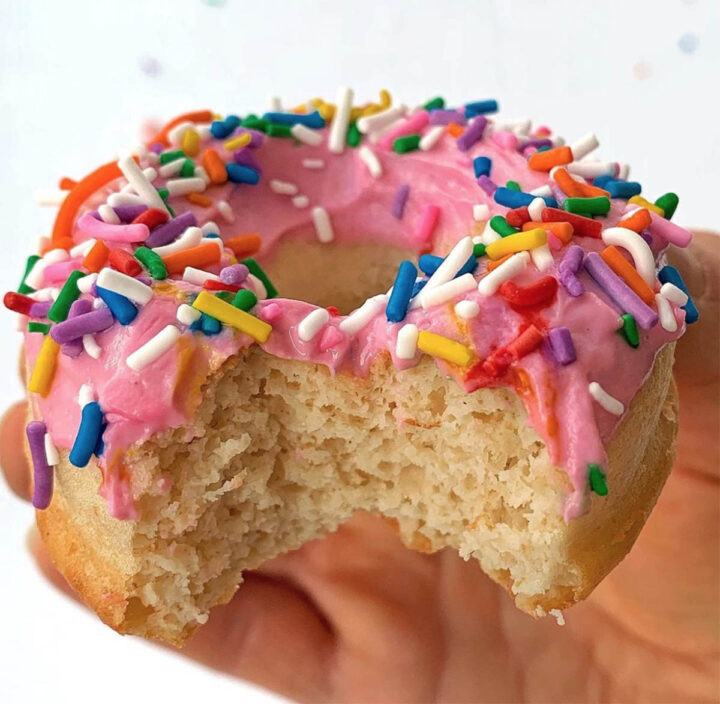 Another delicious creation by Kyla! This recipe uses Kodiak Buttermilk Mix and vanilla protein powder, and that texture looks perfect!
9. Dark Chocolate Coconut Protein Donuts
Another delicious creation by Spencer at MacroChef! These are made with chocolate milk flavored protein powder, and the glaze uses coconut butter. Delicious flavor combo!
10. German Chocolate Vegan Protein Donuts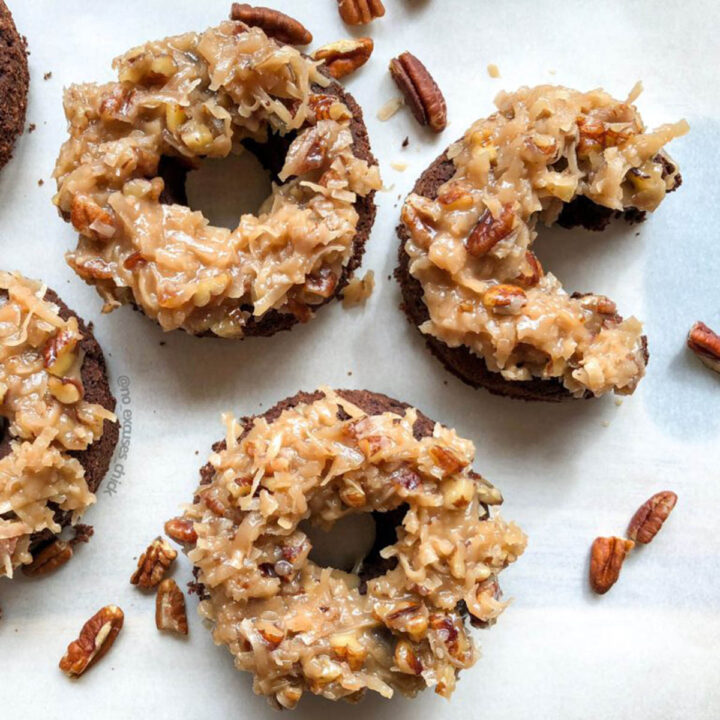 Oh how heavenly! Sarah is killing it with this vegan protein donut recipe! She used Livwell protein, but I think this from Orgain would work just as well. These are sweetened with a stevia erythritol blend and use a touch of Vitafiber syrup, as well. These make you want to bite the screen, don't they?!
11. Pumpkin Zucchini Keto Donuts
These low-carb keto donuts get a protein boost with collagen protein! And they're sweetened with a monkfruit erythritol sweetener blend. Another great recipe by Paige!
12. Cinnamon Sugar Protein Donuts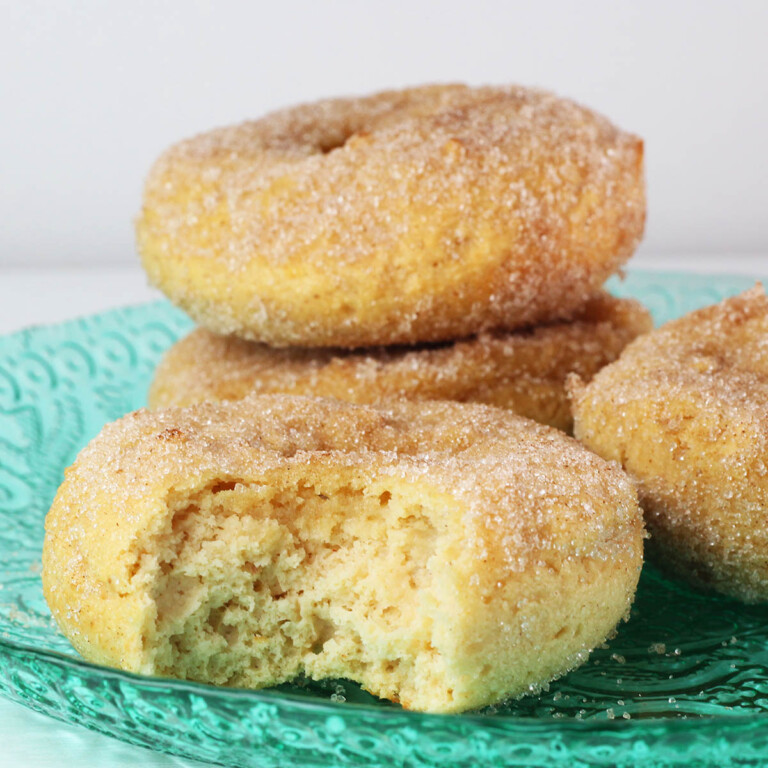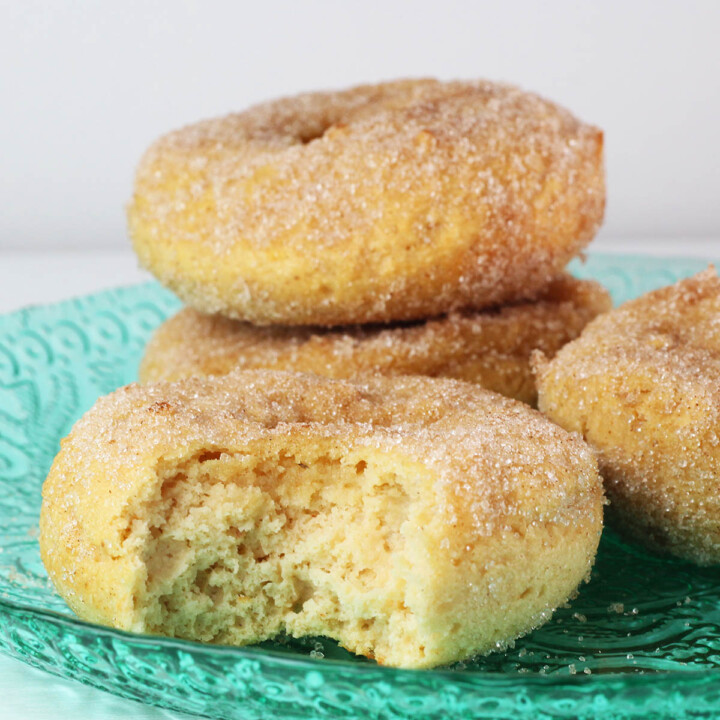 Topping cake donuts with a cinnamon erythritol blend is everything! This recipe is super yummy. Give it a try!
13. Pumpkin Protein Donuts With Cinnamon Cream Cheese Frosting
Another delicious creation by Kyla, these are made with Kodiak Buttermilk Mix and vanilla protein powder.
14. Gingerbread Protein Donuts
Spencer whipped these up with snickerdoodle flavored protein powder, a stevia baking blend, and pumpkin puree. They look so soft and delicious!
Another protein powder-free recipe, but still with 5 g protein each piece! Created by Paige, sweetened with a stevia erythritol blend.
Sarah created these with a chocolate whey casein blend, and they look scrumptious!
Perfect for fall baking! These protein cake donuts are super easy to make, thanks to Proteinfull Baking keto-friendly cake mix, and they are super yummy!
Kyla made these low carb donuts without protein powder, but they still pack 6 g protein per piece! Made with almond flour and Swerve erythritols, they sound delicious!
This yummy creation by Food Fitness by Paige is made with real maple syrup in the donut batter and in the topping. It also calls for yeast, which helps the fluffy texture. And there's no actual brown sugar in the recipe, just the flavor!
20. Peanut Butter and Jelly Protein Donuts
Another recipe by Sarah- Holy PB&J! This recipe uses vanilla whey and peanut protein that are now discontinued. But that's ok! Go with vanilla whey protein and powdered peanut butter, easy to sub. I can't get over how scrumptious these look!
21. Cookie Butter Frosted Chocolate Chip Protein Donuts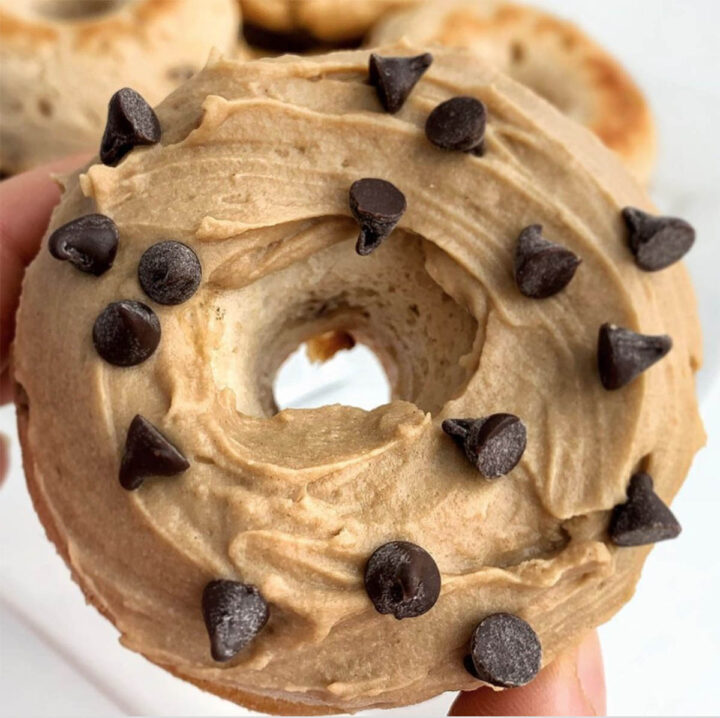 👀 These yummy donuts are made with vanilla protein and topped with protein cookie butter!
22. Vegan Chocolate Protein Donuts
Don't you just want to bite the screen? Yum! These are made with a vegan chocolate protein powder, and they look delicious!
23. Peanut Butter Cup Protein Donuts
How can we resist the chocolate peanut butter combo? These are made with peanut butter cup protein powder, and we can't wait to try them!
24. Yeast Donuts with Pink Sprinkles
Another yeasted protein donut recipe, this one without any syrup or liquid sweeteners. Made with Quest protein (and lots of love) by Paige.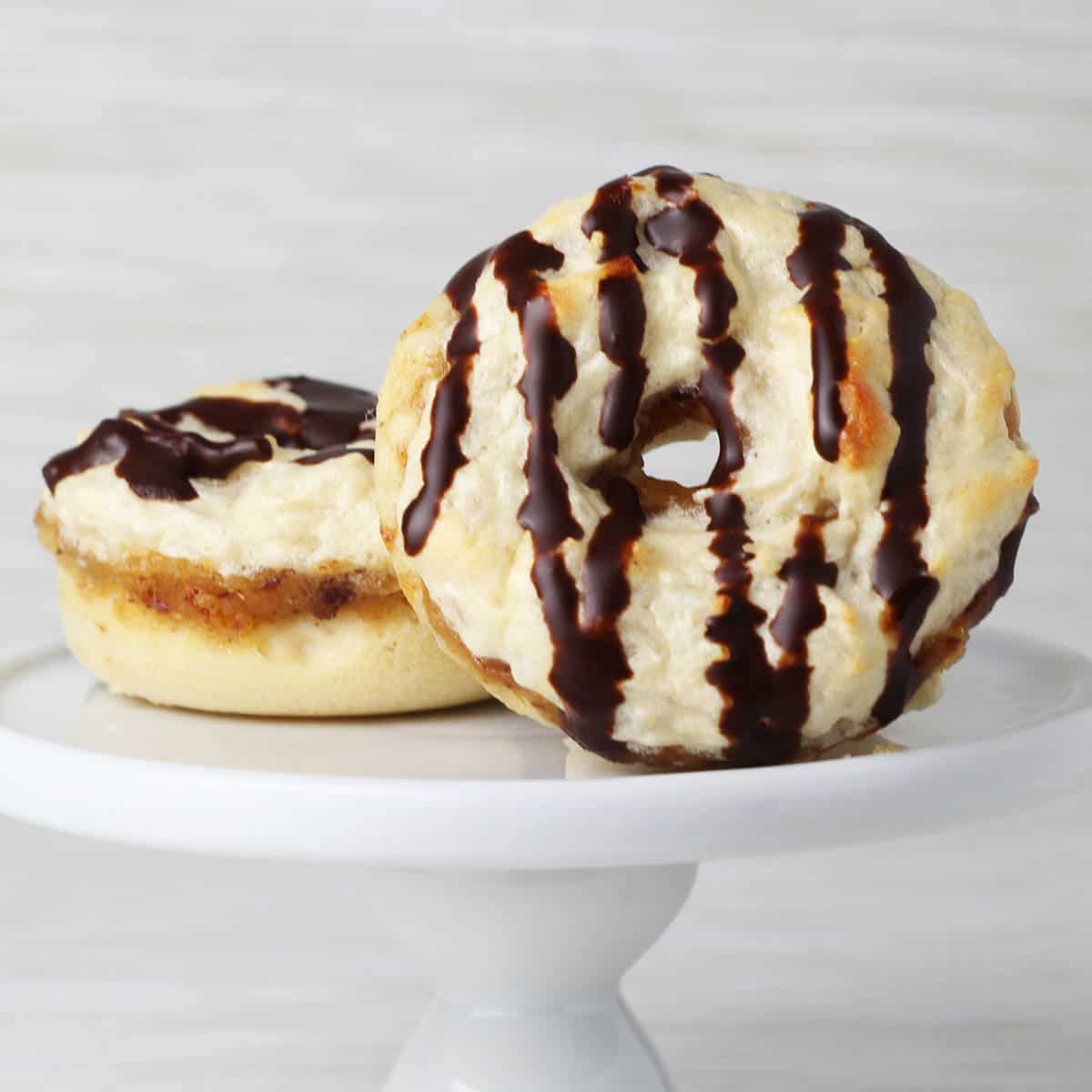 This is a recipe I created with Quest vanilla protein, and my favorite part is the caramel layer made from mashed dates. It's a longer ingredient list than most of my recipes, but there are lots of layers to this deliciousness!
Since coffee is perfect with donuts, you may enjoy this post on the best protein powder for coffee.
👩🏼‍🍳 I hope this post has been helpful, and that you're encouraged to make your own protein donuts in lots of flavors. Happy National Donut Day!