It's National Donut Day, friends! And while I'm still not sold on all these national days, I can't turn down a reason to celebrate delicious protein donuts. So I offer you 25 Protein Donut Recipe Ideas!
Here you'll find some great protein donut recipes (links to full recipes, from this blog and a couple others) and tips to turn those recipes into even more flavor creations. Of course, I'll mention how to use our protein cake mixes for even more convenience. So let's get started!
This post contains affiliate links to products I recommend. When you make purchases through these links, this blog makes a small commission (at no extra cost to you). Thank you for supporting our work!
This first protein donut recipe has been a big hit for this blog. But I have to remind you – if you are using a different protein powder, your results might not be as good. I have some very simple (i.e. few ingredients) recipes on this blog using Jamie Eason's whey protein. And the recipes turn out well with that protein because it happens to bake very well. But not all whey proteins will bake the same way, so please keep that in mind! If you have a different preferred protein powder, you may want to find a great cake recipe for that protein powder, and modify it to create other flavor options. Some of the recipes below use Quest Protein Powder, too, which is a whey/casein blend. PEScience Select is similar to Quest, and should work well in those recipes, too. (Quest sells an unflavored, unsweetened version that is all-natural.)
And for bakeware- I love this silicone mini donut pan. The silicone is nice and shiny, which makes it easy to clean. I also have this silicone pan for bigger donuts, but I don't love it. It's much harder to clean, and cake sometimes sticks to it.
1. Glazed Protein Donuts

This is a simple vanilla cake donut recipe. The keys to this recipe are the dash of nutmeg (trust me on that!) and the coconut oil erythritol glaze. Yummy! This can be used as a base recipe for any vanilla donut (you may want to leave out the nutmeg if you are adding competing flavors, though). For an even easier vanilla cake base with a super-soft texture, I recommend our Vanilla Protein Cake Mix, as we used with the Chocolate Covered Mini Protein Donuts below.
2. Cinnamon Sugar Protein Donuts


This is another simple cake donut recipe using Jamie Eason's whey protein. The coating is granulated erythritol mixed with cinnamon, and it is held on using some melted coconut oil. We have a mini-donut version of this recipe using our Vanilla Protein Cake Mix, too.
3. Chocolate Covered Mini Donuts

This protein donut recipe has an easy chocolate coating that can be modified to fit your taste preferences and macros. I used unsweetened chocolate squares in the coating and added stevia and erythritol, but you can modify the recipe to use your favorite dark chocolate or one of the sugar-free chocolate brands that have been emerging lately. I like these as mini donuts because they remind me of that popular, not-so-healthy brand I used to eat as a kid!
4. Strawberry Iced Protein Donuts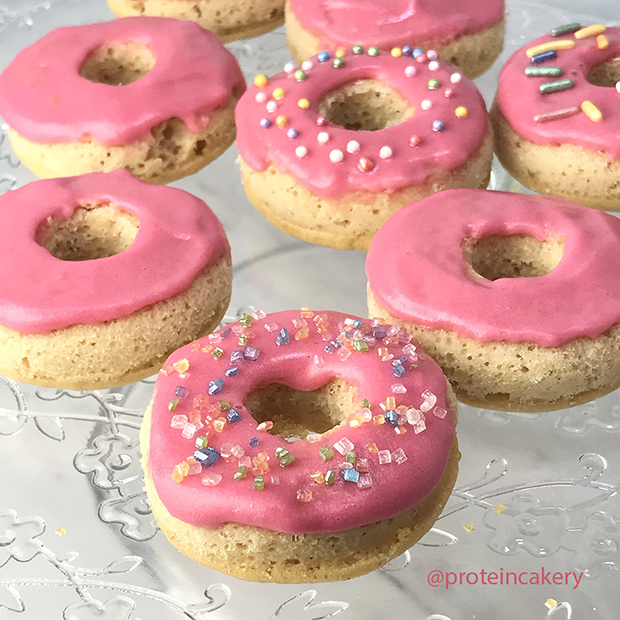 These were made with our Vanilla Protein Cake Mix and Strawberry Sugar-Free Frosting Mix. But you can use one of the vanilla donut recipes above (or below). For the icing, you could take a strawberry whey protein powder and add just enough water to get it to be icing consistency. It won't be quite as sweet as icing usually is, but it'll work! And we have all-natural sprinkles in our shop to dress up the mini donuts!
5. Powdered Chocolate Protein Donuts
These chocolate mini protein donuts use our Double Chocolate Chip Protein Cake Mix, but you can also use this recipe for Devil's Food Protein Cake using Optimum Nutrition whey. The coating is powdered erythritol – just dip the donuts in when they are cool and out of the pan. Easy!
6. Chocolate Peanut Butter Protein Donuts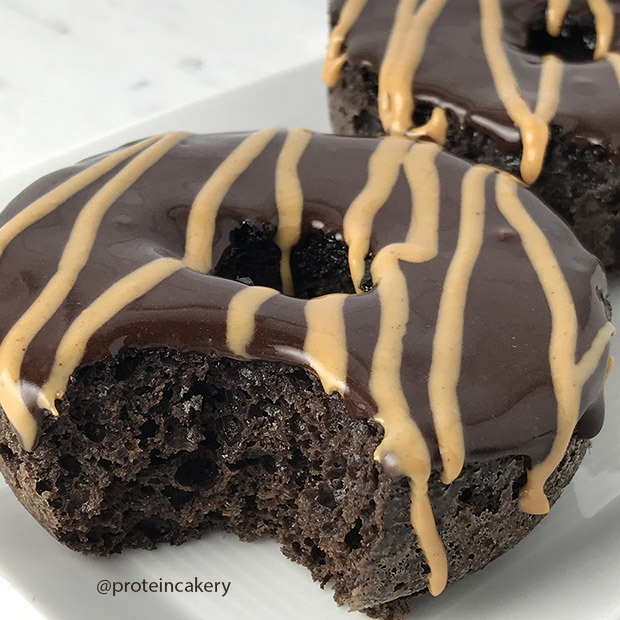 Same idea for the chocolate base in a bigger donut, and we have a chocolate glaze and peanut butter drizzle on top! I made the chocolate icing with our Chocolate Sugar-Free Frosting Mix. I warmed up some smooth peanut butter for the drizzle topping, but it can be made with powdered peanut butter instead, if you prefer.
7. Peppermint Frosted Chocolate Protein Donuts
Oooh chocolate mint! I added a few drops of peppermint flavoring to our Vanilla Sugar-Free Frosting Mix (prepared) and it is heavenly with the chocolate protein donut base! Without our mix you could make a whey icing as mentioned above, and add peppermint flavoring. I recommend alcohol-free peppermint flavoring, since the alcohol gives an off flavor to unbaked recipes (in my opinion).
8. Cookies and Cream Protein Donuts

This deliciousness from Sarah over at No Excuses Nutrition uses Jamie Eason's chocolate whey, but states that any chocolate whey will do. Looks like a great cake texture, and yum, those chocolate sandwich cookies!
9. Peanut Butter and Jelly Protein Donuts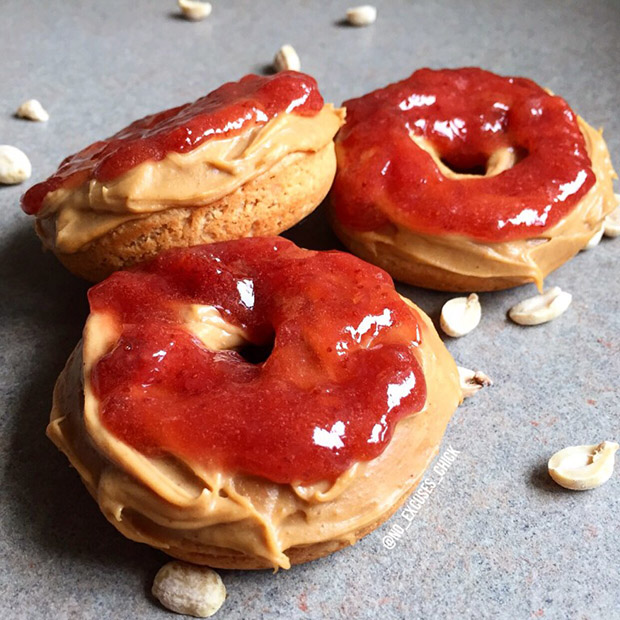 Another recipe by Sarah- Holy PB&J! This recipe uses Jamie Eason's vanilla whey and a peanut protein that is now discontinued. But that's ok! It was essentially powdered peanut butter with sweetener, anyway, so easy to sub. I can't get over how scrumptious these look!
10. Chocolate Glazed Peanut Butter Protein Donuts
Now let's take that peanut butter protein donut and top it with chocolate glaze and peanut butter drizzle. Similar to #6 in this list, but with a peanut butter protein donut base. No such thing as too many chocolate pb options, right?
11. Fluffernutter Protein Donuts
Another flavor variation for the peanut butter donut – add a smear of peanut butter and marshmallow fluffy topping! Our Marshmallow Sugar-Free Frosting would make a great choice here.
Butternut squash in a donut?! Yes, Food Fitness by Paige has some magical creations! This protein donut recipe uses Quest Protein Powder, a whey/casein blend. It's important to remember that different protein powders bake differently, so don't try subbing just a whey protein here. As I mentioned above, PEScience Select is also a whey/casein blend, and it should work well here.
13. The Nancy Donut

Oh my – take a look at that icing! This protein donut looks like it came right out of a gourmet donut shop. I don't know who Nancy is, but she must be special to have a donut like this named after her! Another recipe using Quest Protein Powder, and keep in mind that these donut base recipes are interchangeable. You can use this base recipe and top it with any of the flavor options in this list!
This yummy creation by Food Fitness by Paige is made with real maple syrup in the donut batter and in the topping. It also calls for yeast, which helps the fluffy texture. And there's no actual brown sugar in the recipe, just the flavor!
15. Yeast Donuts with Pink Sprinkles

Another yeasted protein donut recipe, this one without any syrup or liquid sweeteners. I'm sure you can use any flavor Quest Protein Powder, even the unflavored, unsweetened version. And in that case I'd just add a touch more sweetener and some vanilla extract.
16. Pineapple Upside-Down Protein Donuts
Paige has a great recipe for Pineapple Upside-Down Tarts, and it would be perfect for a donut pan, too! Since the pineapple to batter ratio may be different with a donut pan, you may need more pineapple slices. And if you prefer one of the previous batter recipes instead, make the switch!
This is a recipe I created with Quest Protein Powder, and my favorite part is the caramel layer made from mashed dates. It's a longer ingredient list than most of my recipes, but there are lots of layers to this deliciousness!
The remaining recipe ideas listed here are some favorite cake recipes that would hold up well in donut form. There's something about holding a donut that makes it a little more fun than having a slice of cake, right? So give these a try in a donut pan!
18. Coffee Cake Protein Donuts
This Protein Coffee Cake is light and fluffy with a coffee cake crumble topping. The great texture comes from Quest unflavored protein powder mixed with brown rice flour. These would be great for National Donut Day!
19. Banana Bread Protein Donuts
A favorite recipe of mine – Protein Banana Bread, made with our Whey Protein For Baking. (The recipe is on the back of the bag, and you can see it in the product photos.) This recipe does call for coconut sugar, so it's a bit higher in carbs than most of the recipes here. But I promise you- it tastes like real banana bread, and it will fool all the picky eaters. Bake up the batter in a donut pan, and enjoy!
20. Carrot Cake Protein Donuts
We have a great Protein Carrot Cake recipe made with our Cinnamon Spice Protein Cake Mix, and it would be great in donut form! With the Sugar-Free Cream Cheese Frosting, of course!
21. Pumpkin Spice Protein Donuts
These Pumpkin Spice Protein Cupcakes from Sarah's blog look amazing! Another recipe with Jamie Eason's vanilla whey. Bake 'em up in a donut pan, and don't forget that frosting!
22. Lemon Blueberry Protein Donuts
This simple recipe for Lemon Blueberry Protein Cake has blueberries added to our Lemon Protein Cake Mix, and it would make great protein donuts! Without our mix, I would try Paige's recipe for lemon cupcakes.
23. Lemon Poppy Protein Donuts
No blueberries, but this time add in some poppy seeds. It's easy to switch up flavors when you have great base recipes!
24. Lemon Sugar Protein Donuts
With or without blueberries, with or without poppy seeds, a coating of granulated erythritol would give your lemon protein donuts a sugary texture on the outside and a touch of added sweetness! Get the coating to stick using some melted coconut oil, like we did with the Cinnamon Sugar Protein Donuts above (#2).
25. Black and White Protein Donuts
Inspired by a NYC cookie tradition, I made these Black and White Protein Cookies a few years back. It's a cake-like cookie with sweet icing, and the hint of lemon in the cookie batter is key! For protein donuts you could use the same recipe, or mix our Vanilla and Lemon Protein Cake Mixes for a subtle lemon flavor. Our Vanilla and Chocolate Sugar-Free Frosting Mixes would make great black and white frostings, too!
I hope this post has been helpful, and that you're encouraged to make your own protein donuts in lots of flavors. Happy National Donut Day!
Don't forget to check out our line of Protein Cake Mixes, Protein Cookie Mixes, and Sugar-Free Frosting Mixes, too!