Last year I made some sweet protein treats for Easter, but this year I really wanted to try making this Protein Easter Bread. Traditional Easter bread is a sweet bread that is braided or twisted around colored, hard-boiled Easter eggs. I remember having it as a child, made by my great-grandmother. (Maybe it is an Italian thing?) I remember it being delicious and pretty, so I had to give it a try!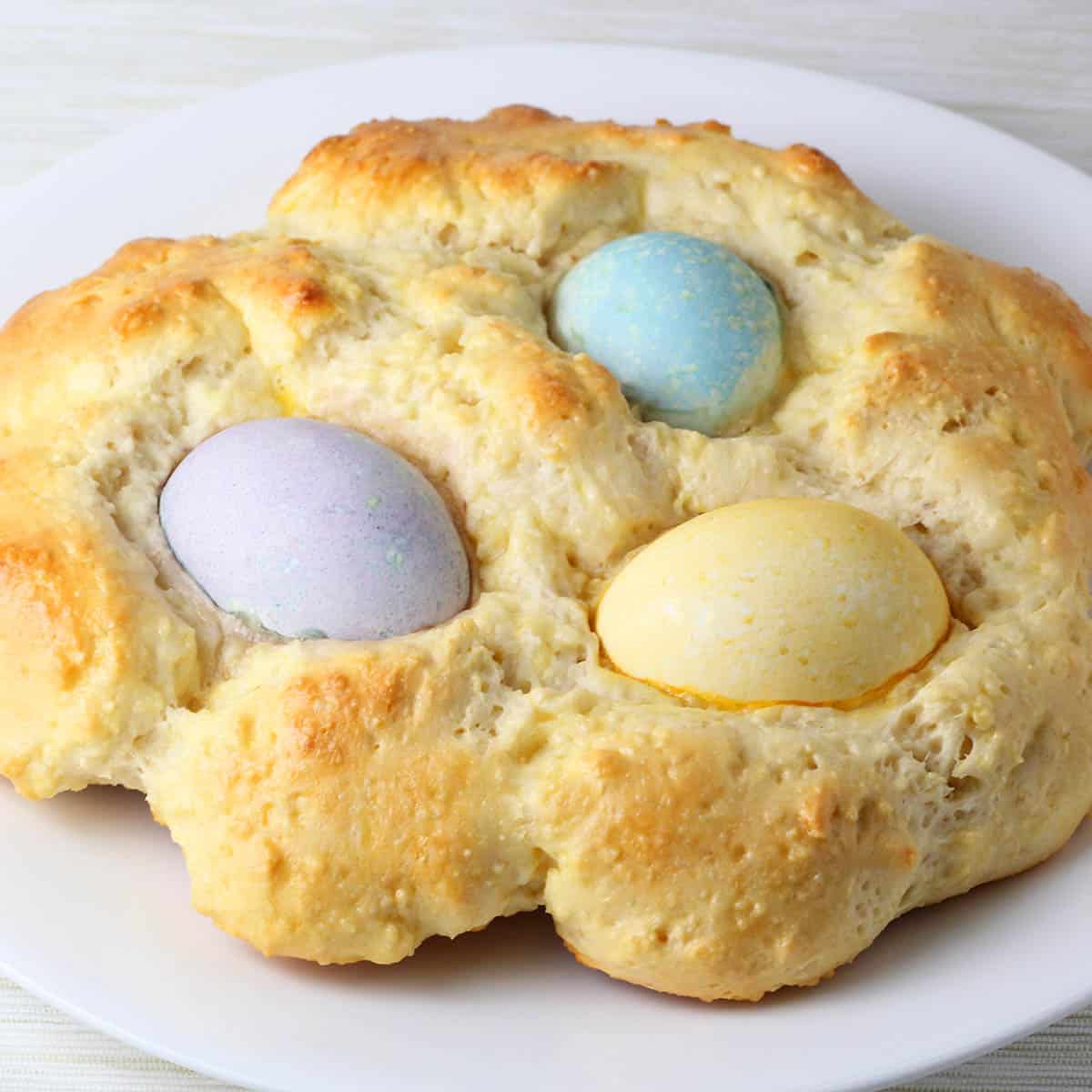 After working with the Quest Multi-Purpose Mix protein powder, I knew it would be perfect for this sweet protein bread recipe. In theory, you should be able to substitute another unflavored whey/casein blend, or mix unflavored whey with some oat or coconut flour, but I doubt it'll have the same flavor. The Quest Multi-Purpose Mix is really spot on for this recipe!
I made this bread using a bit of coconut oil to mimic the buttery texture of the original. If you want to lessen the fat, though, I would try substituting ¼ cup unsweetened applesauce for the coconut oil. I've listed those macros here, too.
Since I'm trying to keep everything here all-natural, I found this awesome natural egg-coloring kit on Amazon. The colors that you can make with it are a bit limited, but it does the trick!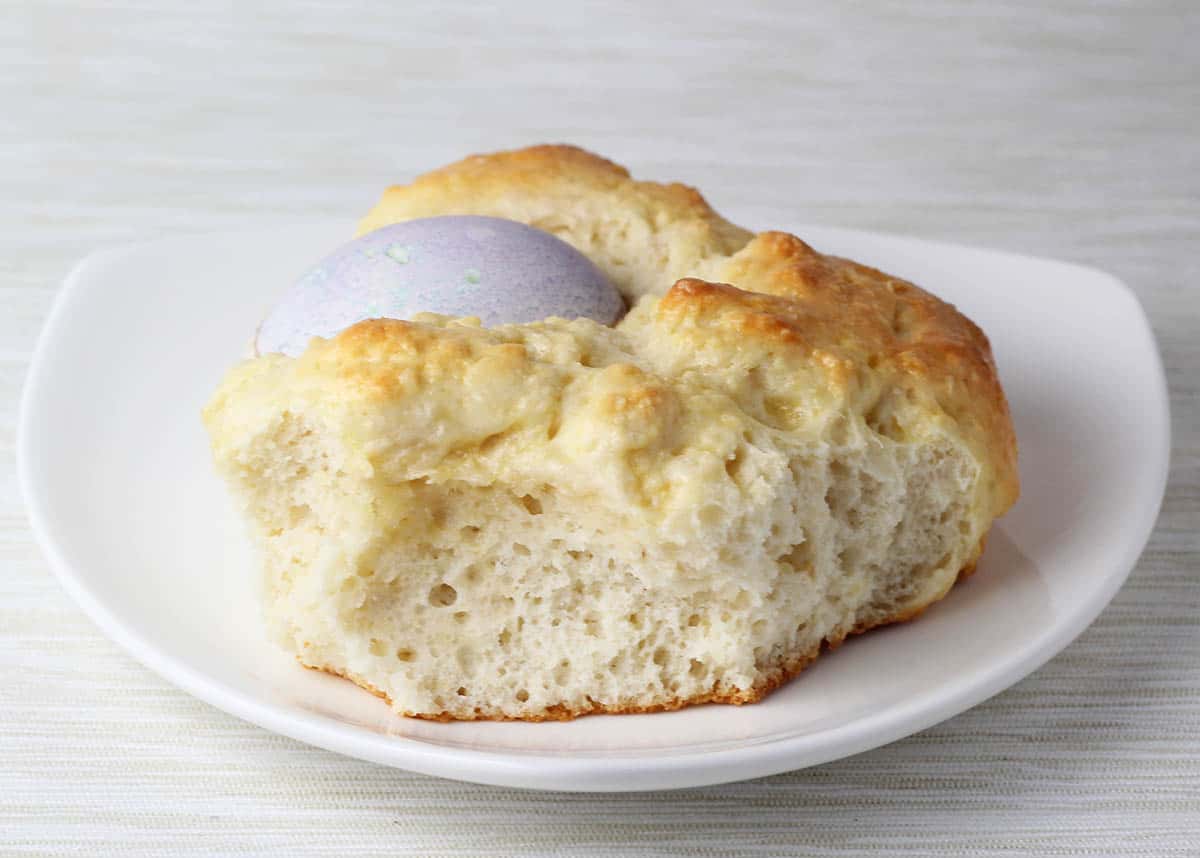 And by the way, if you've never had Easter bread before, yes, you can eat the eggs! As long as you store the bread in the fridge, so they won't go bad. :)
Happy Easter to all who celebrate! And enjoy your Protein Easter Bread!
🥣 Recipe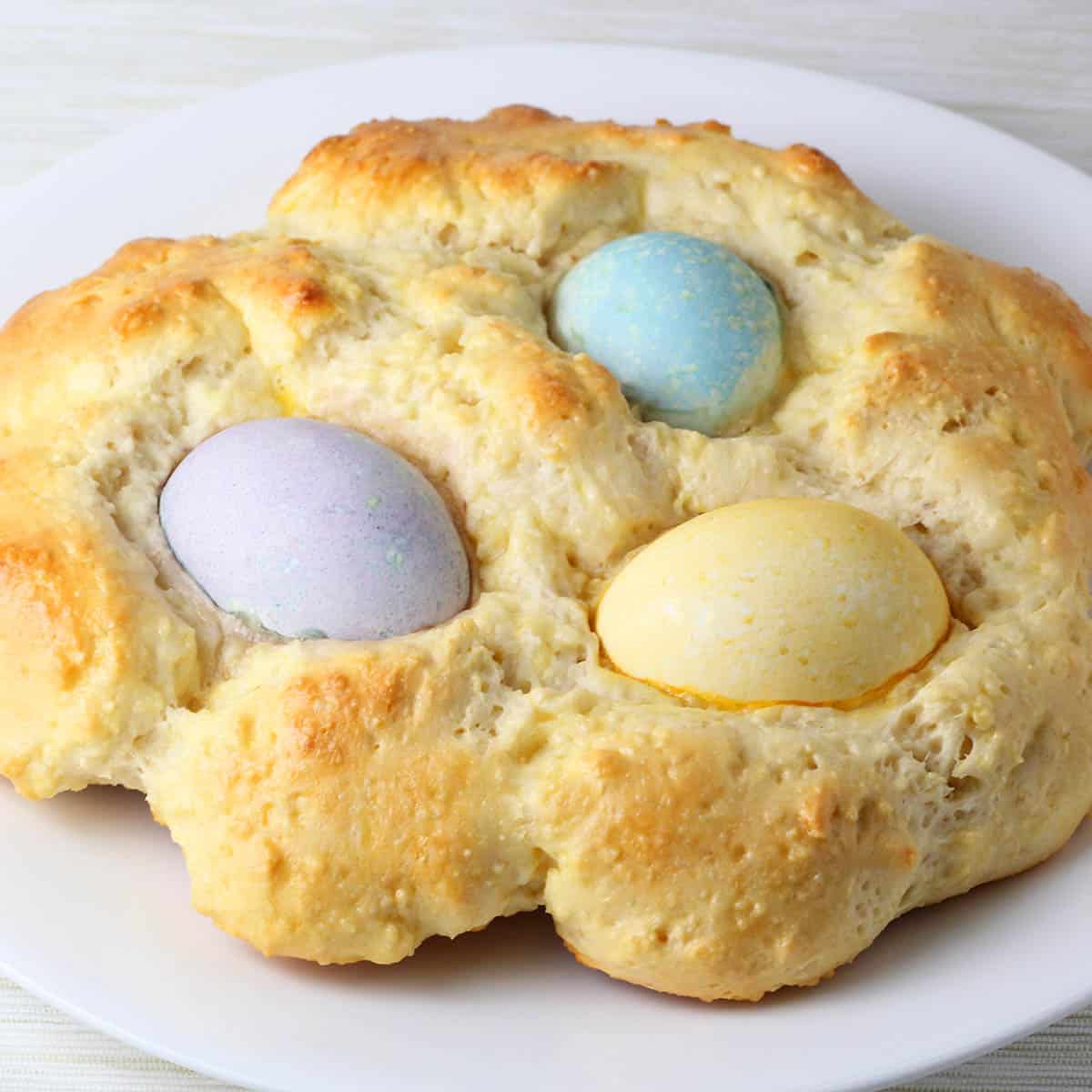 Servings:
1
loaf (4 servings)
Instructions
Preheat oven to 325F (163C).

Mix the dry ingredients until well combined (protein powder, almond meal, baking powder, salt, sweetener).

Mix in the wet ingredients (coconut oil and water).

Mix well.

Spoon the batter into/onto a silicone pan/mat, and set aside.

Make the egg wash, if desired, and brush onto the surface of the bread.

Insert the hard-boiled eggs.

Bake for about 20 minutes, or until it starts to brown and is just about firm.

Remove from oven and let cool.

Enjoy! This can stay out for a day or so, but for longer storage refrigerate.
Notes
A note about substitutions: The Quest powder I used is a whey/casein blend. While you may be able to get the same texture with another unflavored whey/casein blend, or with whey and coconut flour, for example, I don't think it would taste quite as good.
Using applesauce in place of the coconut oil, the macros are:
Prot: 28g, Carbs: 7g (3g fiber, 2g sugar), Fat: 11g, Cal: 233
Nutrition
Serving:
1
g
|
Calories:
290
kcal
|
Carbohydrates:
5
g
|
Protein:
28
g
|
Fat:
18
g
|
Fiber:
3
g
|
Sugar:
1
g