Prot: 16 g, Carbs: 13 g, Fat: 3 g, Cal: 143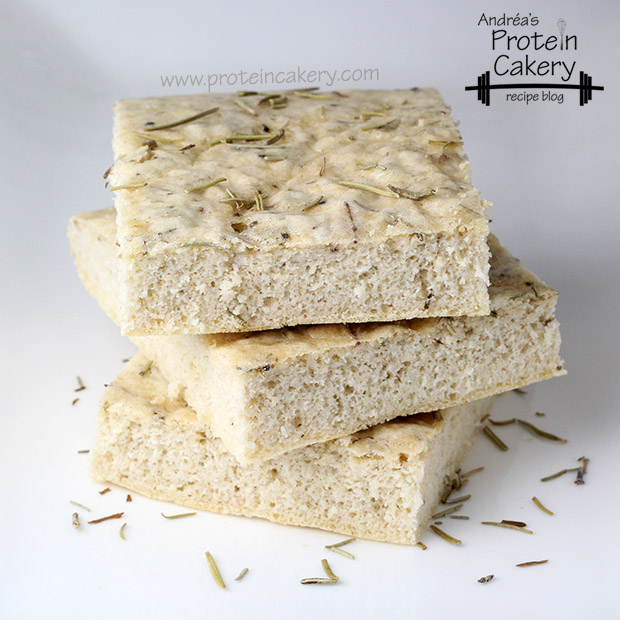 This delicious Rosemary Protein Focaccia Bread is a small twist on my recent Protein Oat Bread recipe, and it is amazing!
I find recipe inspiration everywhere, including from conversations with my friends. I was expressing how happy I was with the Protein Oat Bread recipe, and a friend mentioned that she loved rosemary bread. Great idea, I thought! And it was! :)
Like the recipe for Protein Oat Bread, this Rosemary Protein Focaccia Bread uses unflavored Isopure whey protein isolate. I like this protein very much because it doesn't have any weird "unflavored" flavor. The rosemary and olive oil really shine through! Thanks to the team at Isopure for sending the protein my way!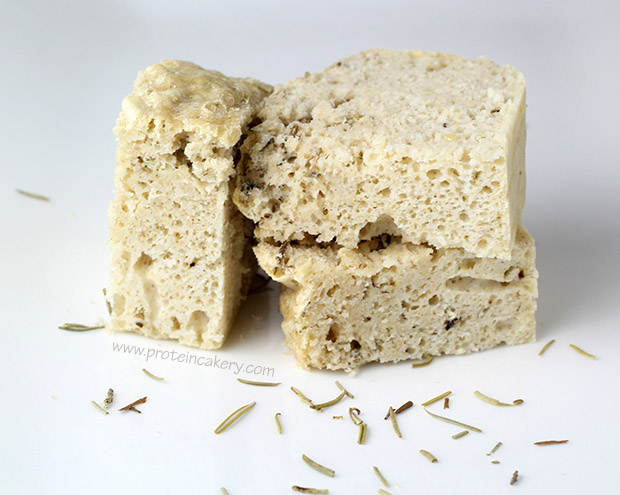 I made this bread as a focaccia (in a 13x9x2″ pan) and in a loaf pan. It works either way! If you use a loaf pan, be sure to wait until the bread begins to brown so you know it is cooked through. The flat pan is easier, as you'll be able to see and feel that it is firm and cooked.
If you like rosemary, this Rosemary Protein Focaccia Bread will be your new favorite! Give it a try!
You can find all of the ingredients (except for the egg whites) at Vitacost, and save $10 off your first $30+ order by shopping through this link: goo.gl/uxKkfR
Enjoy!
This post contains affiliate links to products I recommend. When you make purchases through these links, this blog makes a small commission (at no extra cost to you). Thank you for supporting our work!
Rosemary Protein Focaccia Bread
Nutrition Information
Serving size:

⅛ recipe

Calories:

143
Fat:

3g

Carbohydrates:

13g

Sugar:

0g

Fiber:

5g

Protein:

16g
Prep time:
Cook time:
Total time:
Makes one 13 x 9 x 2" pan or one loaf (8.5 x 4.5 x 2.5"), 8 servings.
Instructions
Preheat oven to 325F (163C).
Mix egg whites and olive oil until combined.
Except for the rosemary, add remaining ingredients and mix well.
Fold in rosemary.
Pour your batter into a parchment-lined pan, either 13x9x2" or a loaf pan.
For the 13x9x2" pan, bake for about 22 minutes, or until firm and a toothpick comes out clean. For the loaf pan, bake for about 45 minutes or until it starts to brown (to be sure it is fully cooked).
Let cool. Slice and enjoy!
Notes
A note about substitutions: because each type of protein powder has a distinct flavor and texture when baked, I would not try substituting different types of protein powders in this recipe. (See my
Recipe Basics video
for examples of what goes wrong when you use the wrong protein powder.)
My loaf pan is 8.5 x 4.5 x 2.5 in. For larger loaf pans, you might want to scale up the recipe.