Prot: 27 g, Carbs: 13 g, Fat: 7 g, Cal: 222
For Day 5 of Protein Marshmallow Fluff week: S'mores Protein Pie!
I couldn't make Protein Marshmallow Fluff without attempting something s'mores. To my great joy and surprise, this stuff toasted so nicely under the broiler! The key, though, is not to leave it in too long. We want the outside to toast up, but we don't want the fluff to cook through. Remember that the fluff is made primarily of whey, and baked whey can be dry and rubbery. For this pie, about 30 seconds under the broiler is all it needs!
By the way, I had never used the broiler of this oven, and I had the nervous feeling of "I'm going to burn the house down" that I've heard from some beginner bakers. So, like anyone does nowadays, I googled "how to use a bottom broiler." And yay, it worked! (I'm also just as nervous with a barbecue, yet I'm the first to get in with my FireSteel to light a campfire! Go figure.)
The chocolate pie filling is also whey based, and we don't want that to cook in the broiler, either. So before toasting the marshmallow topping, I recommend freezing the pie. And then after broiling, popping it back in the freezer to cool it down quickly. If that all sounds like too much work, don't bother toasting at all; it'll still be completely delicious!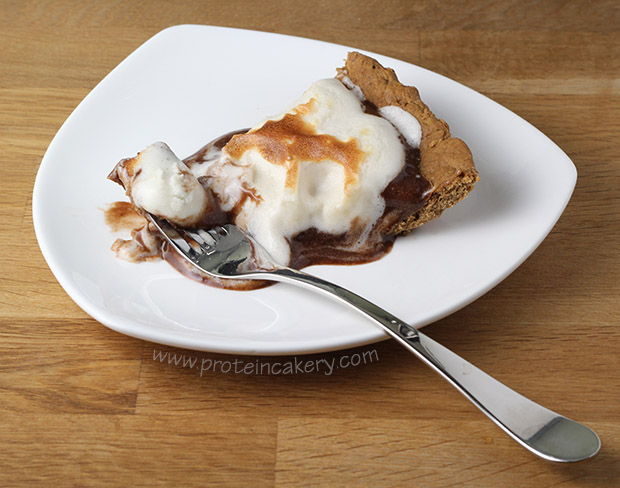 I wanted the chocolate filling to be simple (whey + water) but needed some agar to make it set properly (so we can slice the pie). If you make this S'mores Protein Pie into tartlets like my Chocolate Hazelnut Protein Tartlets, you can skip the agar in the chocolate pie filling. Even with the agar, though, the pie filling will get melty if it gets too warm. So I suggest cutting a slice, and placing the pie right back in the fridge!
And with this S'mores Protein Pie, we conclude Protein Marshmallow Fluff week. Tips for flavoring Protein Marshmallow Fluff will be in the August newsletter in a couple of days, so be sure you're signed up!
S'mores Protein Pie
Nutrition Information
Serving size:

⅛ pie

Calories:

222
Fat:

7g

Carbohydrates:

13g

Sugar:

4g

Fiber:

3g

Protein:

27g
Prep time:
Cook time:
Total time:
Makes one 9" pie.
Ingredients
Crust:
Filling:
Marshmallow topping:
Instructions
If you haven't already made your Protein Marshmallow Fluff, set up your agar and whey for that recipe. We'll get back to it later.
Preheat oven to 325F (163C).
Make the crust by mixing the almond butter, water, and honey until combined.
Add in the rice protein and cinnamon. If it is too sticky to press into the pan, add a little more rice protein.
Press the crust into your 9" pie pan, and bake for 10-12 minutes.
Start to make the filling by putting the agar in a bowl, and adding the boiling water. Use a whisk to mix it. Let it cool to where you can stick your finger in and it's not too hot.
Remove crust from oven and cool it by placing it in the freezer.
Once the agar mix has cooled, mix in the whey, cacao, and stevia.
Pour filling into the cooled crust.
Freeze to set, 10 minutes if not broiling, 80 minutes if broiling (or overnight in the fridge).
Whip up your fluff, if you haven't already.
Turn on your broiler.
Spoon ⅔ of the fluff recipe over the chocolate layer.
Broil for about 30 seconds. We don't want to cook the whey!
Place the pie back in the freezer for about 10 - 20 minutes to cool and reset the pie filling.
Slice and enjoy!
To keep the chocolate layer set, keep the pie chilled.
Notes
A note about substitutions: because each type of protein powder has a distinct flavor and texture when baked, I would only recommend the following substitution: In place of the rice protein in the pie crust, you could use pea protein or a pea blend like
Warrior Blend
.
Also, if you want to make single-serve tartlets instead of a pie, you can omit the agar in the pie filling. And if you want to be able to keep your pie out at room temperature, you'll need more agar to set the filling (I would try doubling the agar).
And almond butter can be made by processing almonds in a food processor.