Prot: 23 g, Carbs: 11 g, Fat: 23 g, Cal: 340
Chocolate Peanut Butter Protein Pie! (Do I even need to say anything else here?)

I've been wanting to make this for a while now, since I know how much you all like the chocolate and peanut butter combo. And since I just love a creamy pie! Let me tell you, this Chocolate Peanut Butter Protein Pie does not disappoint! The flavorful chocolate protein crust and the creamy peanut butter and cream cheese filling will be a crowd-pleaser for sure! Wait, does that mean I have to share my pie?!?
I like to keep things as easy as possible when making delicious protein treats. And this recipe surely fits the bill! I'm tagging it as intermediate just because there are a few steps involved, but each step is quite easy. It's more of a laziness level tag. You have to do 3 steps, so that's a little effort, right? :)
If you want to make a vegan version of this pie, I'd sub the cream cheese and Greek yogurt with cashew whipped cream (sweetened or unsweetened) and sub the vanilla whey with vanilla Warrior Blend (pea protein blend).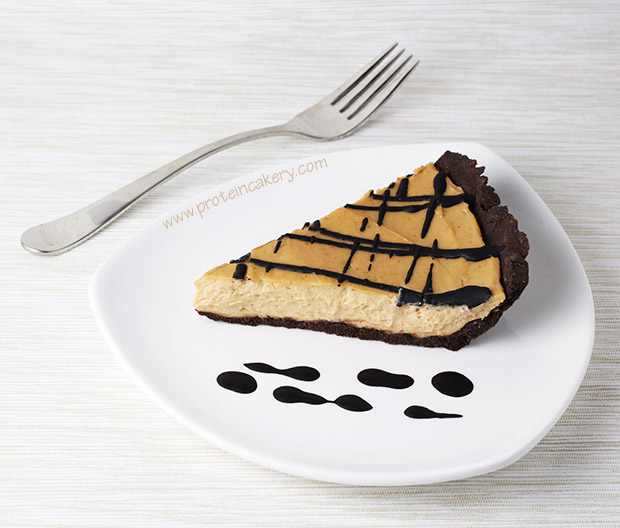 And since it's Pi Day and I'm a math professor, let's have a little math contest! The first person to comment here with the correct answer wins a prize! (I have a prize stash, and I'll give you some choice of what you'd like.) Here goes (see photo below): I've eaten one of the eight pieces of pie, and I've used a 9″ pie plate. What is the area of the (top surface of the) remaining pie? Bonus prize if you answer in an exact, simplified fraction!
Anyway, though, try this delicious Chocolate Peanut Butter Protein Pie! Happy Pi Day! :)

This post contains affiliate links to products I recommend. When you make purchases through these links, this blog makes a small commission (at no extra cost to you). Thank you for supporting our work!
Chocolate Peanut Butter Protein Pie
Nutrition Information
Serving size:

⅛ pie

Calories:

340
Fat:

23g

Carbohydrates:

11g

Sugar:

3g

Fiber:

3g

Protein:

23g
Prep time:
Cook time:
Total time:
Makes one 9" pie (8 servings).
Ingredients
Crust:
Filling:
Topping:
Instructions
Preheat oven to 325F (163C).
Start to make the crust by mixing the peanut butter and water.
Add in protein powder and cocoa. Mix well.
Press crust into a 9" pie pan.
Bake for about 10 minutes, until cooked and firm.
Remove crust from oven and let cool. (Speed this up by placing it in the fridge or freezer.)
Meanwhile, with a food processor or electric mixer, combine the peanut butter, Neufchâtel cheese, and Greek yogurt until smooth.
Add remaining filling ingredients and process until smooth.
Spoon filling into cooled crust, and even it out with a rubber spatula (or the back of a large spoon).
Place in refrigerator (about an hour) or freezer (20 minutes) to set.
Once the pie is firm and cool, mix the chocolate topping ingredients and drizzle over the pie. The topping should firm up as it hits the cool pie.
Slice, and enjoy!
Notes
A note about substitutions: because each type of protein powder has a distinct flavor and texture when baked, I would not try substituting different types of protein powders in the crust recipe. (See my
Recipe Basics video
for examples of what goes wrong when you use the wrong kind of protein powder.)
For a vegan version of this pie, replace the Neufchâtel and yogurt with
cashew whipped cream
, and the vanilla whey with
vanilla Warrior Blend
or vanilla pea protein.
Neufchâtel cheese is marketed as "1/3 less fat than cream cheese" here in the states. I stay away from the fat-free cream cheeses because of the additives.