Prot: 14 g, Carbs: 9 g, Fat: 7 g, Cal: 158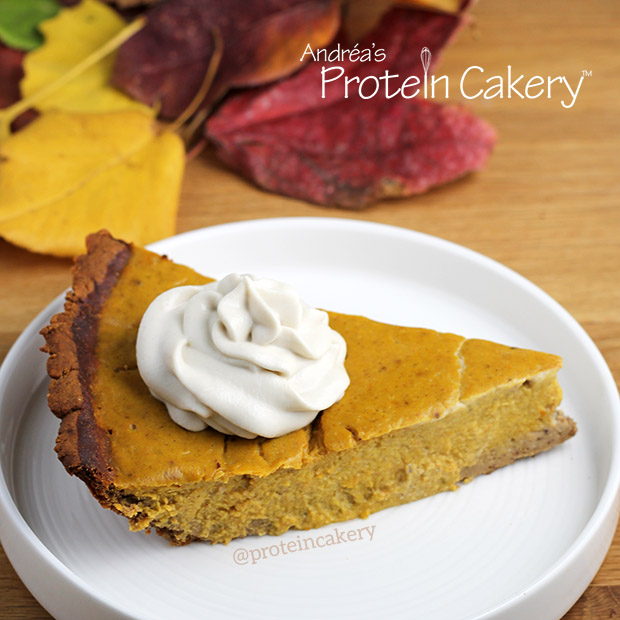 Sometimes changing a traditional recipe to a protein recipe requires a lot of work. But other times, like with this pumpkin protein pie, it is quite easy.
The original recipe for the filling called for pumpkin, spices, eggs, and sweetened condensed milk. I replaced the condensed milk with some whey powder mixed with water, and voilà! Pumpkin protein pie filling. I also replaced the traditional pie crust with a high-protein version made with almond butter and rice protein powder. The whipped cream is a delicious vegan cashew whipped cream.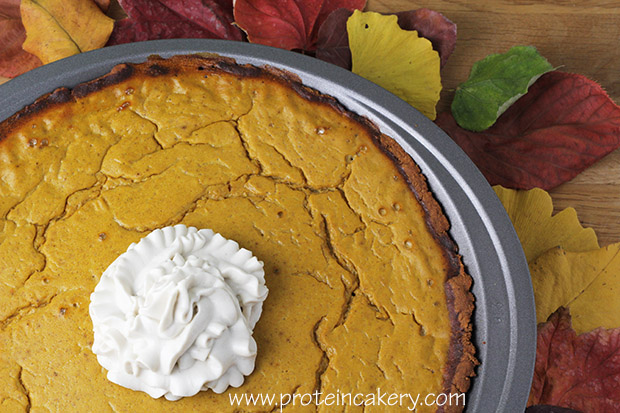 I have to admit that I was never really interested in (traditional) pumpkin pie. But I can't get enough of this pumpkin protein pie! Two days after making the first one (and giving half away), I had to make another. It's that good.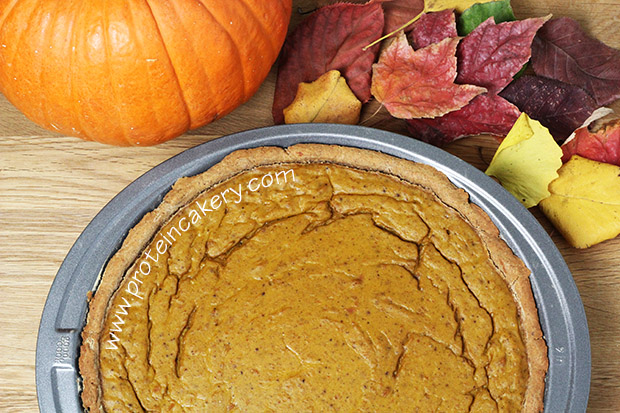 And I had a little fun with some Romanesco broccoli, making this little monster pumpkin pie. Some raw chocolate and mulberries as garnish. Deliciously adorable!
Give this Pumpkin Protein Pie a try! With only 3 grams of sugar per slice, how you can you resist?
This post contains affiliate links to products I recommend. When you make purchases through these links, this blog makes a small commission (at no extra cost to you). Thank you for supporting our work!
Pumpkin Protein Pie
Nutrition Information
Serving size:

Per slice (of 8)

Calories:

158
Fat:

7g

Carbohydrates:

9g

Sugar:

3g

Fiber:

2g

Protein:

14g
Prep time:
Cook time:
Total time: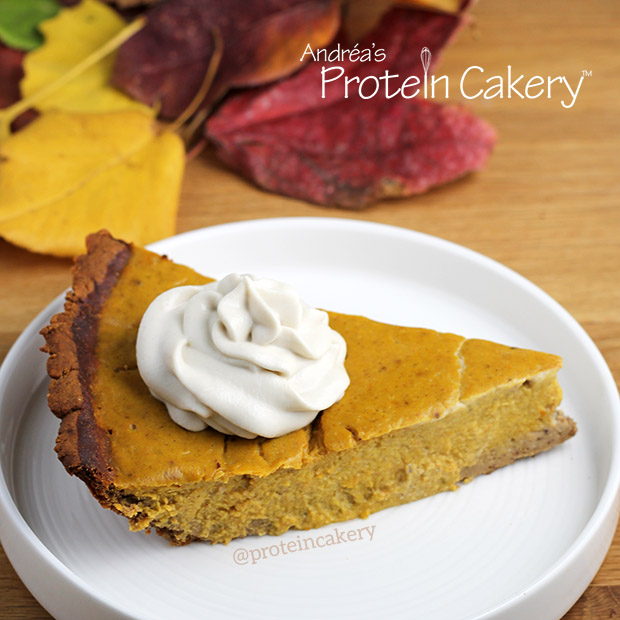 Makes one 9-inch pie (8 slices).
Ingredients
Crust:
Filling:
1 can pumpkin (15oz)
¾ teaspoon ground cinnamon
½ teaspoon ground nutmeg
¼ teaspoon ground ginger
¼ teaspoon ground cloves
½ teaspoon sea salt
1½ scoops Whey Protein For Baking (45g)
1 cup water (8oz)
2 large eggs (whole)
Instructions
Preheat oven to 325F (163C).
In a medium bowl, mix almond butter with water until smooth.
Add in rice protein and cinnamon. Mix until combined. (If the batter is sticky, add a little more rice protein.)
Press into pie pan.
Bake for 10-12 minutes, then remove from oven.
Meanwhile, combine pumpkin and spices, set aside.
Mix whey protein with water, then add to pumpkin and spices.
Add eggs. Mix slowly until combined.
Pour into pie crust.
Bake for 45-55 minutes, until the center of the pie is firm to the touch.
Let cool completely.
Enjoy!
Notes
A note about substitutions: because each type of protein powder has a distinct flavor and texture when baked, I would not try substituting different types of protein powders in this recipe.