Prot: 12 g, Carbs: 6 g, Fat: 0 g, Cal: 76 (per cup).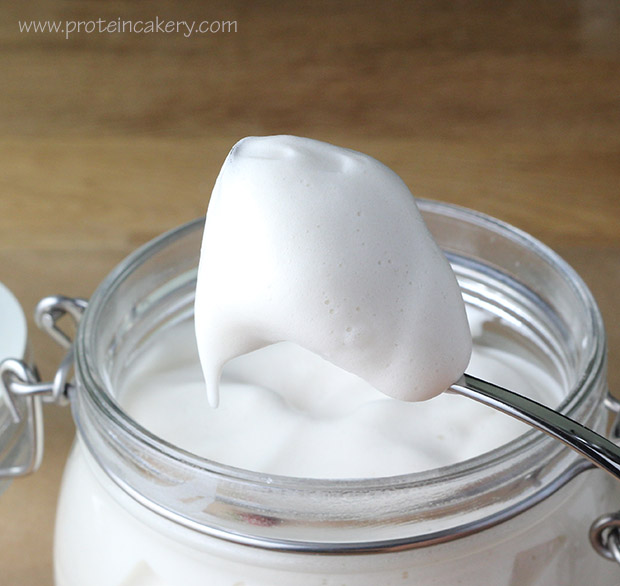 Welcome to Protein Marshmallow Fluff week here at Andréa's Protein Cakery! As you might have seen on Facebook, I've been experimenting with marshmallow fillings after receiving a reader request for Protein Whoopie Pies. I first started by adding marshmallow root extract to my Cashew Whipped Cream. The extract definitely made it taste more like marshmallow, but I wanted to see if I could do better. And I did!

If you've ever read where gelatin comes from, you'll probably understand why I choose to use agar powder instead. Agar is a sea vegetable that has the same gelling property. I first tried the less processed agar flakes, but the results still tasted a bit ocean-like. The agar powder, however, works great!
Back in the day, marshmallows were actually made using marshmallow root. So I wanted to go back to the source for this recipe, and found this marshmallow root extract at the Vitamin Shoppe. (It is also sold on Amazon.) While it isn't a typical flavor extract, it does offer the marshmallow flavor! And I used Nectresse sweetener, which is mostly erythritol (so I would expect the same results with straight erythritol). A delicious combination!

I'm tagging this recipe as intermediate only because of the effort involved in standing with your electric hand mixer for 10 minutes (not recommended after an upper body workout!). If you have a KitchenAid, you have it easy!
I hope you'll give this Protein Marshmallow Fluff recipe a try. I'll be including some flavoring tips in the August newsletter, so be sure to sign up! And for the next 4 days, I'll be posting some great recipes using this marshmallow fluff! Yes, those Protein Whoopie Pies are coming. ;)

This post contains affiliate links to products I recommend. When you make purchases through these links, this blog makes a small commission (at no extra cost to you). Thank you for supporting our work!
Protein Marshmallow Fluff
Nutrition Information
Serving size:

⅓ recipe (about 1 cup)

Calories:

76
Fat:

0g

Carbohydrates:

6g

Sugar:

1g

Fiber:

1g

Protein:

12g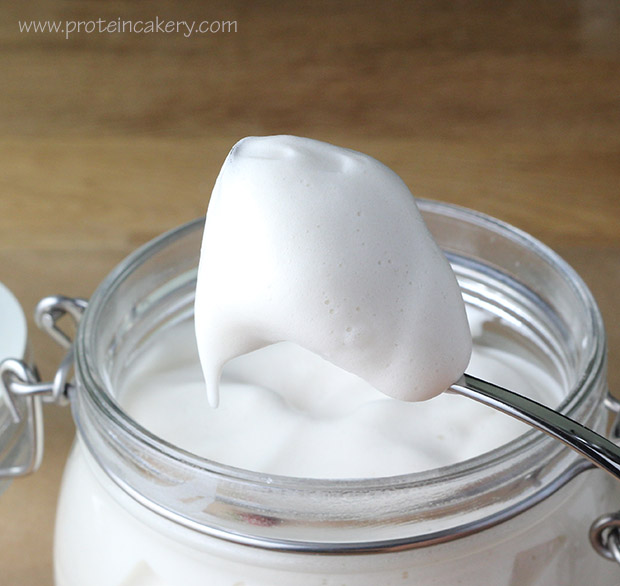 Makes about 3 cups.
Instructions
In a large bowl, put agar powder, whey protein, and ⅓ cup water. Mix well, and let sit for 1 hour.
After the 1 hour, heat remaining ⅓ cup water to a boil. Turn off heat.
Begin to beat the agar whey mixture with an electric mixer using the whisk attachment (if available).
Slowly add in the hot water, and continue to beat with electric mixer.
Once it is thick and no longer hot, add the marshmallow extract and sweetener.
After a total of 10 minutes of beating (or 15 minutes if you use stevia), you'll begin to reach "stiff peak" stage. This is when you (turn off and) lift the beater from the mix, and you see peaks of fluff that are stiff and don't fold over. That means you're done beating!
Using a spoon or rubber spatula, gently place your fluff in a jar, and store in the refrigerator.
Enjoy!
Notes
A note about substitutions: because each type of protein powder has a distinct flavor and texture, I would not try substituting different types of protein powders in this recipe. If you choose to use a stevia sweetener, you'll probably need to beat the mixture for an extra 5 minutes.
I've had the agar mixture sit for up to 3½ hours (instead of 1 hour) and it still worked perfectly.
The fluff will lose a little of its glossy white look over time, but will remain fluffy and delicious for at least a couple of days in the fridge. I can't say if it will last any longer; I always eat mine by then!