Prot: 17 g, Carbs: 4 g, Fat: 1 g, Cal: 91
This is a 3-ingredient recipe for a Basic Protein Bread that is grain-free, gluten-free, high-protein, and low-carb. I'm calling it "basic" protein bread because that's exactly what it is. On its own you can taste the pea protein a bit, but when you use it for a tasty sandwich you won't even notice it.
**Update: If you can spare a few more carbs, try this better tasting basic bread recipe: Protein Oat Bread!

I created this recipe when I was working on my Protein Croutons. I wanted a simple, basic protein bread recipe. And that's exactly what this is! It is pretty amazing to me, still, that the texture is so similar to that of real bread. This would also be a perfect bread to accompany your salad and soak up the extra Italian dressing! :)
This Basic Protein Bread is great for a peanut butter sandwich on-the-go, as well. Or better yet, add some bananas!
I hope you'll give this recipe a try!

This post contains affiliate links to products I recommend. When you make purchases through these links, this blog makes a small commission (at no extra cost to you). Thank you for supporting our work!
Basic Protein Bread
Nutrition Information
Serving size:

⅛ loaf (2 thin slices)

Calories:

91
Fat:

1g

Carbohydrates:

4g

Sugar:

0g

Fiber:

3g

Protein:

17g
Prep time:
Cook time:
Total time: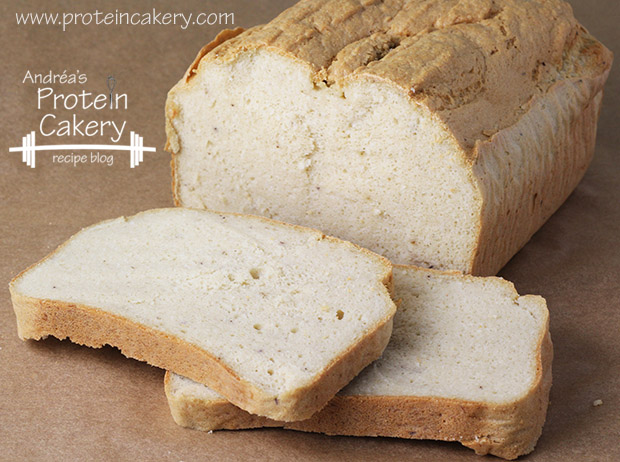 Makes one loaf (8 servings).
Instructions
Preheat the oven to 325F (163C).
Line a loaf pan with parchment paper (if not using a silicone pan).
Mix all the ingredients until smooth.
Pour batter into loaf pan.
Bake at 325F (163C) for about 60 minutes, until it is firm to the touch and a toothpick comes out clean.
Let cool, and slice. (Makes 8 thick slices or 16 thin slices.)
Enjoy! And store in the refrigerator.
Notes
A note about substitutions: because each type of protein powder has a distinct flavor and texture when baked, I would not try substituting different types of protein powders in this recipe.
For more delicious recipes, follow us on Pinterest!