Prot: 15 g, Carbs: 4 g, Fat: 1 g, Cal: 81 (per wrap).
These Spinach Protein Wraps are perfect for your grab-and-go lunch! I've used mine here with some Safe Catch Tuna to make delicious, low-carb Tuna Salad Bites!
I recently went down to Orlando to check out the Europa Games. And on my way back to New York, I stopped in the CIBO Express market in the Orlando airport. I had an evening flight, and I wanted to bring a snack on board. I found their Tuna Salad Mini Bites, and I very was surprised when I read the label. The list of ingredients was so long! Mostly from their spinach wrap. And I thought, "I can do better than this!"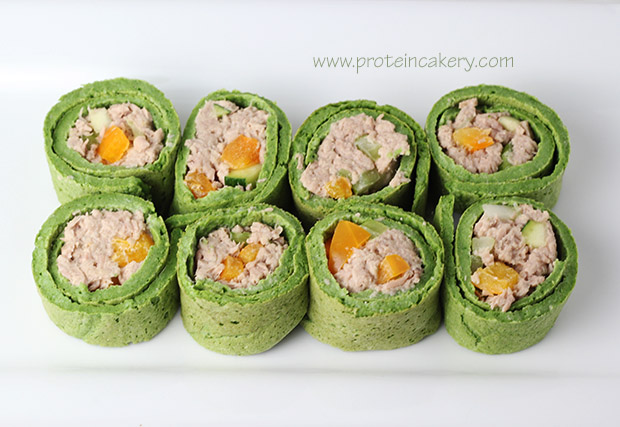 Also, while I was at the expo I picked up a sample of Safe Catch Tuna. They call it "safe" because every single tuna is tested for mercury. The result is a canned tuna with mercury levels so low, it is safe for pregnant moms and kids. Also, they don't use any fillers, and their cooking process retains all nine essential amino acids and Omega-3s. Amazing!
So, yeah, the homemade Tuna Salad Mini Bites were definitely happening! Except that my wraps are a little thicker than theirs, so the bites weren't so mini. For the tuna salad I used one can of tuna with 1 tablespoon of wasabi mayonnaise, the juice of 1/4 – 1/2 lemon, and about 1/4 cup each of chopped orange bell pepper, celery, and zucchini.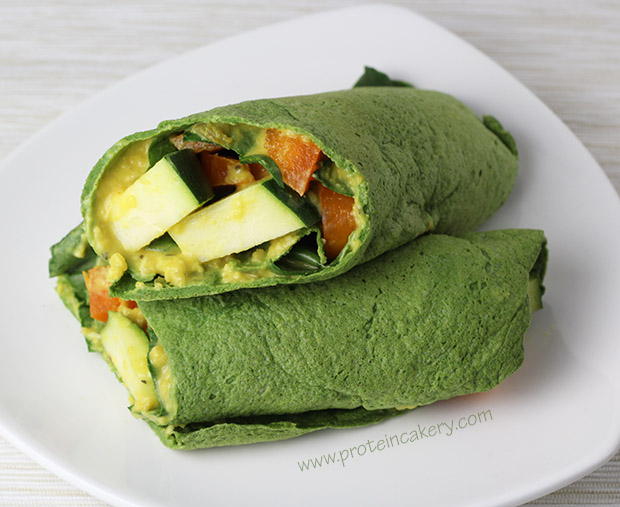 I had also recently purchased some Thai Coconut Curry Hummus, and thought it would be great with some veggies on one of these Spinach Protein Wraps. It was!
I hope you'll give these Spinach Protein Wraps a try! The recipe is easy!
Oh, and keeping with the green theme, look who I met at the Europa Games! I look like such an excited fan, I know. I was!
I watched Lou Ferrigno as the Incredible Hulk on TV as a child, and I'm a big fan of the motivational pages he has on Facebook: Lou Ferrigno and FerrignoFIT. Check them out!
This post contains affiliate links to products I recommend. When you make purchases through these links, this blog makes a small commission (at no extra cost to you). Thank you for supporting our work!
Spinach Protein Wraps
Nutrition Information
Serving size:

1 wrap

Calories:

81
Fat:

1g

Carbohydrates:

4g

Sugar:

0g

Fiber:

3g

Protein:

15g
Prep time:
Cook time:
Total time:
Makes 2 wraps.
Ingredients
4 large egg whites (132g)
3 tablespoons Warrior Blend Natural (unflavored) pea protein blend (19g)
1 tablespoon whole psyllium husk (7g)
½ cup fresh spinach (15g)
dashes of garlic and onion powder (optional)
Instructions
Preheat your griddle over a low-medium flame (use some coconut oil or non-stick spray, first).
Blend ingredients until smooth.
Once the griddle is hot enough (drops of water sizzle up), pour half the batter onto the griddle and spread thin with the back of a spoon.
After a couple of minutes, flip the wrap.
Repeat to make a second wrap.
Enjoy! These should stay good for several days in the refrigerator.
Notes
A note about substitutions: because each type of protein powder has a distinct flavor and texture when baked, I would not try substituting different types of protein powders (other than pea protein or a pea blend) in this recipe. (See my
Recipe Basics video
for examples of what goes wrong when you use the wrong protein powder.)