Prot: 20 g, Carbs: 16 g, Fat: 4 g, Cal: 175
This recipe for Gingerbread Protein Cake was inspired by an all-natural Dutch snack cake called Snelle Jelle Krachtige Kruidkoek, which I believe translates to "Fast and Furious Powerful Spice Cake." :)
I was introduced to Snelle Jelle on a recent trip to Curaçao, a Dutch Caribbean island. The cake has a delicious gingerbread flavor and a spiced glaze around the edge. As soon as I tasted it, I knew I had to make a protein version!
I used the same cake base as with my blueberry protein muffins, but sweetened this cake with apples. I find that apples and pears work well in protein cakes, as their tastes are mild and they provide a great deal of moisture. (For an easier cake, you can use our Vanilla Bean Protein Cake Mix and just add the gingerbread spices.)
To simulate the glazed edge, I brushed the cake with maple syrup that was spiced with cloves.
The result was a delicious snack cake that received rave reviews by friends and family. It is a light, moist cake with just a touch of sweetness from the apples and maple glaze. Try it for the holidays!
 
This recipe is also in our free holiday recipe ebook: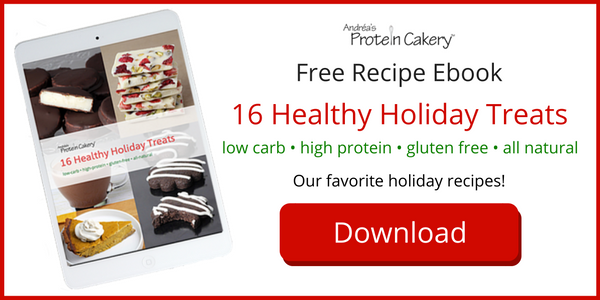 This post contains affiliate links to products I recommend. When you make purchases through these links, this blog makes a small commission (at no extra cost to you). Thank you for supporting our work!
Gingerbread Protein Cake with Spiced Maple Glaze
Nutrition Information
Serving size:

⅙ cake

Calories:

175
Fat:

4g

Carbohydrates:

16g

Sugar:

9g

Fiber:

4g

Protein:

20g
Prep time:
Cook time:
Total time:
Makes 1 cake, 6 pieces.
Ingredients
Cake:
Glaze:
2 tablespoons maple syrup
⅛ teaspoon ground cloves
Instructions
Preheat oven to 325F (163C).
Blend the egg whites, apples, and vanilla for about 30 seconds.
Add the rest of the ingredients for the cake and blend for another 30 seconds. Scrape down the sides of the blender with a spatula, if necessary, and blend again until well combined (another 30 seconds or so).
Pour batter into a 7" or 8" square pan, or any baking pan of similar size. (If you are not using silicone bakeware, be sure to line your pan with parchment paper.)
Bake for 20-25 minutes.
Remove from oven and let cool.
Mix maple syrup with cloves, and brush over top of cake.
Enjoy!
Notes
A note about substitutions: because each type of protein powder has a distinct flavor and texture when baked, I would not try substituting different types of protein powders in this recipe. You may substitute pears for the apples, if you like.
Almond meal can be made by pulsing almonds in a food processor. Sift out the large pieces and pulse again. Be careful not to overprocess, as this will give you almond butter.