Prot: 20 g, Carbs: 17 g, Fat: 17 g, Cal: 298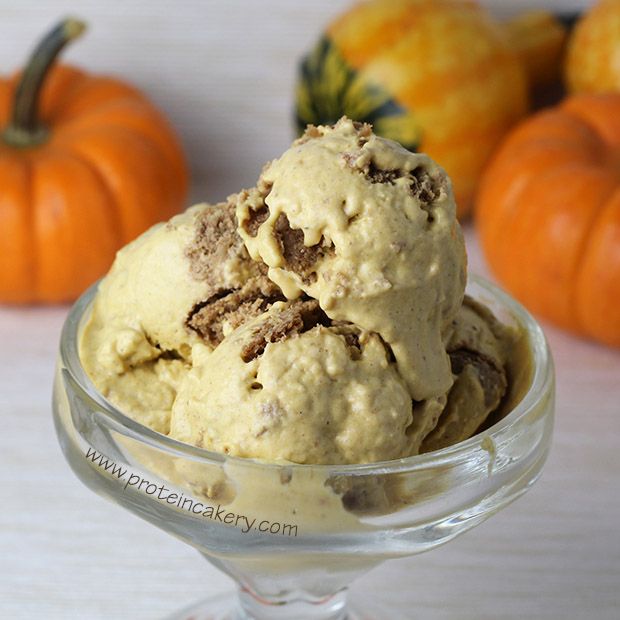 It's still pretty warm here in New York City, but it's already pumpkin recipe season. So I made some Pumpkin Pie Protein Ice Cream! Complete with pieces of pie crust! :)
I like to use a cashew base for my protein ice creams. It gives a great thick, creamy texture. And the Vitamin Shoppe's True Athlete vanilla whey is the perfect protein to add here, as it such a creamy vanilla! With some pumpkin, spices, and stevia, so delicious!
The crust is a scaled down version of the same crust I used in my Pumpkin Protein Pie. It is made from almond butter and rice protein, although pea protein would be a fine substitute.
Enjoy the transition of seasons with this delicious Pumpkin Pie Protein Ice Cream!
This post contains affiliate links to products I recommend. When you make purchases through these links, this blog makes a small commission (at no extra cost to you). Thank you for supporting our work!
Pumpkin Pie Protein Ice Cream
Nutrition Information
Serving size:

¼ recipe (about ½ cup)

Calories:

298
Fat:

17g

Carbohydrates:

17g

Sugar:

5g

Fiber:

4g

Protein:

20g
Prep time:
Cook time:
Total time: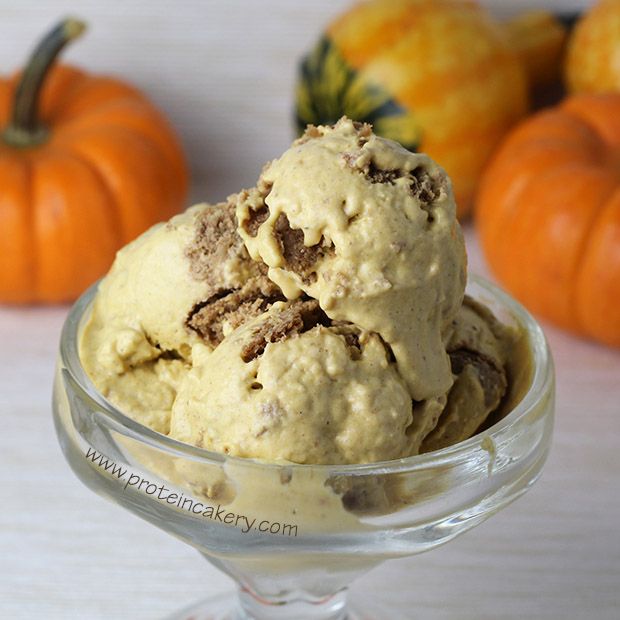 Makes about 2 cups (4 servings).
Ingredients
Ice cream:
Crust pieces:
Instructions
Drain and rinse cashews.
In a blender or food processor, combine cashews, water, and pumpkin. Process until smooth.
Add pumpkin pie spice, stevia, and whey protein. Process until smooth.
Pour into a bowl, and cover.
Freeze for about 4 hours. Every half hour or so, take the bowl from the freezer and mix the ice cream. (Other options are to use an ice cream maker, or use the ice and salt method.)
Meanwhile, preheat the oven to 325F (163C).
Mix almond butter and water until combined.
Add rice protein and cinnamon, and mix well.
Form the mix into 8 balls, and place them on a parchment-lined cookie sheet.
Flatten the crust cookies. Bake for about 8 minutes, until firm and cooked.
Remove from oven and let cool.
Once the ice cream has firmed, break the crust cookies and fold into ice cream.
Serve, and enjoy!
Notes
A note about substitutions: you can replace the whey protein with your favorite vanilla protein (including vegan proteins for a vegan recipe). The rice protein in the crust can be replaced by pea protein (or a pea blend), but I would not try other substitutions there. (See my
Recipe Basics video
for examples of what goes wrong when you bake with the wrong protein powder.)
Also note that the pumpkin pie spice will be more pronounced as the mixture gets colder, so be sure not to overdo it! Up to 1½ teaspoons would be plenty!