Prot: 9g, Carbs: 5g, Fat: 6g, Cal: 112 (in 2 bars)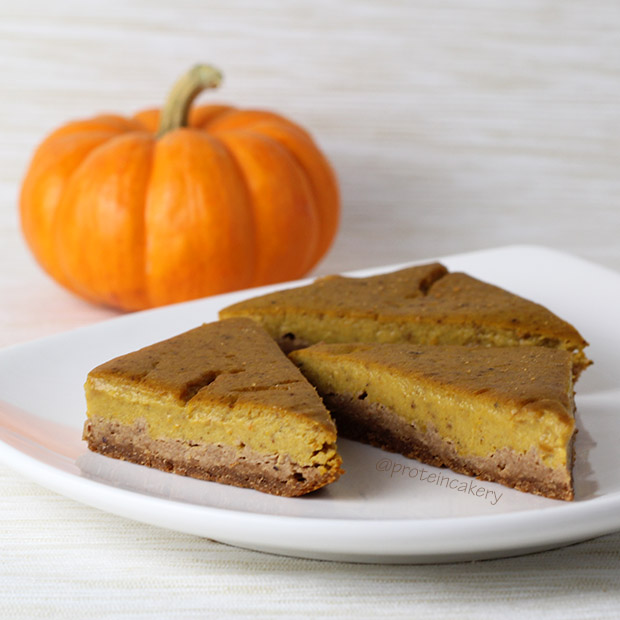 Because sometimes you want to grab your pumpkin pie and go, right? Pumpkin Protein Pie Bars! A scaled-down, bar version of my Pumpkin Protein Pie!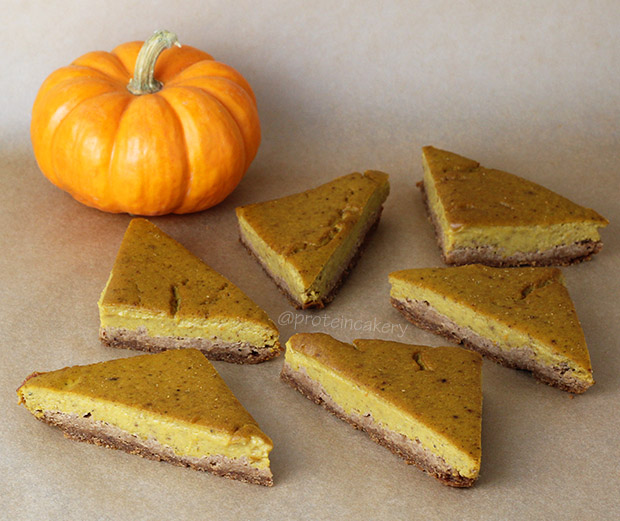 The pumpkin layer is very much like traditional pumpkin pie. I simply traded out the sweetened condensed milk for a whey protein shake. Easy!
This post contains affiliate links to products I recommend. When you make purchases through these links, this blog makes a small commission (at no extra cost to you). Thank you for supporting our work!
Pumpkin Protein Pie Bars
Nutrition Information
Serving size:

two bars

Calories:

112
Fat:

6g

Carbohydrates:

5g

Sugar:

2g

Fiber:

2g

Protein:

9g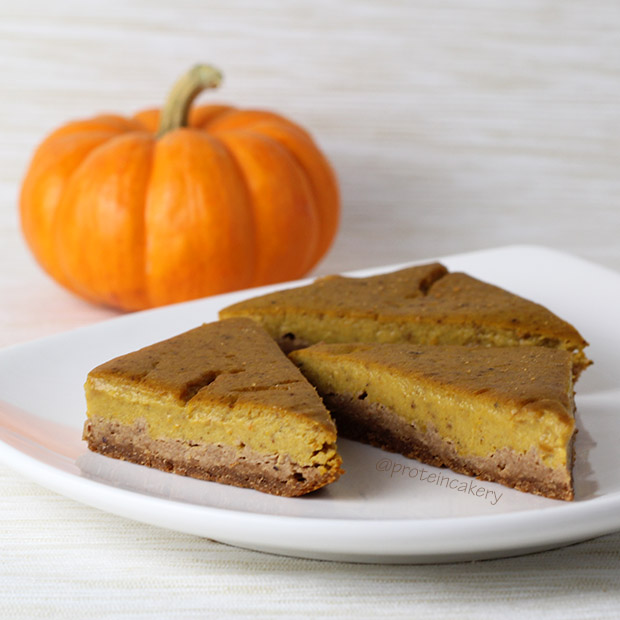 Makes one 7" square (or similarly sized) pan (9 servings).
Ingredients
Crust:
!Pumpkin layer:
½ can pumpkin (213g)
1 teaspoon pumpkin pie spice (2g)
¼ teaspoon sea salt (1.5g)
¼ cup natural vanilla whey protein powder (26g)
½ cup filtered water (4oz or 120ml)
1 large egg (whole)
Instructions
Preheat oven to 325F (163C).
Mix almond butter and water until combined.
Add rice protein and cinnamon. Mix well to combine.
Spoon and press into the bottom of a 7" square (or similarly sized) pan.
Bake for 12-16 minutes, just until cooked.
Meanwhile, mix pumpkin with spices and salt. Set aside.
Mix whey and water, and then pour into the pumpkin mixture. Mix to combine.
Add egg, and mix well.
Pour over the baked crust, and bake for 40-45 minutes more (just until firm in the center).
Let cool completely. Run a knife around the edges and remove from pan before cutting.
Cut into 9 squares, and then (if desired), cut each square in half.
Enjoy!