Prot: 9 g, Carbs: 8 g, Fat: 4 g, Cal: 104
I have been thinking about carrot cake lately, and I just so happened to have some shredded carrots in my fridge. Not enough for a whole cake, but plenty for some Carrot Cake Protein Cookies with Cream Cheese Protein Frosting!
I whipped up an easy cookie batter with Jamie Eason's vanilla whey protein concentrate. It tastes great, and I knew it would add great flavor to these protein cookies!
They have a cake-like texture, but bake up in only 10 minutes! Quick, easy, and all the flavor of carrot cake! Be sure to use a whey that bakes well, like this one. For simple recipes like this, it really makes a difference in the results!
And don't forget the cream cheese frosting! These Carrot Cake Protein Cookies with Cream Cheese Protein Frosting will be your new favorite. Give them a try!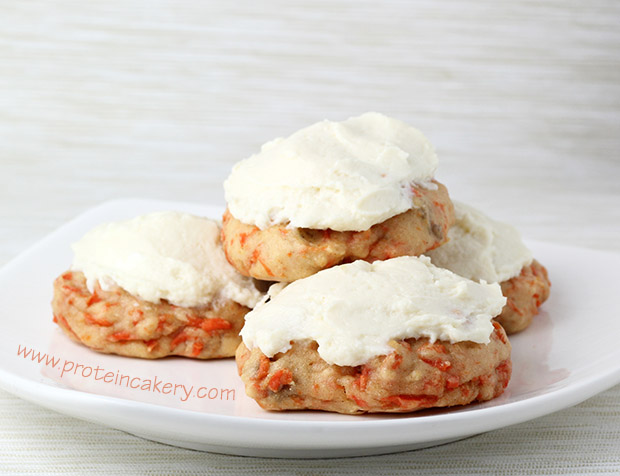 And pick up some of Jamie Eason's delicious all-natural protein powder here! **Use code PROTEINCAKERY for 10% off!
This post contains affiliate links to products I recommend. When you make purchases through these links, this blog makes a small commission (at no extra cost to you). Thank you for supporting our work!
Carrot Cake Protein Cookies with Cream Cheese Protein Frosting
Nutrition Information
Serving size:

1 cookie

Calories:

104
Fat:

4g

Carbohydrates:

8g

Sugar:

4g

Fiber:

2g

Protein:

9g
Prep time:
Cook time:
Total time:
Makes 4 cookies.
Ingredients
Cookies:
⅓ cup natural vanilla whey protein powder (34g)
1 tablespoon coconut flour (7g)
½ cup cooked, mashed carrots (1 cup (113g) uncooked)
2 tablespoons unsweetened applesauce (28g)
2 packets stevia (2g)
2 dashes ground cinnamon
a pinch of sea salt
¼ teaspoon baking powder (1.2ml)
1 tablespoon chopped walnuts (7g)
Frosting:
Instructions
Preheat oven to 325F (163C).
Except for the walnuts, mix all cookie ingredients until well combined.
Add in the walnuts.
Spoon onto parchment-lined cookie sheet as 4 cookies. Use the back of your spoon to shape, if necessary.
Bake for 8 minutes, and check to see if the cookies are firm. If not, check every 1-2 minutes and remove from oven when firm. Do not overbake!
While cookies cool, begin to make the frosting my mixing the Greek yogurt and whey protein.
Add in Neufchâtel cheese and stevia. Mix well.
Frost cooled cookies, and enjoy! Store in the refrigerator.
Notes
A note about substitutions: because each type of protein powder has a distinct flavor and texture when baked, I would not try substituting different types of protein powders in this recipe. (See my
Recipe Basics video
for examples of what goes wrong when you use the wrong protein powder.)
Also, Neufchâtel cheese is marketed as "1/3 less fat than cream cheese" here in the states. I stay away from the fat-free cream cheeses because of the additives.