Prot: 9 g, Carbs: 6 g, Fat: 12 g, Cal: 164
I've been making these Chewy Chocolate Protein Cookies for a while now, and it's about time I share the recipe with you! These cookies are similar to my Peanut Butter Protein Cookies in that they are made from nut butter and vegan protein powder. They can even be made raw vegan by dehydrating instead of baking! Either way, I love this recipe and I'm excited to share it with you!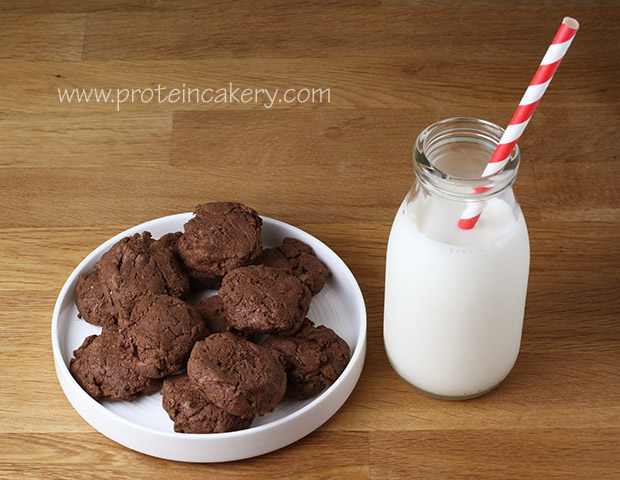 I'm using chocolate Warrior Blend protein powder (a vegan pea blend), and it gives these cookies a great texture. It is slightly smoother than using chocolate rice protein powder, but that is a reasonable substitute.
Like the Peanut Butter Protein Cookies, these also travel well. Throw a few in a ziplock bag, and you have a perfect protein snack to go!
There are lots of options with these cookies, too. You can use peanut butter instead of almond, add chopped nuts or dried fruit, some cinnamon or even chili pepper! So, be on the lookout for some of these variations here! :)
Enjoy!
And if you're looking for a whey-based chocolate cookie, check out our cookie mix!
This post contains affiliate links to products I recommend. When you make purchases through these links, this blog makes a small commission (at no extra cost to you). Thank you for supporting our work!
Chewy Chocolate Protein Cookies
Nutrition Information
Serving size:

3 cookies

Calories:

164
Fat:

12g

Carbohydrates:

6g

Sugar:

1g

Fiber:

3g

Protein:

9g
Prep time:
Cook time:
Total time: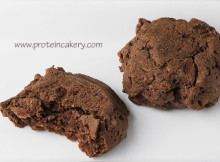 Makes 12 cookies (4 servings).
Instructions
Preheat oven to 325F (163C).
Mix almond butter and water until combined.
Add stevia. Mix well.
Add Warrior Blend protein and cocoa. Mix well.
Spoon the batter onto a parchment-lined cookie sheet, making 12 cookies. (If dehydrating, place directly on the mesh dehydrator sheets.)
Bake for about 15 minutes (or dehydrate at 115F for 12-14 hours).
Enjoy!
Notes
A note about substitutions: In this recipe, you might try substituting chocolate rice protein powder for the chocolate Warrior Blend protein powder. Using whey would give it a very different (probably undesirable) texture. You can also substitute your preferred sweetener for the stevia.
And, almond butter can be made by processing almonds in a food processor.
For more delicious recipes, follow us on Pinterest!