Prot: 18 g, Carbs: 10 g, Fat: 16 g, Cal: 250 (3 cookies, unsweetened)
Prot: 18 g, Carbs: 15 g, Fat: 16 g, Cal: 270 (3 cookies, sweetened)
Chocolate and hazelnut. Gluten-free and high-protein. Your new favorite cookies: Chocolate Hazelnut Protein Cookies! Made with top-of-the-line protein powders from Clutch Body Shop.
I recently did a 3-week workout program from Clutch Body Shop that I found on Bodybuilding.com. It turns out that Clutch also makes super-clean protein powders, and I am excited to be working with them!
Clutch makes whey protein isolates that have no r-BST or r-BGH hormones, are non-GMO, are ion exchanged, and are sourced from New Zealand grass-fed cows. (I've used the whey protein in the icing here.) They also make a Clutch Baking Mix made of rice, pea, hemp, and chia seed protein powders, which I've used in this cookie recipe. You can read more about the Clutch products here.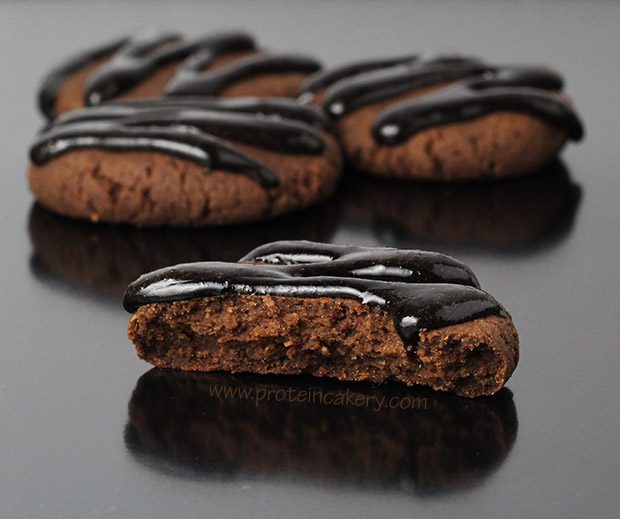 I wanted my first Clutch recipe to be super-easy and super-flavorful. And these Chocolate Hazelnut Protein Cookies certainly hit the mark! The cookie is a vegan chocolate hazelnut protein cookie, and it has a chocolate whey drizzle. For a vegan chocolate drizzle, I suggest using melted Raw Chocolate over chilled cookies. Easy, and so delicious!
Also, I tried these with and without date sugar as a sweetener. If you prefer a sweeter cookie, go with the date sugar. If you prefer to keep the carbs as low as possible, go without! Either way, these Chocolate Hazelnut Protein Cookies are full of flavor! Enjoy!
This post contains affiliate links to products I recommend. When you make purchases through these links, this blog makes a small commission (at no extra cost to you). Thank you for supporting our work!
Chocolate Hazelnut Protein Cookies
Nutrition Information
Serves:

9 cookies (3 servings)
Serving size:

3 cookies

Calories:

250
Fat:

16g

Carbohydrates:

10g

Sugar:

2g

Fiber:

4g

Protein:

18g
Prep time:
Cook time:
Total time:
Makes 9 cookies (3 servings).
Ingredients
Cookie:
⅓ cup hazelnut butter (75g) (I make mine from hazelnut meal)
¼ cup filtered water (60ml)
¼ cup Clutch Baking Mix (rice/pea protein blend) (37g)
2 tablespoons cacao powder (11g)
a pinch of sea salt
⅛ teaspoon ground cinnamon (0.6ml) (optional)
1 tablespoon date sugar (9g) (optional)
Chocolate drizzle:
Instructions
Preheat oven to 325F (163C).
Begin to make the cookie dough by mixing the hazelnut butter and water until smooth.
Mix in the remaining cookie ingredients, and mix well.
Form into 9 pieces, and roll each into a ball. Place on a parchment-lined cookie sheet.
Flatten each cookie (with your hand or the back of a large spoon).
Bake for 10-12 minutes, until firm.
Remove from oven and let cool.
Mix the icing ingredients until smooth (start with 1 tablespoon of water and add by the teaspoon). Drizzle over cooled cookies.
Enjoy! Store in the refrigerator.
Notes
A note about substitutions: because each type of protein powder has a distinct flavor and texture when baked, I would not try substituting different types of protein powders in this recipe. (Use a rice/pea blend for the cookie and whey for the icing. See my
Recipe Basics video
for examples of what goes wrong when you use the wrong protein powder.) For a vegan chocolate drizzle, I suggest melted
Raw Chocolate
over chilled cookies.
I make my hazelnut butter by putting
hazelnut meal
in the food processor.
The macros above are for the unsweetened cookies. For the sweetened cookies, the macros are:
Prot: 18g, Carbs: 15g (4g fiber, 6g sugar), Fat: 16g, Cal: 270 (3 cookies)