Prot: 3g, Carbs: 1g, Fat: 3g, Cal: 37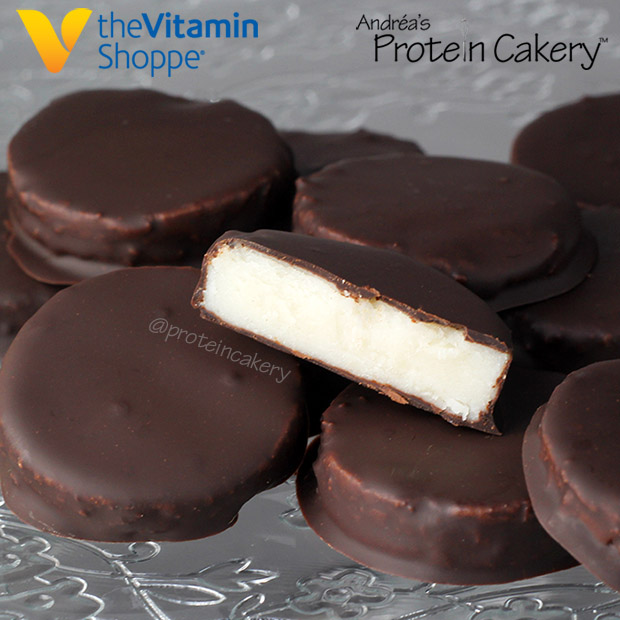 The perfect night-time winter snack: Protein Peppermint Patties made with slow-release casein!
As I've mentioned many times before on this blog, different types of protein powder have different textures and therefore work very differently in recipes. The texture of casein protein powder is perfect here, and I would not recommend substituting it with other types of protein. I purchased some unflavored BodyTech casein protein powder at VitaminShoppe.com recently, and I've used it here. It happens to be very white, so that's a double win for these Protein Peppermint Patties!
If you tried using whey here, you'd need something drying like coconut flour to get the dough moldable. But then it would become a heavier, much different consistency than you'd want as the center of a peppermint patty.
If you want a vegan or non-dairy peppermint patty, I'd say use coconut butter + mint flavoring + sweetener for the filling, and just leave out the protein. Vegan proteins wouldn't work well texturally, here. And in that case I'd choose confectioners erythritol to sweeten, since it has more body and texture than the fine stevia powder.
These Protein Peppermint Patties would make a perfect night-time snack because of the casein protein. Micellar casein is a slow-release protein, and is therefore generally recommended for use at night. Read more about it over at CutAndJacked.com.
To get the minty flavor, I used alcohol-free peppermint extract. I'm always turned off by the taste of the alcohol in regular extracts in no-bake recipes. I came across this mint-flavored stevia as well, and I'm sure that would be great here (although I don't know how many drops to recommend). Either way, though, be sure not to overdo the mint flavoring. Too much can certainly ruin your recipe! Taste your filling once you've mixed it, and add by the drop if you want more peppermint flavor.
I cut the circle patties using one of these circle cutters.
For the chocolate coating here I used unsweetened chocolate with some Plnt stevia. A great way to control the carbs and sweetness of your chocolate!
These Protein Peppermint Patties are delicious and easy to make. Give them a try!
This post contains affiliate links to products I recommend. When you make purchases through these links, this blog makes a small commission (at no extra cost to you). Thank you for supporting our work!
Protein Peppermint Patties
Nutrition Information
Serving size:

1 patty

Calories:

37
Fat:

3g

Carbohydrates:

1g

Sugar:

0g

Fiber:

1g

Protein:

3g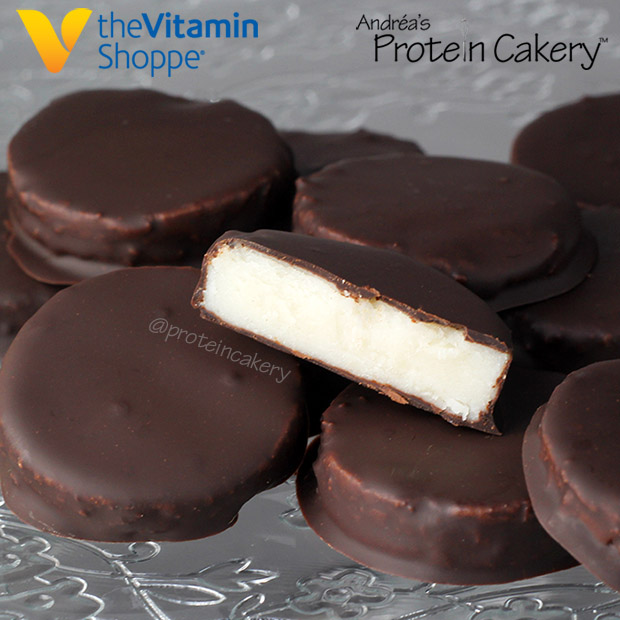 Makes 14 patties.
Ingredients
Peppermint filling:
Chocolate coating:
Instructions
Mix the casein and stevia. Set aside.
In another bowl mix the almond milk and peppermint flavor. Then add to casein and stevia.
Mix together until combined well.
Add coconut oil, and mix in. You may want to use your hands.
Roll or press this dough about ¼" thick on a sheet of parchment paper.
Cover with more parchment or plastic wrap and freeze for about 10 minutes.
Mix together your melted chocolate and stevia for the chocolate coating. Set aside.
Once dough is removed from freezer, cut out your circle patties and place them on a sheet of parchment paper. Gather your scraps and press the dough again to make all 14 patties.
Using a fork, dip each patty in the chocolate. Set on parchment-lined tray.
Once all patties are coated, set the tray in the refrigerator for 10-15 minutes to set.
Enjoy! These should be fine sitting out for a few hours, but for longer storage keep them in the refrigerator.
Notes
A note about substitutions: because each type of protein powder has a different texture, I would only recommend casein protein powder in this recipe. For vegan or non-dairy versions, I would use
coconut butter
+ mint flavor +
confectioners erythritol
for the filling, and leave out the protein.