Prot: 28 g, Carbs: 7 g, Fat: 29 g, Cal: 400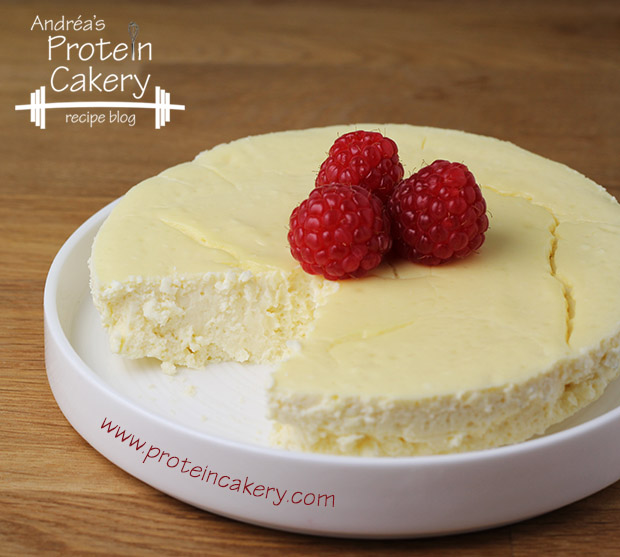 It's no secret that I love a good cheesecake! So when I recently received a reader request for an Individual Protein Cheesecake, I was happy to get baking. This one's for you, Jordan!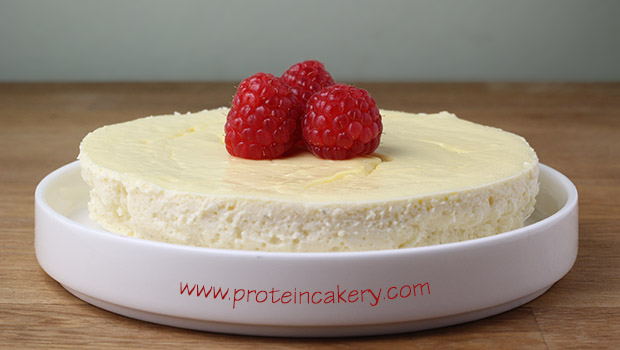 I used my recipe for Aunt Chubby's Protein Cheesecake as a model, but figured I'd change it up by using stevia here to lessen the carbs. And it's delicious!
Cheesecake is, in general, a bit more difficult to bake (the springform pan, the water bath). But an individual protein cheesecake is a bit more forgiving. Since it is only one serving, there's no need to get it cleanly out of the pan and slice it. So you can easily make this in a ceramic ramekin, or other similarly sized (3 or 4 inch) pan. The key is to remove it from the oven before it is entirely firm. If your cake comes out more spongey than creamy, it is a little over-baked.

I love this Individual Protein Cheesecake so much! I think I'll go make myself another. ;)
*Update: Made in a ramekin, and using our Sugar Free Frosting Mix + melted coconut oil as a magic shell:
Enjoy!

This post contains affiliate links to products I recommend. When you make purchases through these links, this blog makes a small commission (at no extra cost to you). Thank you for supporting our work!
Individual Protein Cheesecake
Nutrition Information
Serving size:

1 cheesecake

Calories:

400
Fat:

29g

Carbohydrates:

7g

Sugar:

5g

Fiber:

0g

Protein:

28g
Prep time:
Cook time:
Total time:
Makes one 4" cheesecake.
Ingredients
All ingredients should be room temperature.
Instructions
Preheat oven to 325F (163C).
Line the bottom of a 4" springform pan with parchment paper, and rub coconut oil around the sides (or spray with non-stick cooking spray). Wrap the bottom of the pan with aluminum foil. If you are using a ceramic ramekin, just rub coconut oil (or spray) the bottom and sides (no parchment or foil needed).
Mix the Neufchâtel cheese, egg, and yogurt until smooth.
Add whey powder, stevia, and vanilla. Mix well.
Pour batter into pan.
Put the pan in a larger pan (to set up the water bath).
Fill larger pan with about one inch of water.
Bake at 325F (163C) for 15 minutes.
Then reduce the temperature to 200F (93C) and bake for about another 15 minutes (or 20 minutes if using a ceramic ramekin, since the cheesecake will be thicker). The cake should be removed from the oven while the center is not quite firm.
Let cool at room temperature, then transfer to refrigerator and let cool completely.
Remove from pan (if using a springform), and serve.
Enjoy!
Notes
A note about substitutions: because each type of protein powder has a distinct flavor and texture when baked, I would not try substituting different types of protein powders in this recipe. You may substitute other natural sweeteners for the stevia, if you like.
Also, Neufchâtel cheese is marketed as "1/3 less fat than cream cheese" here in the states. I stay away from the fat-free cream cheeses because of the additives.
And because this recipe is baked, regular vanilla extract should be fine.
For more delicious recipes, follow us on Pinterest!