Prot: 29 g, Carbs: 16 g, Fat: 8 g, Cal: 250 (1/2 waffle with toppings)
Protein waffles are a great quick, filling breakfast. And these Peanut Butter Protein Waffles are a delicious flavor option! Made with Clutch Body Shop's Baking Mix and some peanut flour, the texture is perfect! Fluffy on the inside, crisp on the outside. And topped with some peanut butter and raspberries, these make an amazing clean, high-protein meal!
Clutch Baking Mix is a blend of rice, pea, hemp, and chia proteins. Great for protein cookies, too! Check out my other recipes made with their premium protein powders: Clutch Bodyshop recipes.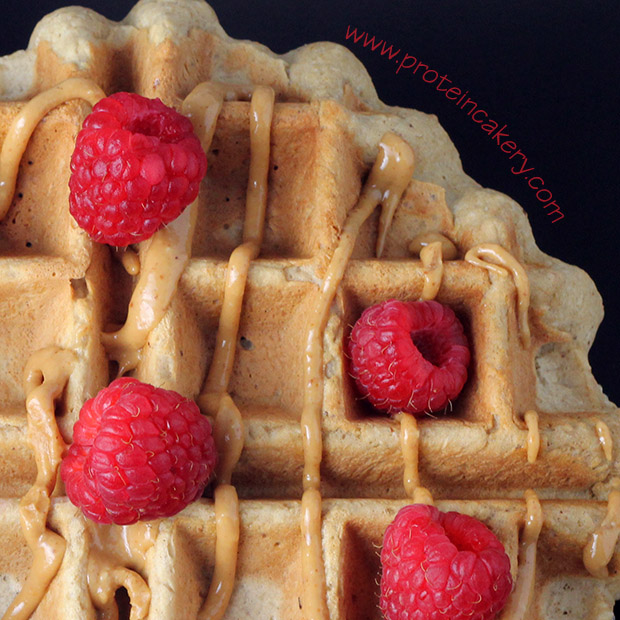 I like to use whole psyllium husk in my bread and waffle recipes because it helps create the bread-like texture. It is made entirely of fiber, so that is a great added benefit! There are 8 grams of fiber per serving here (16 grams for the entire waffle)!
I use this compact waffle-maker. Perfect for kitchens with limited space! Be sure to spray your waffle iron well with non-stick cooking spray. And with this waffle-maker, it only took 4 minutes to make this delicious waffle!
Give these Peanut Butter Protein Waffles a try! Your body will thank you! :)
This post contains affiliate links to products I recommend. When you make purchases through these links, this blog makes a small commission (at no extra cost to you). Thank you for supporting our work!
Peanut Butter Protein Waffles
Nutrition Information
Serving size:

½ recipe

Calories:

250
Fat:

8g

Carbohydrates:

16g

Sugar:

4g

Fiber:

8g

Protein:

29g
Prep time:
Cook time:
Total time:
Makes one large waffle with toppings (2 servings).
Ingredients
Waffle:
4 large egg whites (132g)
2 tablespoons filtered water (30ml)
a pinch of sea salt
1½ tablespoons whole psyllium husk (11g)
¼ cup Clutch Baking Mix (rice/pea protein blend) (37g)
¼ cup peanut flour (or powdered peanut butter) (30g)
Toppings:
1 tablespoon creamy peanut butter (16g)
¼ cup raspberries (31g)
Instructions
Mix egg whites with water.
Add salt and psyllium husk. Mix to combine.
Add protein powder and peanut flour. Mix well.
Spray waffle iron with non-stick cooking spray.
Plug in waffle iron. Let the batter sit while the iron heats up. (This allows the psyllium to thicken the batter.)
When waffle iron is ready, pour batter into iron. Close iron and cook for 4 minutes (timing may vary according to waffle iron).
Remove waffle from iron, and top with peanut butter and raspberries. Enjoy!
Notes
A note about substitutions: A pea protein blend like
Warrior Blend
can be substituted for the Clutch Baking Mix here. But because each type of protein powder has a distinct flavor and texture when baked, I would not try making other protein powder substitutions in this recipe. See my
Recipe Basics video
for examples of what goes wrong when you use the wrong protein powder.