Prot: 13 g, Carbs: 8 g, Fat: 2 g, Cal: 105
I recently got a tweet from a blog reader asking for a Protein Banana Nut Bread recipe. And after making such fluffy protein pancakes with Warrior Blend protein from the Vitamin Shoppe, I thought I'd try using it for the banana bread as well. I have to say, it was a great idea! :)
I tried out a couple of versions of this to get the proportions right. And once I figured that out, I included some True Yacon, a prebiotic sweetener/supplement I received in my box of goodies from the Vitamin Shoppe. It adds a little extra sweetness and fiber.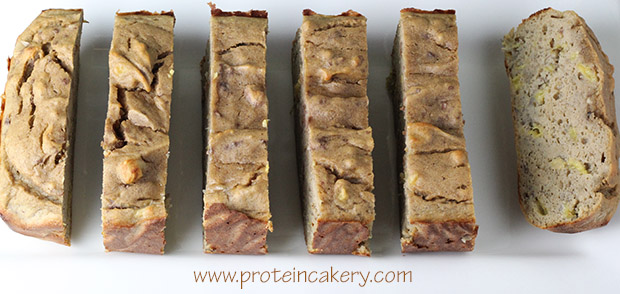 Per serving of Protien Banana Nut Bread there is only 3/8 teaspoon of True Yacon, which is approximately the supplement serving size. With or without it, though, this Protein Banana Nut Bread is great! And like most of my recipes, it is gluten-free and grain-free!
I also tried using Sun Warrior's rice protein instead of the Warrior Blend, and it wasn't nearly as good. I ate a piece and tossed the rest. So if you are wondering if it is worth the purchase of the Warrior Blend protein just for baking, trust me, it is! I have already made Chia Almond Protein Cookies and Vanilla Protein Pancakes with Chocolate Syrup with it, and I'm sure I'll be creating more recipes, too!
This Protein Banana Nut Bread is definitely going to be one of my favorites. It is an easy recipe, and it even tastes better the next day. It freezes well, too!
I hope you'll give it a try! And if you like the recipe, please consider sharing it!

Protein Banana Nut Bread
Nutrition Information
Serving size:

⅛ loaf

Calories:

105
Fat:

2g

Carbohydrates:

8g

Sugar:

4g

Fiber:

2g

Protein:

13g
Prep time:
Cook time:
Total time:
Makes one loaf (8 pieces).
Ingredients
6 large egg whites (198g)
1 cup Warrior Blend Vanilla protein powder (100g)
¼ teaspoon ground cinnamon
1 tablespoon True Yacon (optional)
½ teaspoon baking powder
2 medium bananas, mashed (236g)
2 tablespoons chopped walnuts (15g)
Instructions
Preheat oven to 325F (163C).
Line a loaf pan with parchment paper (if not using a silicone pan).
Mix egg whites, Warrior Blend, cinnamon, True Yacon, and baking powder.
Fold in bananas.
Fold in walnuts.
Pour batter into pan.
Bake for about 40 minutes at 325F (163C), until a toothpick comes out clean.
Let cool, then slice and enjoy!
Store in the refrigerator or freezer.
Notes
A note about substitutions: because each type of protein powder has a distinct flavor and texture when baked, I would not try substituting different types of protein powders in this recipe.