At some point last fall, I discovered the magic that is roasted tomatoes. I don't really care for raw tomatoes, but roasted with olive oil, garlic powder, and sea salt? I'll take the whole pan, thank you. Of course I wanted to bring this deliciousness into a protein recipe, so here you have Tomato Basil Protein Focaccia!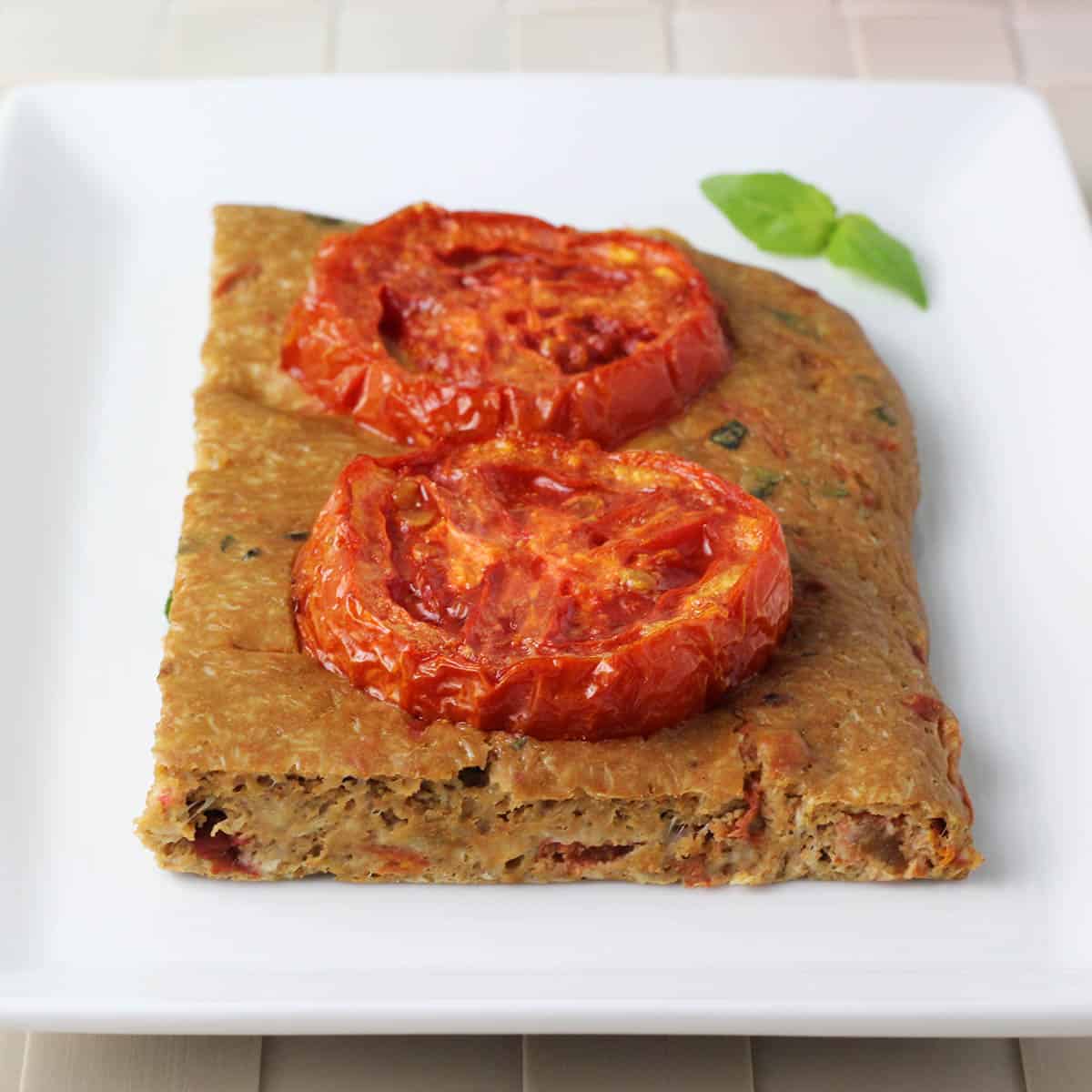 The protein focaccia batter is made with unflavored rice protein powder, and has whole husk psyllium to give it the bread-like texture.
The batter is flavored with roasted tomatoes, basil, olive oil, nutritional yeast, and garlic powder. Nutritional yeast is an ingredient common in vegan recipes, as it gives a cheesy flavor. You could certainly substitute grated Parmesan or (my favorite) Locatelli-Romano, but I'd lessen it to only one tablespoon.
For a vegan Tomato Basil Protein Focaccia, replace the egg whites with "flax eggs" (ground flax seeds mixed with water). The bread might be a bit more dense, but I'm sure it'll taste delicious!
Enjoy!
🥣 Recipe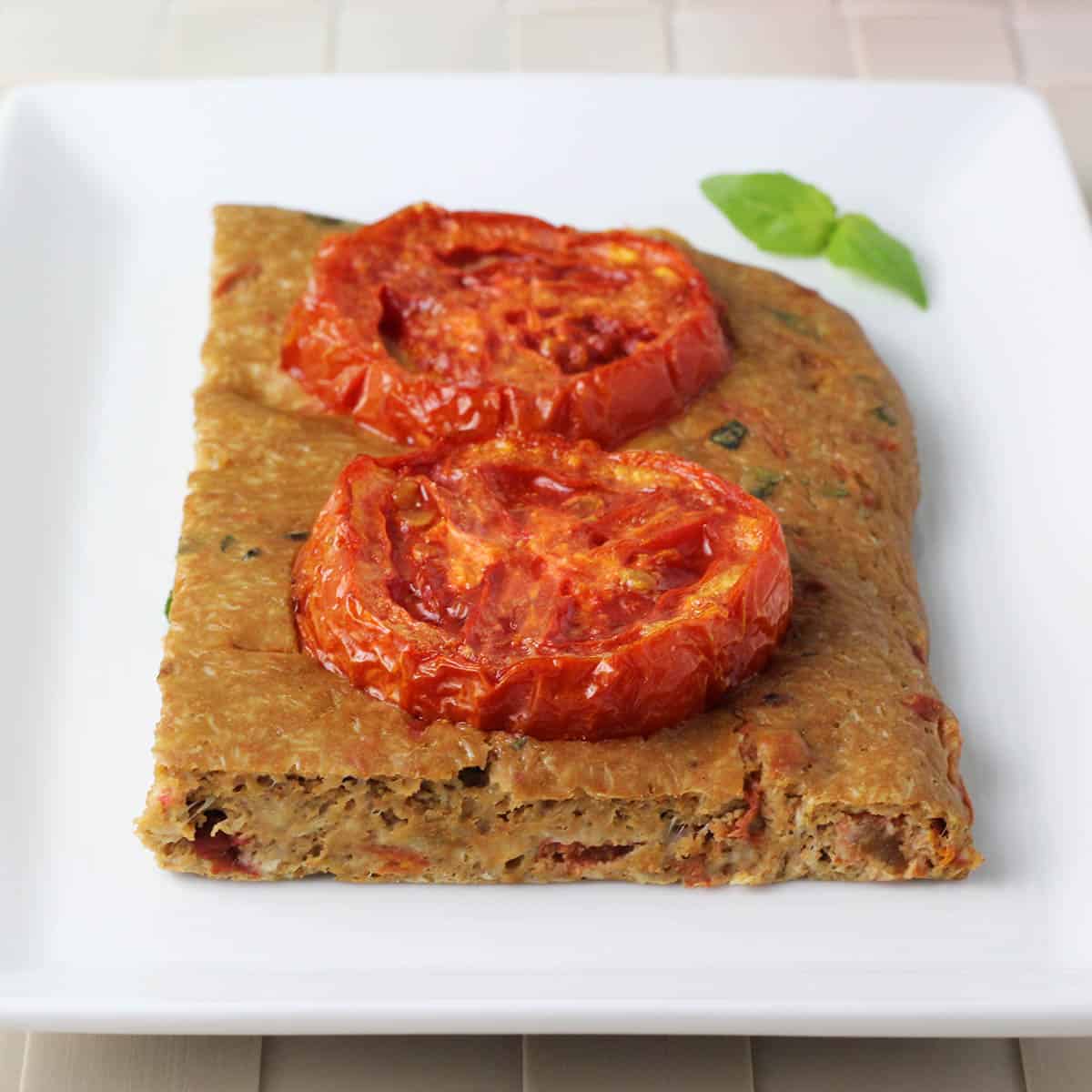 Ingredients
Roasted tomatoes:
3

cups

sliced plum tomoatoes

540g

1

tablespoon

extra-virgin olive oil

15ml

garlic powder and sea salt to taste
Remaining focaccia ingredients:
Instructions
Preheat oven to 425F (218C).

Line a large glass baking dish with foil.

In a bowl, toss tomato slices with olive oil, garlic powder, and sea salt.

Pour tomatoes into foil-lined glass baking dish. Try to lay each tomato slice flat.

Roast at 425F (218C) for 30-40 minutes.

Remove tomatoes from oven and let cool slightly. Turn off oven.

In a blender or food processor, combine egg whites, olive oil, and protein powder until smooth.

Reserve 8 tomato slices for the top of your focaccia, and put the rest in the blender along with the basil. Pulse or process until the tomato and basil are broken up into small pieces.

Pour mixture into a bowl, and mix in the psyllium husks. Let batter sit for 10-15 minutes to thicken.

Preheat oven to 325F (163C).

Pour batter into parchment-lined glass baking dish, 8"x11.5" (200mmx290mm) or slightly smaller, and spread evenly.

Place tomato slices on top.

Bake focaccia at 325F (163C) for 18-22min, until batter is cooked through.

Enjoy!
Notes
A note about substitutions: You could substitute unflavored pea protein for the rice protein (or a pea protein blend, like Warrior Blend). I wouldn't use whey or casein as they would give a different (undesirable) texture. You could also substitute 1 tablespoon grated cheese for the 2 tablespoons nutritional yeast.
Nutrition
Calories:
200
kcal
|
Carbohydrates:
12
g
|
Protein:
21
g
|
Fat:
8
g
|
Fiber:
6
g
|
Sugar:
4
g