The perfect grab-and-go high protein breakfast: Egg White Stuffed Protein Pancakes! And check out the macros; they can't be beat!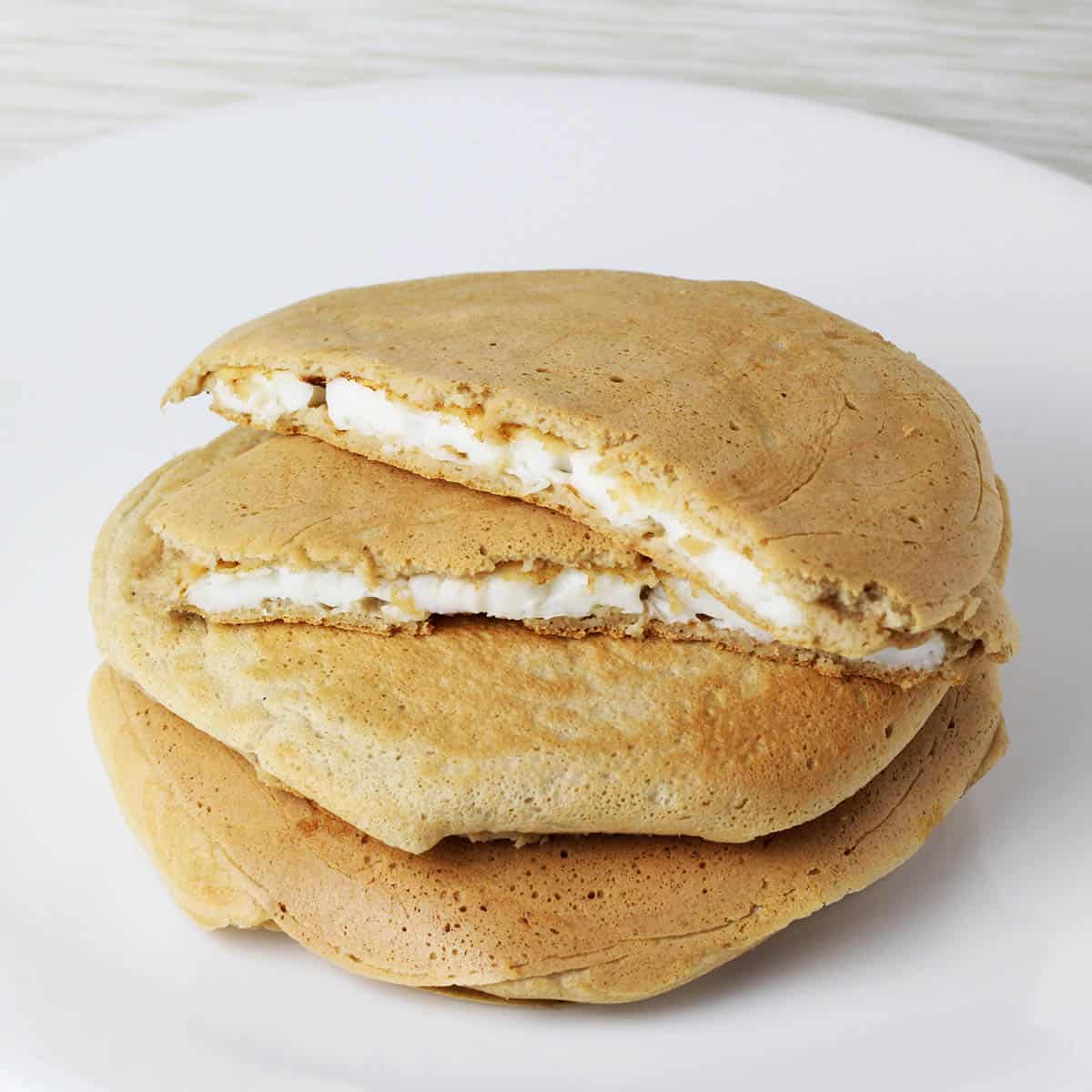 I know, you're wondering... how do you get the egg white so nicely inside the pancake? Well, the first step is to make the egg patties using an egg ring. I used a 4" ring for this recipe, with 2 egg whites each. Then set the egg white patties aside, and begin your pancakes. The method is the same as with my Maple Almond Stuffed Protein Pancakes and my Banana Peanut Butter Stuffed Protein Pancakes. Make a thin pancake layer, put the egg patty on top, then cover with more pancake batter. Give it a minute, then flip!
These Egg White Stuffed Protein Pancakes should stay fresh in the refrigerator for several days (in a ziplock bag or air-tight container), so they're great to include while prepping your meals for the week! I suggest getting 3 egg rings, though, to make that step a bit quicker (they would all fit on a griddle pan at once). I plan to purchase this set of 3 egg rings with my next Amazon order. Great price, and great reviews!
Of course, you can fancy up the egg white filling! Make a mini omelette, if you choose! Just keep in mind that for this recipe, I suggest 2 egg whites (or 1 whole egg) per pancake. Also, this method should work with any protein pancake recipe. I like this recipe, even though it is plain, for the great macros. But, do your thing! Get creative, and enjoy!
:)
🥣 Recipe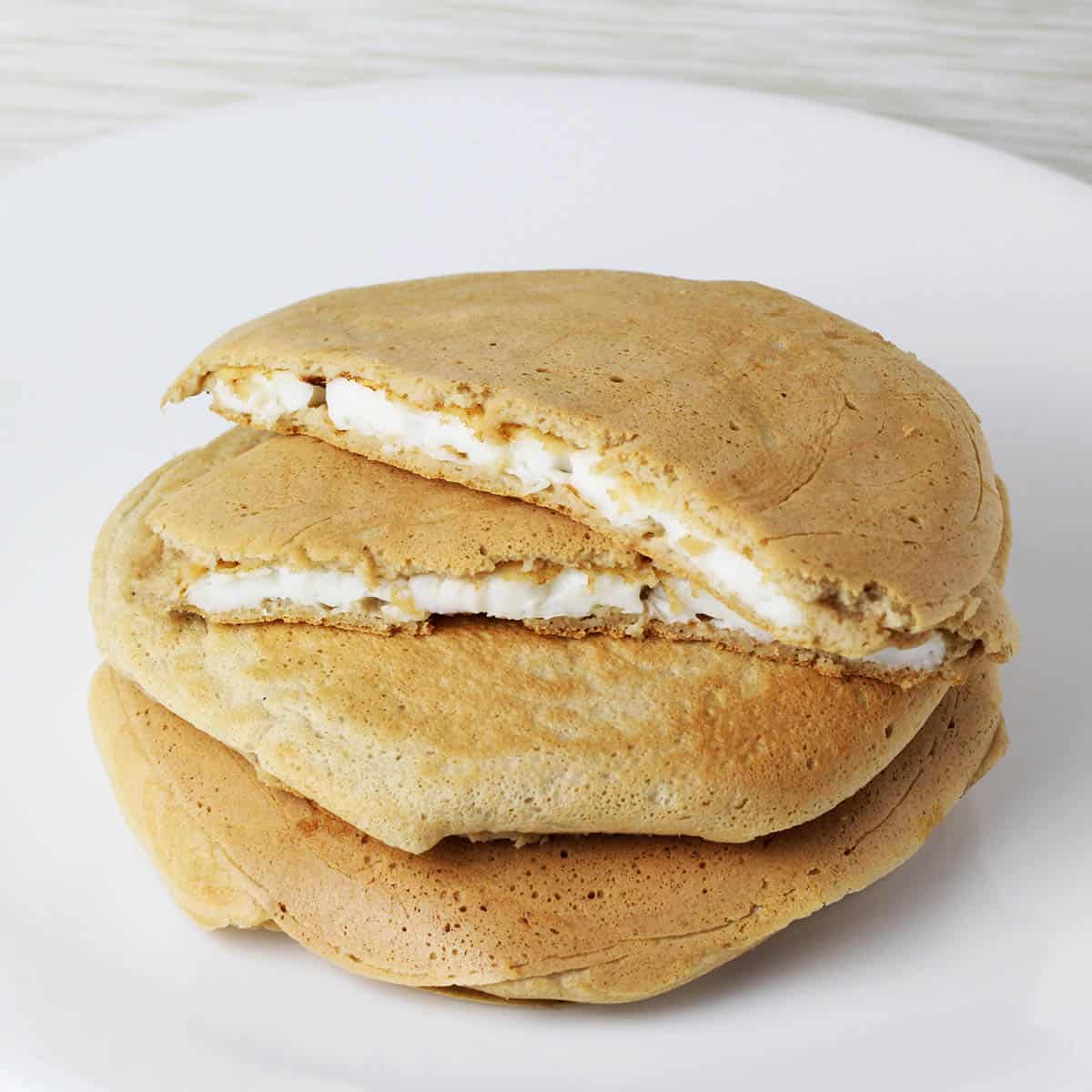 Instructions
Spray your nonstick griddle and egg rings with cooking spray or rub a little coconut oil on them.

Preheat your griddle over a low flame.

Once griddle is hot enough (drops of water sizzle up), set your

4" egg ring(s)

on the griddle. In each one, pour in two egg whites (66g).

While your egg whites are cooking, begin making your pancake batter by beating the egg whites, protein powder, and cinnamon until smooth and fluffy.

Once the egg whites are firm enough to flip, remove egg ring and flip the egg patty. Cook for another minute. Remove from griddle and set aside.

Spoon ⅙ of the batter on the griddle. Spread it with the back of a spoon to make it a thin layer.

Place one egg patty in the center, as in photo.

Top with another ⅙ of the batter, and spread to cover the bottom pancake layer.

Flip after about a minute.

Cook for another couple of minutes.

Repeat steps 6-10 to make two more stuffed pancakes.

Enjoy! These should stay good for several days in the refrigerator.
Notes
A note about substitutions: because each type of protein powder has a distinct flavor and texture when cooked, I would not try substituting different types of protein powders (other than a pea blend) in this recipe. (See my Recipe Basics video for examples of what goes wrong when you use the wrong protein powder.)
This method should work for most protein pancake recipes.
If you prefer to use whole eggs, I suggest 1 whole egg per pancake.
Nutrition
Serving:
1
g
|
Calories:
99
kcal
|
Carbohydrates:
2
g
|
Protein:
20
g
|
Fat:
1
g
|
Fiber:
1
g
|
Sugar:
1
g