Prot: 16 g, Carbs: 14 g, Fat: 10 g, Cal: 209
Happy Halloween! After making my all-natural Protein Candy Corn last week, I couldn't wait to make these Candy Corn Protein Cupcakes!
I used Jamie Eason's delicious Whey Protein Isolate for these cupcakes. All-natural, and the vanilla tastes like cake batter! Combined with the mild flavor of the carrot juice (orange layer) and turmeric (yellow layer), these cupcakes are delicious!
I also used Jamie's protein for the Protein Candy Corn recipe, and the protein powder flavor really shines in that recipe. I don't think you can taste the carrot or turmeric at all. Just cake batter deliciousness!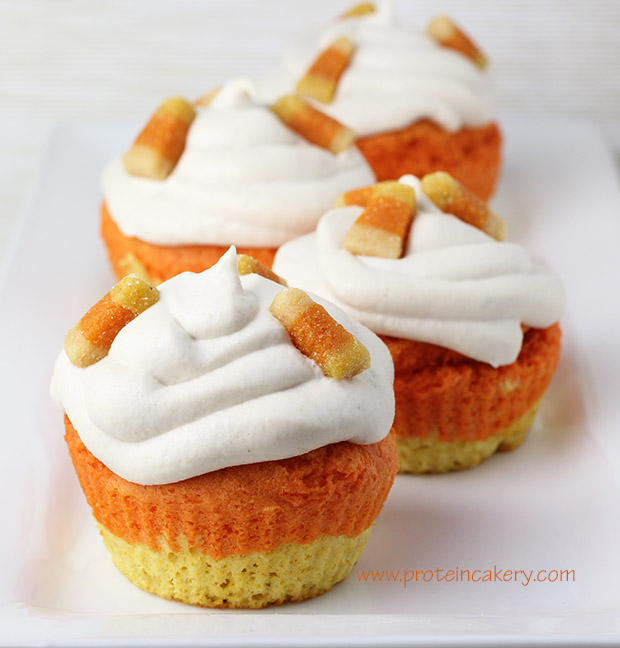 I am amazed at how bright and colorful these cupcakes are. It's not Photoshop! It's nature, in a protein cupcake! A delicious Candy Corn Protein Cupcake. :) Enjoy!
This post contains affiliate links to products I recommend. When you make purchases through these links, this blog makes a small commission (at no extra cost to you). Thank you for supporting our work!
Candy Corn Protein Cupcakes with Jamie Eason Whey Protein Isolate
Nutrition Information
Serving size:

1 cupcake

Calories:

209
Fat:

10g

Carbohydrates:

14g

Sugar:

5g

Fiber:

4g

Protein:

16g
Prep time:
Cook time:
Total time:
Makes 6 cupcakes.
Ingredients
Yellow layer:
Orange layer:
Frosting:
Instructions
Preheat oven to 325F (163C).
Mix the yellow layer ingredients by first mixing the applesauce and turmeric, then adding it to the dry ingredients.
Spoon into 6 small silicone muffin cups.
Mix the orange layer ingredients.
Spoon into the muffin cups.
Bake for 8 minutes, and see if they are firm. If not, check every 1-2 minutes. Do not over-bake! Remove cupcakes from oven as soon as they are firm and a toothpick comes out clean.
Meanwhile, rinse and drain the cashews.
Blend frosting ingredients until smooth. If you need more water, add it by the tablespoon.
Set frosting in the freezer while the cupcakes finish baking, and while they cool to room temperature.
Frost cupcakes, and top with Protein Candy Corn (optional, not included in macros).
Enjoy! Store in the refrigerator.
Notes
A note about substitutions: because each type of protein powder has a distinct flavor and texture when baked, I would not try substituting different types of protein powders in this recipe. (See my
Recipe Basics video
for examples of what goes wrong when you use the wrong protein powder.)