Prot: 6 g, Carbs: 4 g, Fat: 6 g, Cal: 98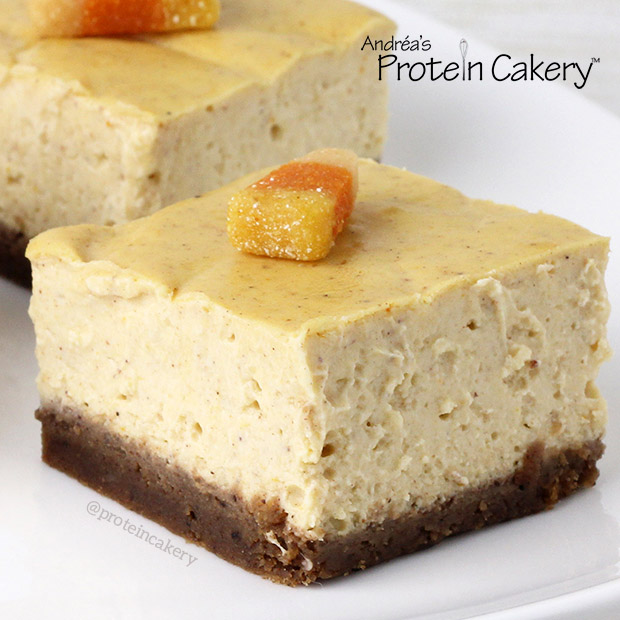 Pumpkin spice protein cheesecake with a gingerbread crust! Pumpkin Protein Cheesecake Gingerbread Bars! And can you see how creamy they are?! I ate all of these myself. Yep, all 16!
I thought they'd be cute with some Protein Candy Corn on top, one of my new favorite recipes! All-natural, colored with carrot juice and turmeric.
Enjoy the flavors of the season with these Pumpkin Protein Cheesecake Gingerbread Bars!
This post contains affiliate links to products I recommend. When you make purchases through these links, this blog makes a small commission (at no extra cost to you). Thank you for supporting our work!
Pumpkin Protein Cheesecake Gingerbread Bars
Nutrition Information
Serving size:

1 bar

Calories:

98
Fat:

6g

Carbohydrates:

4g

Sugar:

2g

Fiber:

1g

Protein:

6g
Prep time:
Cook time:
Total time: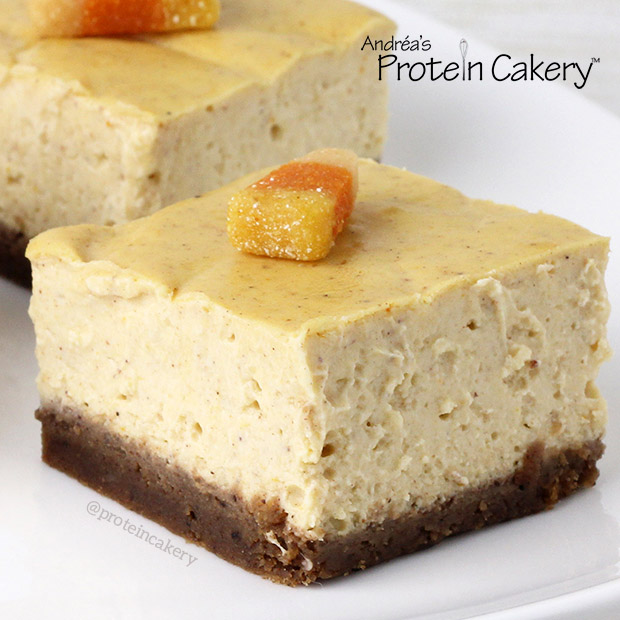 Makes 16 bars.
Ingredients
Crust:
⅓ cup raw cashew butter (85g)
2 tablespoons filtered water (30ml)
1 tablespoon molasses or agave (21g)
⅓ cup vanilla rice/pea protein powder (37g)
1 teaspoon ground cinnamon (5ml)
1 teaspoon ground ginger (5ml)
¾ teaspoon ground allspice (3.7ml)
½ teaspoon ground cloves (2.5ml)
⅛ teaspoon salt (0.6)
Cheesecake (ingredients should be at room temperature):
Instructions
Preheat oven to 325F (163C).
Mix cashew butter, water, and molasses (or agave) until well combined.
Add remaining crust ingredients, and mix well. If the dough is too sticky (sticks to your fingers), add 1 or 2 tablespoons more of protein powder. If the dough is too dry (and crumbles), add another tablespoon of filtered water.
Press into 7" square (or similarly sized) baking dish, and set aside.
Mix the Neufchâtel cheese, eggs, yogurt, and pumpkin until smooth.
Add vanilla, whey powder, stevia, and pumpkin pie spice. Mix or blend until smooth.
Pour cheesecake batter evenly over crust.
Bake for 15 minutes at 325F (163C), and then reduce the temperature to 200F (93C) and bake for another 15 minutes. The cake should be removed from the oven while the center is just about firm.
Let cool at room temperature, then transfer to refrigerator and let cool completely.
Cut into 16 bars, and enjoy! Store in the refrigerator.
Notes
A note about substitutions: because each type of protein powder has a distinct flavor and texture when baked, I would not try substituting different types of protein powders in the cheesecake recipe. You may substitute pea protein (or a pea blend) for the rice protein, if you like.
The molasses in the crust helps the gingerbread flavor, but if you prefer to use a no-calorie natural sweetener, that would work as well. You'd save 1g carb/sugar per serving.
Also, Neufchâtel cheese is marketed as "1/3 less fat than cream cheese" here in the states. I stay away from the fat-free cream cheeses because of the additives.