Prot: 33g, Carbs: 12g, Fat: 2g, Cal: 196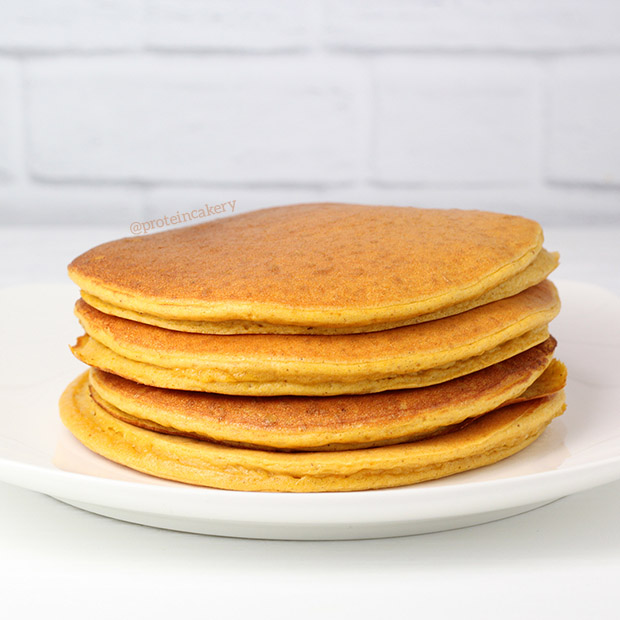 I'm excited to bring you a whey protein pancake recipe with great macros! These Pumpkin Protein Pancakes are easy to make, and they are delicious and fluffy!
We don't have a ton of pancake recipes here because honestly, I'm not a breakfast food person. For the same nutrition and macros, I'd rather have cake for breakfast. :) But when I started working with our new Whey Protein for Baking, I had to give pancakes a try. And these Pumpkin Protein Pancakes did not disappoint!
I used pumpkin in this recipe because I had some on hand, because it's pumpkin season, and because the carb count stays pretty low. But I've also made these several times with a banana in place of the pumpkin, and they came out great, as well. (That recipe is on the package of the Whey Protein for Baking.)
So, yeah, we now offer a whey protein powder that's great for baking! It only has one ingredient: whey protein concentrate. No soy lecithin, no sweeteners or fillers. 25g protein per 30g scoop. And the best part? It bakes well. This protein powder has been specially formulated to react well under heat, so the texture is nice when baked/cooked. And oh yeah, it tastes great when you use it as a shake, too! Add some vanilla extract and stevia (or your sweetener of choice), some ice water, and blend it up. Delicious! Check it out: Whey Protein for Baking and blended shakes
For these Pumpkin Protein Pancakes, you can also use other brands of unflavored or vanilla whey. Just keep in mind that different brands of whey protein can take on different amounts of liquid, so you may need more liquid that we use here to get the same pancake batter consistency. (In that case add a tablespoon or two of water.)
However you make them, give these Pumpkin Protein Pancakes a try!
This post contains affiliate links to products I recommend. When you make purchases through these links, this blog makes a small commission (at no extra cost to you). Thank you for supporting our work!
Pumpkin Protein Pancakes
Nutrition Information
Serving size:

1 recipe

Calories:

196
Fat:

2g

Carbohydrates:

12g

Sugar:

6g

Fiber:

4g

Protein:

33g
Prep time:
Cook time:
Total time: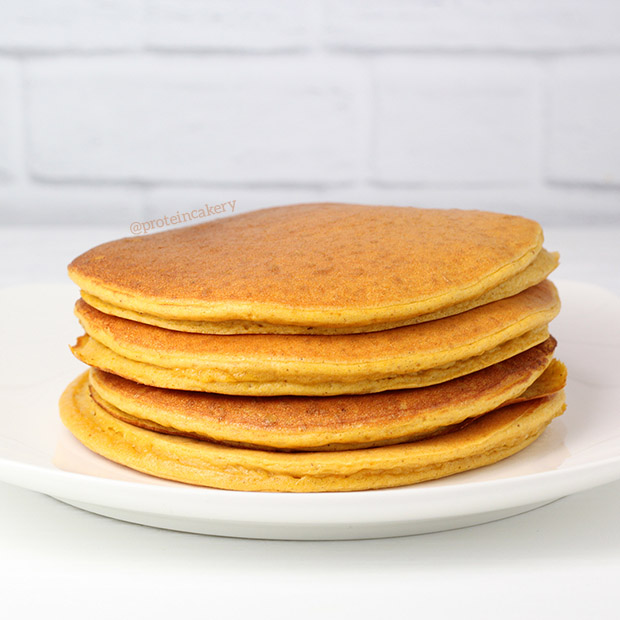 Makes one serving (about four 4" pancakes)
Instructions
Spray griddle with non-stick cooking spray, and heat over low flame.
Combine pumpkin, egg whites, and vanilla. Beat on high until fluffy.
Add baking powder, whey protein, and pumpkin spice. Mix on low speed until combined.
Pour ¼ of batter onto griddle, and let bubbles rise to the top.
Flip and cook until golden brown.
Repeat to make three more pancakes.
Enjoy!
Notes
A note about substitutions: a mashed banana can be substituted for the pumpkin here. I would only recommend whey protein in this recipe, since other types of protein powder cook differently and would require more recipe changes.