Prot: 15g, Carbs: 14g, Fat: 1.5g, Cal: 130 in 6 mini doughnuts (not including the calorie-free erythritol carbs)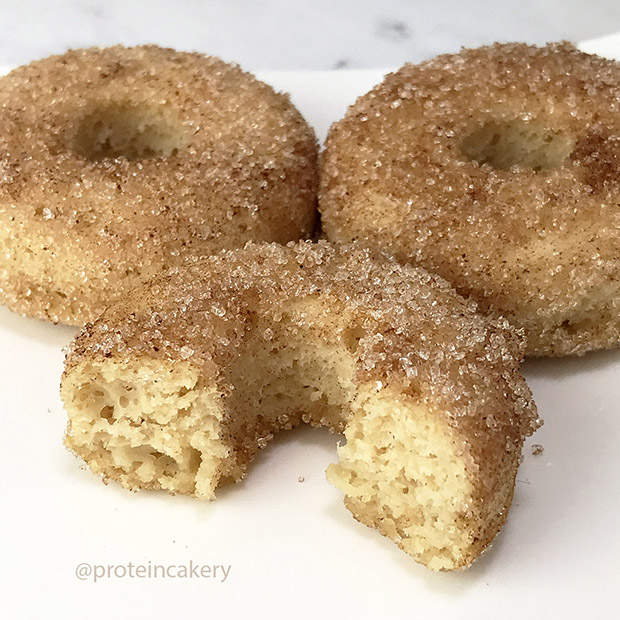 These delicious Cinnamon Sugar Protein Doughnuts are a snap to make, and you'll never miss the sugar!
We made them with our Vanilla Protein Cake Mix for a super-soft texture and great flavor, but you could use another vanilla cake recipe, if you choose.  **Update! We've discontinued our products, but this is another protein cake mix that will also work.

You'll never miss the sugar with this topping of cinnamon mixed with erythritol! These protein doughnuts hit the cinnamon spot with extra protein and none of the sugar. Grab some Vanilla Protein Cake Mix and give them a try!

This post contains affiliate links to products I recommend. When you make purchases through these links, this blog makes a small commission (at no extra cost to you). Thank you for supporting our work!
Cinnamon Sugar Protein Doughnuts
Nutrition Information
Serving size:

6 mini doughnuts

Calories:

130
Fat:

1.5g

Carbohydrates:

14g

Sugar:

5g

Fiber:

2g

Protein:

15g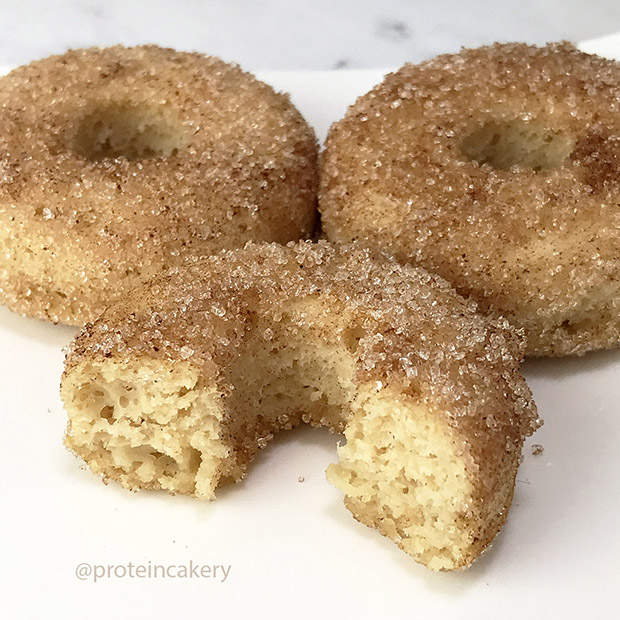 Makes 12 mini doughnuts (2 servings).
Ingredients
Doughnuts:
Topping:
Instructions
Preheat oven to 325F (163C).
Prepare Vanilla Protein Cake Mix as instructed on package.
Put cake batter in piping/ziplock bag and cut off the corner.
Pipe the batter into the silicone mini doughnut pan.
Bake 12-15 minutes, just until a toothpick comes out clean.
Let cool to room temp.
Mix erythritol and cinnamon in a small bowl.
Lightly brush each doughnut with melted coconut oil and then dip in cinnamon topping.
Enjoy!