Prot: 18g, Carbs: 18g, Fat: 8g, Cal: 206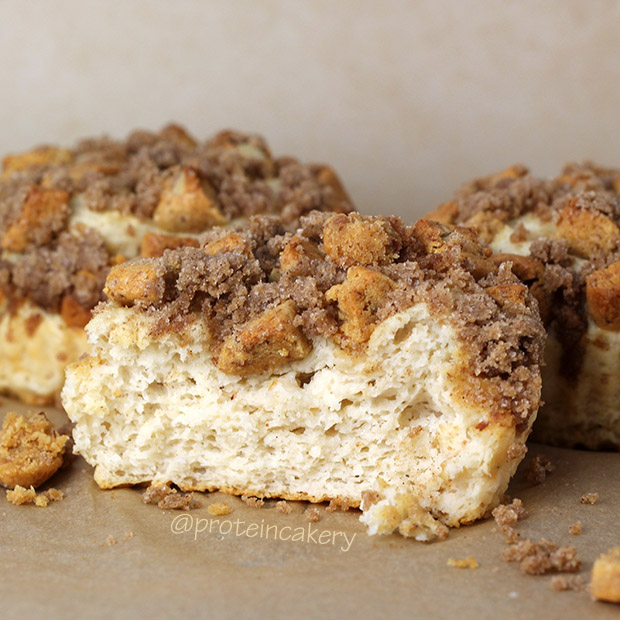 Another great idea submitted by a reader, Protein Coffee Cake with Crumble Topping! A remake of the traditional, unhealthy packaged coffee cake treat. Now, a high-protein, gluten-free version!

To make the crumble topping here, I adapted an idea I found on the Daily Dietribe. This Protein Coffee Cake with Crumble Topping recipe uses Quest Multi-Purpose Protein Powder, and I added a Cinnamon Roll Quest Bar to the crumble topping. The result? Delicious!
Quest Protein Powder is a whey/casein blend. The casein acts like a flour when baking, so a whey protein wouldn't be a great substitute here. You'd have to add in some extra flour, and then check that your liquid is still enough for a cake batter consistency. Easier to get yourself some Quest Multi-Purpose Protein Powder! It's great for baking; I've used it here a bunch!

I hope you'll give this recipe a try! A delicious, all-natural, gluten-free Protein Coffee Cake with Crumble Topping. Thanks for the great idea, Sara! And thanks to Quest Nutrition for sending over these great ingredients!
This post contains affiliate links to products I recommend. When you make purchases through these links, this blog makes a small commission (at no extra cost to you). Thank you for supporting our work!
Protein Coffee Cake with Crumble Topping
Nutrition Information
Serving size:

1 muffin

Calories:

206
Fat:

8g

Carbohydrates:

18g

Sugar:

1g

Fiber:

6g

Protein:

18g
Prep time:
Cook time:
Total time: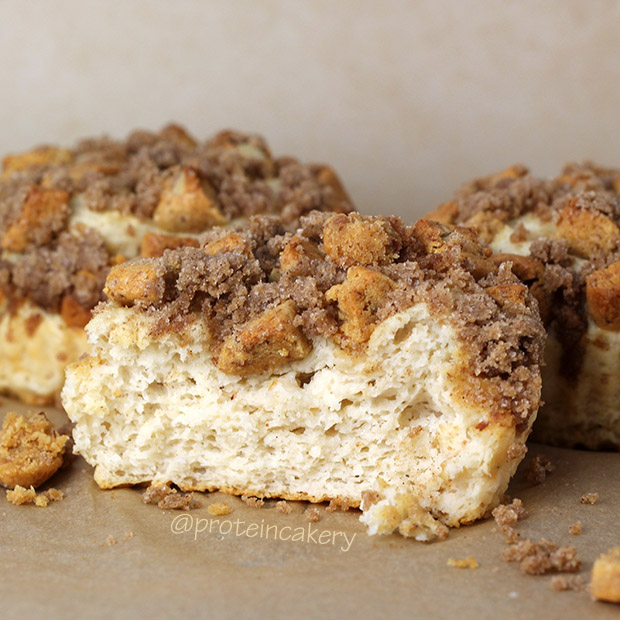 Makes 3 large muffins.
Ingredients
Cake batter:
½ cup Quest Multi-Purpose or Vanilla protein powder (36g)
¼ cup Quest Brown Rice Powder (23g) or brown rice flour (measure flour in grams)
1 teaspoon baking powder (4g)
2 packets stevia (2g)
a dash of ground nutmeg
½ cup unsweetened almond milk (120ml)
1 teaspoon Paige's vanilla (5ml)
Crumble topping:
Instructions
Preheat oven to 325F (163C).
Mix dry ingredients for the cake batter to combine.
Add almond milk and vanilla. Mix well.
Spoon into three large silicone muffin cups. Set aside.
Mix the stevia, cinnamon, and Brown Rice Powder to combine.
Add coconut oil. Mix well.
Add chopped Quest bar.
Sprinkle crumble topping on top of cake batter in each muffin cup.
Bake for 20-25 minutes, just until firm and a toothpick comes out clean.
Let cool, and remove from muffin cups. Enjoy!
Notes
A note about substitutions: Quest powder is a whey/casein blend, so I would only recommend using other whey/casein blends as a substitute. Other types of protein powder will bake differently. (See my
Recipe Basics video
for examples of what goes wrong when you use the wrong protein powder.)